How many of you are having trouble with styling that console table or sideboard in your home? Do you feel overwhelmed not knowing where to start? I'd be lying if I said mine has always looked like this… it's totally been bare for the past year! I finally buckled down and committed to finding the perfect pieces. Below are some tips for styling yours.
Start with one favorite, key piece.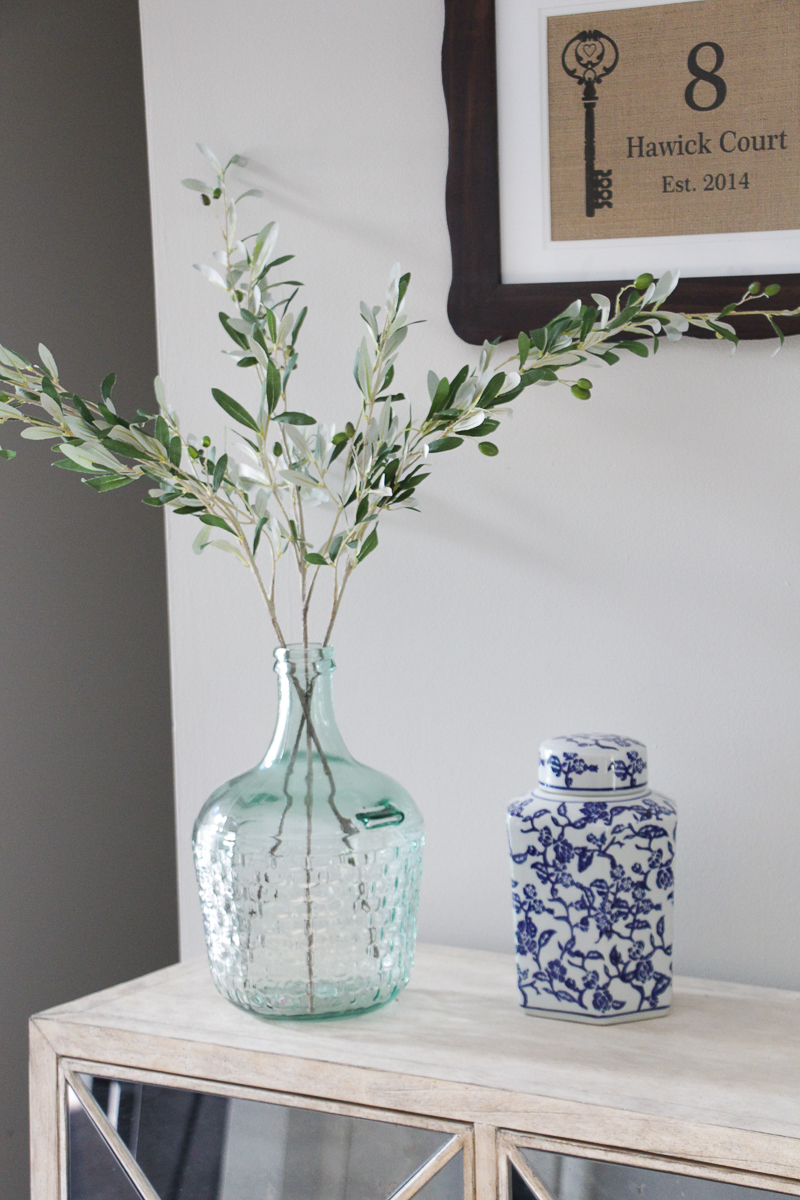 I started with this vintage clear glass vase I fell in love with from Decor Steals, and from there I only purchased one thing at a time. Since I don't come from a design background, sometimes picking everything out at once just doesn't work for me. I never find everything at one store, and I like to mix and match with pieces that have a story behind them.
Try buying your styling accessories from stores where you can easily return them. Home Goods has a great return policy so you can always try out pieces you find with an option to return if you end up not liking it.
Balance the height with symmetry.
Most sideboards and console tables are styled with either one or two lamps. One lamp could be used to balance the height of a piece on the opposite side, or two lamps could be placed on both sides for visual symmetry.
In my example shown, I didn't feel that a lamp was necessary because this hallway has great lighting. Between the faux stems and sign, initially there was significant height on one side but not the other. I created symmetry by adding this fabulous driftwood anchor I found at a beach shop the year prior. I love that the texture stands out from the others.
I tend to pick up pieces I love as I find them, even though I might not have an exact spot for it yet. I don't let this get out of hand as I hate clutter anywhere in the home, but I like having options around to swap out or add to my decor.
Remember that less is more.
The best design style is understated elegance. Let your unique, beautiful furniture speak for itself. You want your surfaces to be well styled, but uncluttered. Using less also means flexibility to buy and swap out pieces more often.
I love decorating for the seasons, but it can get expensive. This fall and winter I will only have to swap out the canister and anchor to refresh this table. Try to buy mostly year round décor, and supplement with a few seasonal pieces.
Shop This Look with Similar Items:

I hope this motivates you to head out on a little shopping spree to tackle that empty surface in your home – we all have one! You can find all of my favorite places to buy styling accessories in my FREE Complete Shopping Guide for your home.
Thanks so much for stopping by my blog today & for sharing with your family & friends. I'd love for you to subscribe here for more home decor inspiration. Got a question? Something to add? Let's chat in the comments section below!