Are you looking for a tutorial on how to whitewash your dated brick fireplace?
This DIY fireplace makeover is easy, cheap, and doesn't require any more than a beginner skill level!
Take a look at the 'Before' photo of our fireplace below.
I am going to show you what product we used, tell you how much the makeover cost, and give you a step-by-step tutorial so that you can tackle this easy DIY project yourself.
Keep reading because you won't want to miss the 'After' photos at the end!
Disclosure: Affiliate links are used in this post, at no cost to you.
How to whitewash your fireplace – what products can I use?
First let's talk about the available product options for giving your brick fireplace a makeover, without re-facing it with new material…
Acrylic Latex Paint
Acrylic latex paint will give you a solid, painted brick look.
The main reason I did not want to use this type of paint is because it requires A LOT of prep work to the brick.
You have to clean the brick thoroughly which makes this a multi-day, multi-step process.
The other issue with this type of paint is that it only sits on the surface of the brick, not in the pores, and therefore is prone to peeling or cracking.
It also means that you will cover up the texture of the brick, which I find takes away the character.
This method is also risky because it is very difficult to remove and most likely you will never be able to restore your brick to its original, natural look.
What if you don't like the outcome or change your mind in a few years?
Brick Stain
Brick stain will also give you the look of solid color, but without the long term possibility of peeling or cracking.
Stain actually seeps into the pores of the brick while still maintaining its texture.
Since the stain sets in the pores of the brick, it cannot be easily removed so this method is a much more permanent option.
Brick staining would be a better option than acrylic latex paint, but again it requires A LOT of prep work to the brick before hand.
I don't know about you, but I really like one step, one day projects!
Chalk Paint
Unlike acrylic latex paint & brick stain, chalk paint boasts that no brick prep work is required.
Chalk paint is very similar to milk paint so it is difficult to decide between the two products.
Either would work for this project, but chalk paint is not as flexible as milk paint because it comes pre-mixed.
This means you can't create the consistency of the paint yourself.
It's a great option to have if you paint your first brick sample and you don't like the overall look.
Milk Paint
Milk paint requires no brick prep work which means it is a one day project – YAY!
This product is in powder form, and you add water to the powder to create your desired consistency.
You can add additional powder or water to thicken or thin the paint coverage as necessary.
This makes it extremely flexible to work with and makes it very difficult for you to mess up.
It also dries very quickly (15 to 30 minutes) so if you require multiple coats you can start on the next coat very quickly.
The Milk Paint brand and finish (as shown in my project photos) is SafePaint in Snow White by The Old Fashioned Milk Paint Co.
How to whitewash your fireplace – what will it cost me?
Below is a list of the materials you will need for this easy DIY fireplace makeover.
Materials Used:
SafePaint Milk Paint – $21.99 (Quart in Snow White)
Paintbrush – $6.78 (2.5″ Softip Angle Brush)
Basic Sponges – $2.48 (4 Pack)
Paint Stirrer – $.98 (10 Pack)
FrogTape Painter's Tape – $9.42 (2 Inch by 60-Yard Roll)
Clear Plastic Painters Drop Cloth – $5.98 (9′ x 12′)
Old Tupperware with Lid
Ladder (for taller fireplaces) or Step Stool (for shorter fireplaces)
Potential Total Project Cost: $47.63
Amount of Milk Paint:
One quart of SafePaint was enough to cover our entire 85 square foot fireplace.
There was 1/4 bag left to spare which we will save for any future touch ups.
For reference, below are the product available sizes and coverage limits.
One Pint – 8 oz. powder, plus watercovers approximately 35 square feet
One Quart – 16 oz. powder, plus watercovers approximately 75 square feet
One Gallon – 64 oz. powder, plus watercovers approximately 300 square feet
Another tip… if you don't already have a ladder and you can't borrow one, keep in mind that Home Depot rents ladders for about $20/day.
We've done this once before and the process was very easy.
How to whitewash your fireplace – what is involved in the process?
Setting up the area
You'll need to remove everything from your fireplace including your television if you have one.
If you have a mount installed, you will not need to remove it because you don't need to paint right up to the mount. Your TV will cover the surrounding area anyway.
The majority of mantels will be difficult to remove so if you are leaving the mantel you'll need to cover it with clear plastic drop cloth, painters tape, or old towels like we did.
Next you will also want to ensure your floors are covered up with clear plastic drop cloth at least 3 feet on both sides and in front of your fireplace.
Milk paint has a much thinner consistency than regular paint so there will be more dripping paint than your usual painting project.
We had a few paint spots drop on the floor, but they wiped up immediately with paper towels and water.
Lastly you need to prepare your adjacent wall with painters tape to protect it as you whitewash the sides of your fireplace.
You will not want any paint dripping or spraying up against that wall.
Preparing the Milk Paint
Milk Paint comes in powder form and you mix it with water to your desired thickness.
It shouldn't be left out for long periods of time, so we used an old piece of Tupperware with a lid to cover it during any breaks.
You should create your first batch of paint, and test out a sample brick on your fireplace to make sure you are happy with the look before you proceed with the entire thing.
My biggest suggestion is MAKE SURE YOU MEASURE THE RATIO of your powder and water while you are making the sample.
If you adjust anything, to make it thinner or thicker, adjust and write down that ratio.
That way when you achieve the look you want on your fireplace, you'll know the exact ratio to use to whip up another batch.
This will be the easiest way to achieve a consistent look all over.
Our ratio was 4 tablespoons powder with 2 cups of water. Try this as a starting point, and adjust as necessary.
Painting the Fireplace
What you will love about milk paint is that there really is no way to mess this up.
Using the brush, you will paint left to right until each brick is covered. Do this in small sections, and then use your sponge to wipe away any excess.
If you want the texture of the brick to show through partially, you can use the sponge to wipe away until you achieve your desired look.
If you have random darker bricks, you may not want to wipe away on those at all.
One person could do both steps with the paint and paint brush in each hand, and the sponge in their pocket. We chose to do it together with one person doing each step.
Our total time to completion was 6 1/2 hours. For reference, our fireplace is 6 feet wide and 13 feet tall.
Your project time will vary significantly based on the size of your own fireplace.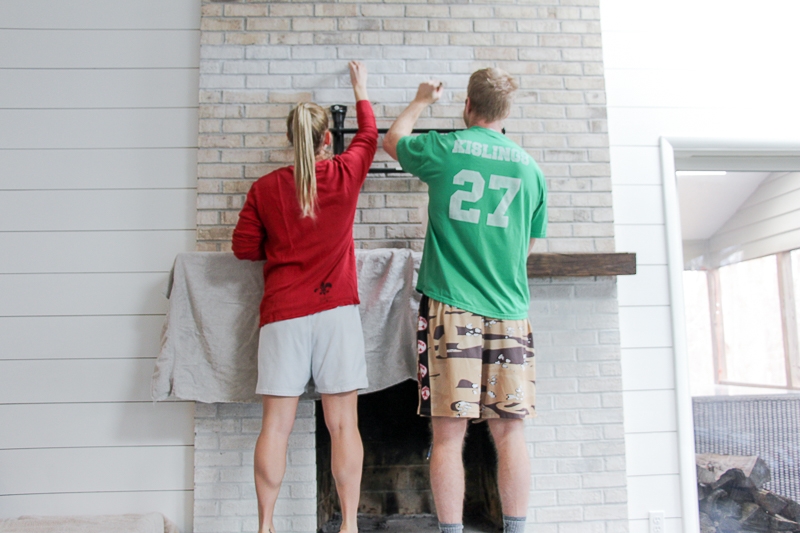 How to whitewash your fireplace – show me the Before and After photos!
We are absolutely thrilled with the final result. I have to tell you – I was REALLY nervous about this.
After I had ordered the milk paint online, the thought of it turning out horribly wrong kept me up at night, and all of the worrying was for nothing!
This is a beginner level project, that was a bit tedious at times, but ultimately pretty hard to screw up.
We are so glad we took the leap, and at a total project cost of $21.99 this was a cheap DIY win!
Next Up:
Want to see the latest photos of our living room? Check out the full tour HERE!
Shop My Fireplace Screen:

PIN THIS