The smartest way to maximize the space in your nursery is to use a nursery dresser changing table.
You're going to need plenty of storage for those adorable baby clothes and you'll need them accessible after diaper changing.
I've found the very best nursery dressers for you that double as a changing station. Each one is top-rated and there are options for every budget.
All of them have removable changing toppers so that you can continue using it as a dresser for years to come.
Disclosure: This post contains affiliate links, at no cost to you.
Extra Wide Nursery Dresser and Topper Sets
The Ava Regency Extra Wide Dresser and Topper Set is a dream for any baby girl – the trim on each drawer makes a huge design statement.
I love white nursery furniture because it's so neutral, you can use it again for your next baby regardless of the gender.
Next is the Blythe Extra Wide Dresser and Topper Set – this natural wood nursery dresser is perfectly gender neutral.
The color of the wood is so warm and cozy – just how you want your nursery to feel.
Related:  The Best Nursery Gliders of 2021
Lastly the Avalon Extra Wide Dresser is quintessential for a sophisticated nursery – it's a dresser that will be in style through their teenage years!
Made of solid wood it will last that long too.
It is not a dresser combo – it doesn't come with the changing table topper, but you can purchase a white universal topper like this one.
After you're done with diapers you can easily convert it back to just a dresser.
Small Space Nursery Dressers
If you don't have room for a wide dresser, I've got some small space dresser options for you.
This white campaign nursery dresser is the widest of the three options below and it's still only 45″ wide.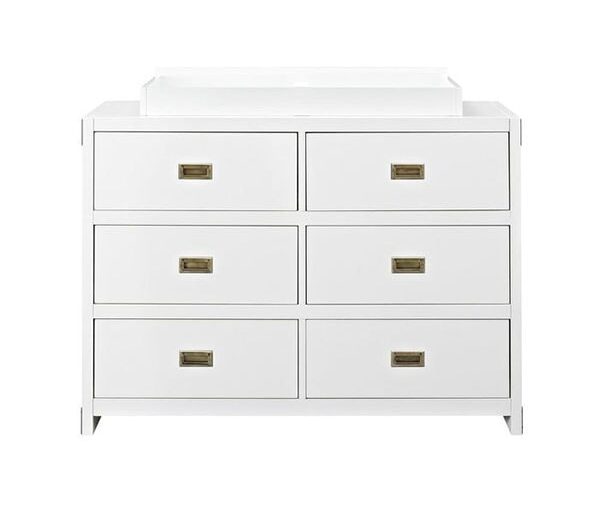 We have this dresser in our nursery and used it as a changing station for both of my children.
They share a room now and we still use it – we just took off the removable changing topper.
Related: The Very Best Blackout Curtains for Your Nursery
The Kanal Changing Table & Dresser is different than the rest – it has pull out baskets as well as drawers.
It is only 42.5″ wide but still provides ample storage for clothes and diaper supplies.
If you're a mid century modern lover then you will love the Lolly Changing Table Dresser!
The total width is only 33.5″ and it will fit your changing pad perfectly.
Nursery Dresser Changing Tables Under $300
If you're looking for a nursery dresser on a budget, I've got you.
These next three nursery dresser changing tables are all priced under $300 but are still well-rated and stylish.
The Chloe Regency Dresser gets you the Pottery Barn Kids look for much less!
You don't have to live by the ocean to love coastal home style.
The Navali Changing Table Dresser comes in both of these unique nautical finishes.
Related: The Best Neutral Nursery Rugs 
My last budget pick has spindles which is so hip right now.
Don't believe me? This article from Domino even says that spindle furniture is having a moment!
This Delta Children Saint Changing Table Dresser will make any nursery look chic.
Shop All of the Best Nursery Dressers

Tips for Before You Buy
First write down the item dimensions from the product page and measure to make sure everything will fit properly in your room.
You don't want to spend money on nursery furniture only to find out it sticks out way too far!
You'll also need to decide in advance where you're going to put it.
I recommend centering the dresser on the smallest wall, preferably on its own. If that's not possible, put it on the same wall as your glider, tucked on either side of it.
Need Help with Designing your Nursery?
Check out the related posts below!
The Best Nursery Gliders of 2021
The Best Neutral Nursery Rugs of 2021
The Very Best Blackout Curtains for Your Nursery
The Best Round Baby Name Signs for Your Nursery