Blackout curtains are an absolute necessity for babies!
They create an ideal sleep environment to keep your little one asleep longer.
You know you need them, but which ones are the best on the market?
I've found the very best blackout curtains for a nursery, and I'm sharing each one of them below.
What makes these better than the rest?
Their ability to keep the room completely dark, and the quality of the materials they are made with.
I've also chosen options with style for boy nurseries, girl nurseries, and gender-neutral nurseries that can be used for years to come as they grow older.
Disclosure: This post contains affiliate links, at no cost to you.
The Best Blackout Curtains for a Coastal Nursery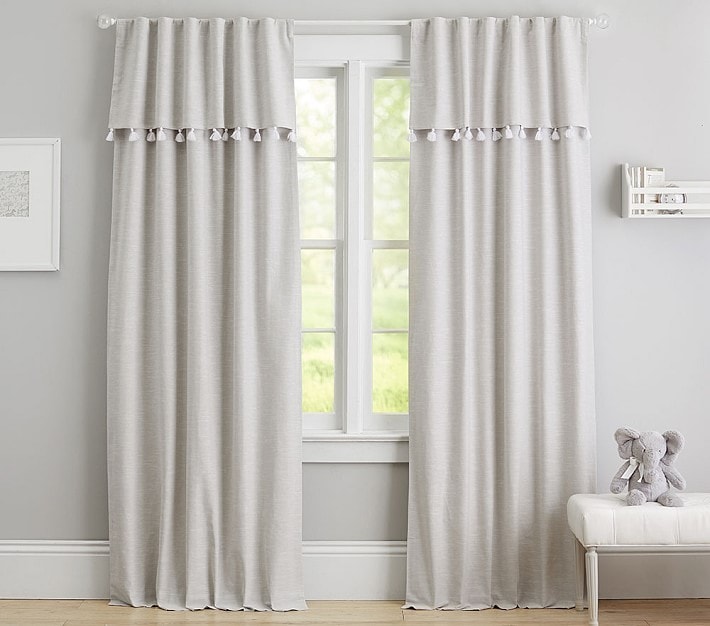 These fun blackout curtains with tassels and stripes are anything but ordinary!
Add a light and airy feel to your nursery whether you're going for a coastal theme or not.
Both are made with a high-quality cotton weave that makes the fabric feel thick and soft.
Related: The Best Nursery Gliders of 2020
Related: The Best Round Baby Name Signs for Your Nursery
The Best Blackout Curtains for a Gender-Neutral Nursery
These textured & linen blackout curtains are perfect for a gender-neutral nursery.
Because of their fabric texture, they'll bring warmth and coziness to the room.
You won't have to worry about them fitting in with your design since these will match with nearly any color walls.
Shop Colorblock Linen Curtains
Related: How to Design the Nursery of Your Dreams
The Best Blackout Curtains for a Sophisticated Nursery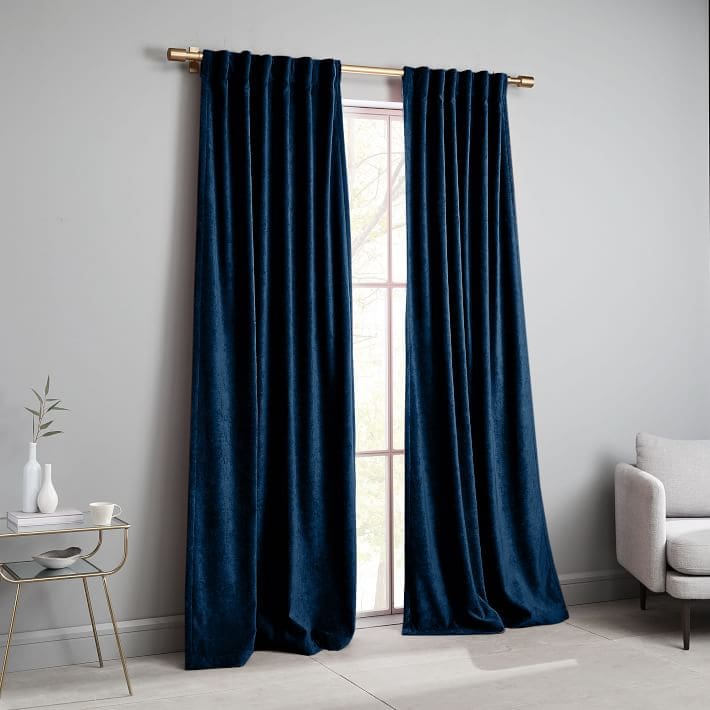 These velvet blackout curtains are perfect for a sophisticated nursery.
They are made of thick fabric that keep their polished look.
The best part is that you'll be able to use these for years to come as this room transitions into other uses.
I actually own these personally and used them for my daughter's nursery as shown below.
Shop All Blackout Curtains

I looked for top-rated blackout curtains on sites like Wayfair and Amazon, but the quality was just not there.
Curtains made of cheap materials look… well, cheap!
Invest in a beautiful set of curtains and keep in mind they will be there long after you switch up any decor.
Related Posts
The Best Nursery Gliders of 2020
The Best Round Baby Name Signs for Your Nursery
How To Design the Nursery of Your Dreams
How to Use Your Loft as a Playroom
Build This Custom Nursery Closet for $100
PIN THIS