Blackout curtains are an absolute necessity for babies!
They create an ideal sleep environment to keep your little one asleep longer.
You know you need them, but which ones are the best on the market?
I've found the very best blackout curtains for a nursery, and I'm sharing each one of them below.
What makes these better than the rest?
Their ability to keep the room completely dark, and the quality of the materials they are made with.
I've also chosen options with style for boy nurseries, girl nurseries, and gender-neutral nurseries that can be used for years to come as they grow older.
Our top neutral pick: Seaton Textured Cotton Blackout Curtain
Our top pick for girls: Dusty Blush Luster Velvet Blackout Curtain
Our top pick for boys: Chambray Noise Reducing Blackout Curtain
Now, let's dive into each one of the best blackout curtains for a nursery below…
Disclosure: This post contains affiliate links, at no cost to you.
The Best Blackout Curtains for a Coastal Nursery
The Riviera Striped Linen/Cotton blackout curtain will give you a light and airy feel whatever nursery theme you choose!
They are made of a 55% linen and 45% cotton for a structured yet casual feel.
You may be wondering… how can white blackout curtains actually block much light?
It's the thick blackout lining behind the fabric that does the trick!
How dreamy are these stripes?!
I own the Porcelain Blue color shown below, but the other color options are Navy, Charcoal & Beige stripes.
These have a fresh, sun-bleached effect that will make any room look spacious.
Another favorite for coastal nurseries is the Peace & Quiet Noise-Reducing Blackout Curtain.
These were designed for noise reduction so you won't have to worry about outside noise.
They also block harmful UV rays and provide energy-saving insulation.
The chambray blue color is also subtle yet beautiful!
If you need something more neutral, you can also purchase these in different colors… they are available in gray, light gray, and dark flax.
This curtain's 3-in-1 construction offers three hanging options: rod pocket, back tabs, ring top.
Not sure what those mean? Ballard Designs shared a great post on the different ways to hang curtains.
Be sure to check the diameter of the curtain rod in the room or of the one you are purchasing.
When you hang curtains from the rod pocket, if the curtain rod if oversized (such as 1.5″) you won't be able to easily open and close the curtain panels.
I love the look of an oversized rod so if you choose one, make sure you can hang it through the back tabs.
Curtain rings look GORGEOUS, but they probably aren't the best choice for a nursery.
They are noisy when you slide them open and closed!
Related: The Best Round Baby Name Signs for Your Nursery
Colorful Nursery Blackout Curtains
Many mamas to be are falling in love with fun, colorful nursery themes such as the Rainbow nursery!
We love the playful spirit of the Bright Pom-Pom Blackout Curtain Panel.
Note that these are not available in 108″ which is the size you'll need if you have 10 ft ceilings or higher.
96″ curtain panels are the correct length for 8 or 9 ft ceilings.
I don't even know why they bother making them in other different sizes – 63″ & 84″ lengths are WAY too short for any window!
Even if you have small windows, you want the curtain panels to reach and kiss the floor.
The watercolor stripes on the Kayla Rainbow Stripe Blackout Curtain Panel are nice, soft colors that are perfect for baby's room.
Even though these are white, they still block out light to darken room for bedtime, naptime and morning for a better night's sleep.
Finally, tassels have been on-trend the past few years and I don't see them going away any time soon!
The Rainbow Tassel Blackout Curtain Panel will be the perfect pop of color for baby's nursery.
The fabric on these is sustainably sourced cotton canvas and Oeko-Tex® Certified, which means they are tested in a third-party lab and verified to be free from over 300 harmful substances.
Related: 50+ Inspiring Modern Nurseries
The Best Blackout Curtains for a Gender-Neutral Nursery
These Crossweave Natural Canvas blackout curtains are a great option for a gender-neutral nursery, and the soft, neutral color brings warmth and coziness to the room.
You won't have to worry about them fitting in with your design since these will match nearly any wall color!
They come with a sewn-in blackout lining to darken the room and reduce sound.
You're going to love the Seaton Textured Cotton Blackout Curtain from Pottery Barn.
I love the color shown and what do you know? It's called 'Neutral'.
If you're looking for a darker color, you'll love the Dark Flax.
These come in both 50″ and 100″ widths so no matter the size of the window, you'll be able to cover it fully.
Seriously, this triple weave fabric is so pretty! A neutral nursery does NOT have to be boring.
The texture on these will make your baby's nursery feel so welcoming and comfortable.
The first gray color we've seen! The Crossweave Blackout Curtain will bring subtle texture to walls & windows.
They are made with interwoven threads that create a crosshatch pattern.
It really is an elegant design!
Although it's not neutral, if you're looking for a low key, dusty blush color… they also make these in a color called Rosette.
Related: How to Design the Nursery of Your Dreams
The Best Blackout Curtains for a Sophisticated Nursery
The Lustre Velvet Curtains are the perfect blackout curtains for a sophisticated nursery.
They are made of thick fabric that keep their polished look!
The best part is that you'll be able to use these for years to come as this room transitions into other uses.
I actually own these personally and used them for my daughter's nursery as shown below.
We can't forget about the boys – these Regal Blue velvet curtains are so fun!
They absolutely could work as a statement piece in a moody baby girl's nursery as well.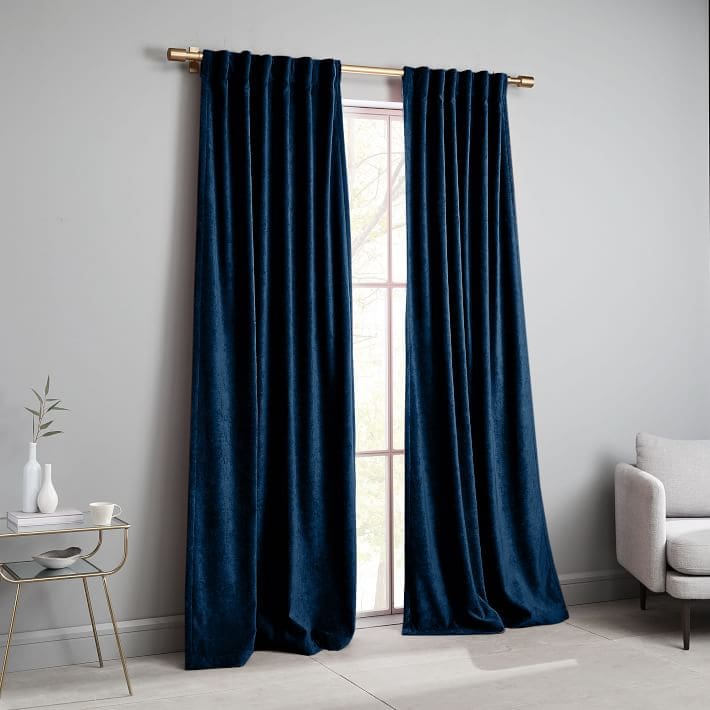 We are also crushing on these Laras Lead Blackout Velvet Curtains – isn't the Sage color so unique for a child's nursery?
They are embossed with subtle horizontal lines in a subtle, silvery green-blue that evokes the sea.
Add a little glamour into the nursery with this set of blackout curtains.
Shop All of The Best Blackout Curtains for a Nursery
Easily shop all of the blackout curtains we've looked at today.

Frequently Asked Questions
What's the difference between blackout curtains vs room darkening curtains?
When you search for blackout curtains online, a lot of times "room darkening" curtains will come up in search results.
Beware of room darkening curtains because they do not block as much light as blackout curtains do.
Babies sleep best in complete darkness, so having blackout curtains will help baby with daytime naps as well as early bedtimes before the sun goes down.
Are there travel blackout curtains that are portable?
Believe it or not… there are!
We tend to see babies waking earlier when taken out of their normal routine, so traveling with blackout curtains is a great way to get a good night's sleep during travel.
For younger babies, check out the Slumberpod. It's a portable tent that you set up over a pack and play or toddler cot, and it comes with a bag so you can carry it easily to and from.
We've got a discount code for 20% off of the SlumberPod – use THEGREENSPRINGHOME20 today! You can check out our full review on it HERE.
My husband & I have been using it for years and it's a great way to room share with your baby without waking them.
Our other recommendation for older babies and kids who sleep in cribs or beds is The Sleepout Curtain. It's simple to use, lighter to travel with, and can be installed anywhere for a completely dark environment!
Simply lock the suction cups onto the window glass and then press the curtain to the cups. You can even block any light bleeds with their reusable Sleep Pads.
We've also got a discount code for 10% off of The Sleepout Curtain – use GREENSPRING10 today! You can read our full review of this product HERE.
What about using blackout shades or blackout blinds?
Blackout shades will actually give you the closest thing to total darkness.
The thing about blackout curtains is there is always going to be a gap between the curtain rod and wall. Don't stress about this – all of my babies have slept FINE with the little light that did get in.
However, I've seen many moms put a roller blinds on the window frame PLUS use blackout curtains to dress the room up.
Leaving one (or both) of these closed on hot days will keep the summer heat out of your child's bedroom.
I've linked a few best options for you below. Most likely you do not have a standard size window, so I only included custom options where you can measure and choose the exact size of your window.
Shop the Best Blackout Shades for a Nursery

What curtain rods do you recommend?
Curtain hardware is not cheap, so always choose something classic which will work for years to come no matter how you switch up the room.
Depending on the rest of your nursery decor, stick with brass, brushed nickel, black, or wood.
Always pay attention to the curtain rod width!
Oversized rods make a statement, but they will not slide easily with a pole pocket installation. If you like the pole pocket look, simply choose a 3/4 to 1 inch curtain rod.
Otherwise, you can get an oversized rod, which are more than 1 inch, and hang them using back tab installation.
I do not recommend curtain rings for a nursery – they are too loud opening and closing them.
Shop Our Favorite Nursery Curtain Rods

Final Words on the Perfect Blackout Curtains
I looked for top-rated, high quality blackout curtains on sites like Wayfair and Amazon, but the quality was just not there.
Curtains made of cheap materials look… well, cheap!
Invest in a beautiful set of curtains and keep in mind they will be there long after you switch up any decor.
Related Posts
25+ Pretty Ways to Decorate Your Nursery Walls
10 Baby Closet Ideas You'll Fall in Love With
9 Affordable Cribs That Won't Break the Budget
The Best Nursery Gliders That Are Stylish and Top Rated
Build This Custom Nursery Closet for $100
PIN THIS