Every year we uncover new trends in both nursery themes and décor.
As parents, we want to create a space that is both unique to our own style and somewhere we'll enjoy spending time in.
If you're expecting, then you're probably excited to get started on decorating the nursery for your baby girl.
There are so many creative ways to make your daughter's room a beautiful space!
Whether you're looking for inspiration or just want to find out where to start, this guide has everything you need to create a nursery that's perfect for your little girl.
I've organized all 50 Nursery Ideas for a Baby Girl into a few smaller categories…
Favorite New Baby Girl Nursery Themes of the Year
Girl Nurseries with Unique Wall Décor
Simple Ideas for a Girl Nursery
Nursery Wallpaper Ideas We Love for a Baby Girl
Girl Nursery Ideas for a Small Room
Nursery Ideas for a Girl When You're On a Budget
Floral Nurseries that are Still Trending Year After Year
We've got a lot to cover! Let's get started…
Disclosure: Affiliate links may be used, at no cost to you.
Favorite Baby Girl Nursery Themes of the Year
If you're looking for some inspiration for your baby girl nursery theme, you are going to love these!
We've compiled a list of a few of our favorite themes of the year.
They're perfect for any mama-to-be who wants to make their baby girl's room unique.
1. Pretty Pink Lemonade
This pretty pink lemonade nursery nails a perfectly feminine and fun color palette.
2. Twin Macramé Crib Mobiles
These twin macramé crib mobiles speak to our symmetrical loving heart.
3. Soft Pink Color Scheme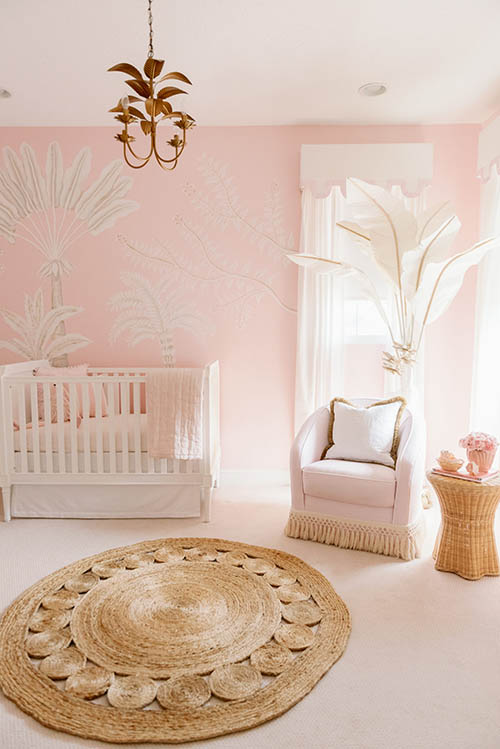 A soft pink color scheme can be both girly AND sophisticated.
Related: 45 Cute Ideas for Decorating Baby's Room
4. Neutral Bohemian Nursery
Source: Little Crown Interiors
We've never seen a neutral Bohemian nursery with wall décor quite as stunning as this!
5. Southern Inspired Nursery
Source: Little Crown Interiors
Sage green is all the rage and this Southern inspired nursery theme captured it perfectly.
Related: 18 Gorgeous Nursery Light Fixtures for Baby's Room
6. Earth Tone Nursery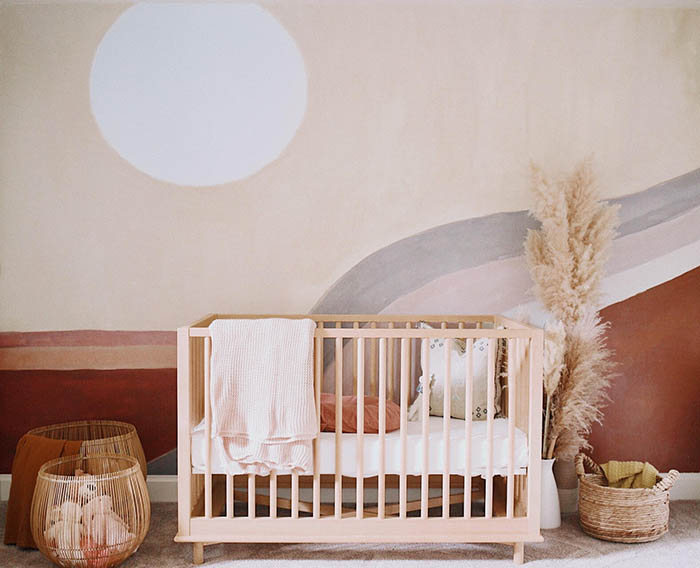 Source: Sydney Penner at Anewall
Earth tone nurseries are here to stay. They may be neutral in color, but they're just as chic.
Unique Wall Décor for a Baby Girl Nursery
If you're looking for unique nursery wall décor for a baby girl, you'll love these creative ideas for decorating the walls of your baby girl's room.
7. Dreamcatcher Wall Decoration
How beautiful is this nursery wall hanging that incorporates delicate lace with dreamcatchers?!
8. Antique Brass Mirror
Source: Marie Flanagan Interiors
Antique brass will never go out of style and this mirror over baby's crib makes for a bold statement.
Related: 15 Beautifully Neutral Ideas for Your Nursery
9. Chevron Blue Accent Wall
Step up your nursery style with pretty chevron blue accent wall.
This one looks like it was stenciled!
Plus, the whimsy color combination of blue and coral has us loving it's eclectic effect on this baby girl's nursery.
10. Silk Flower Wall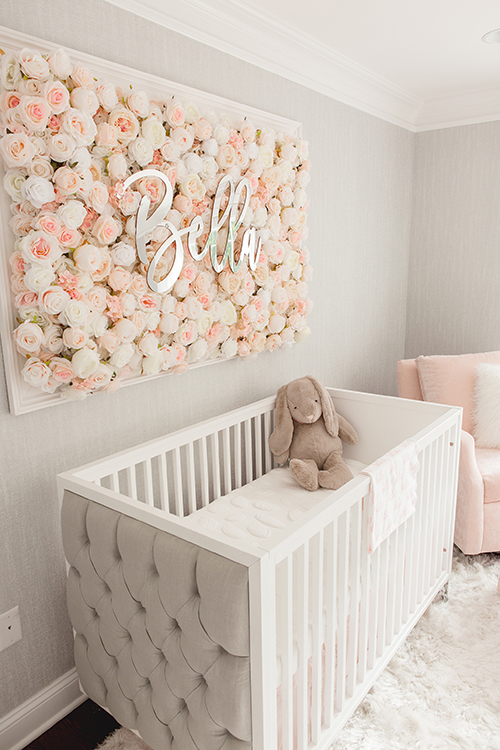 We can't think of anything more unique than a silk flower wall – doesn't it look so realistic?!
11. Sea Shell Wall Mirror
You can't miss this ornate nursery wall mirror made of sea shells!
Related: Pretty Woodland Nursery Decor Ideas
Simple Girl Nursery Ideas
Simple does not mean boring!
In fact, in most cases it's intentional!
Many moms are craving a minimalist nursery vibe.
Let's take a look at some of the ways you can add just a simple touch and still create a big impact.
12. Artwork over Baby's Crib
Artwork fills the wall over this crib and makes a bright room feel balanced.
13. Vintage Spindle Bookshelf
The first thing you notice in this otherwise simple nursey is the beautifully decorated vintage spindle bookshelf.
14. Gold Accents
Source: Little Crown Interiors
These gold accents stand out in this all white nursery, drawing your eye up to them.
Related: Trending French Nurseries
15. Crown Crib Canopy
Sometimes all you need to make a big impact is one thing, like this crown canopy over the crib – perfect for any little princess.
16. Neutral Nursery Colors
Source: Little Crown Interiors
Not all moms-to-be crave bright colors – this neutral nursery is such a warm, inviting space.
17. Pops of Pink
If you're looking for that perfect pop of color, you can transform an all white nursery into a colorful work of art with just a few pieces of décor.
18. Rustic Wood Beam
Source: Lacey Michalek Interiors
You may need access to someone handy, but this wood beam brings a rustic, seriously cozy vibe to this little girl's room.
19. Climbing Floral Wall Decor
We can't decide what we love more… the geometric dresser or the flower accents on the wall!
Attach climbing floral wall decor above your baby's crib for a truly unique look.
20. Bold Light Fixture
Don't overlook the power of a single light fixture to make a statement.
21. Blushing with Pink
What pops out at you when you see this baby girl's nursery?
We're blushing with pink!
Nursery Wallpaper Ideas We Love For a Baby Girl
Obsessed with how wallpaper can elevate a space?
These next few nurseries are incredibly unique!
22. Pampas Grass Wallpaper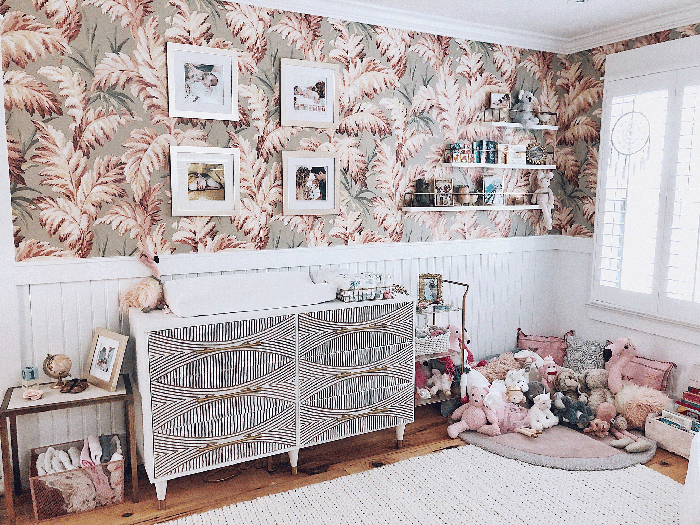 There's so much to love about this nursery for a baby girl, starting with this pampas grass wallpaper I've never seen before.
23. Wildflower Nursery Theme
Wildflowers and sunflowers are trending in girl nursery themes and this one captures them perfectly.
24. Rainbow Nursery Wallpaper
We see a lot of pink in girl nurseries, but the muted colors of this rainbow wallpaper are so dang pretty too.
25. Neutral, Subdued Colors
Even though this wallpaper has subdued colors it still brings a soft, comfortable feeling to this little girl's nursery.
26. Lemons Wallpaper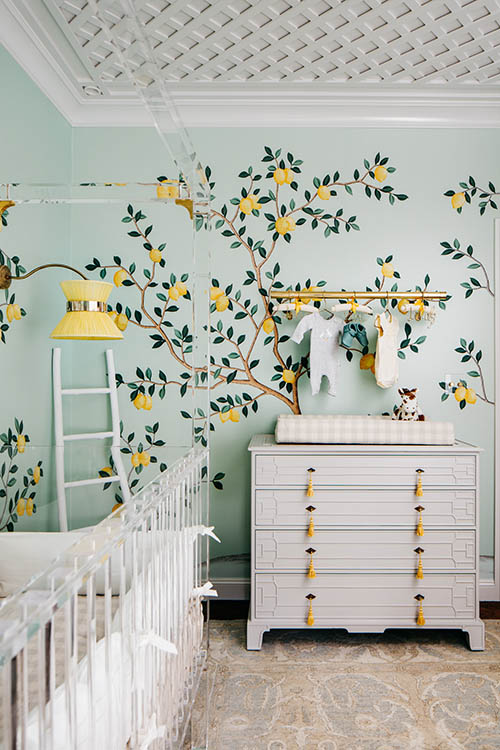 Source: Dina Bandman Interiors
You can't miss this cheery lemons nursery wallpaper and we are here for it!
27. Pink Roman Shades
Not only did this mama-to-be choose soft pink roman shades…
She even painted the ceiling a subtle pink too.
28. Unicorn Wallpaper
Source: Round Lens Photography
Unicorn wallpaper? Yes please!
What a great way to throw in your own unique design style.
You could also easily achieve this look with just wall decals!
29. Southwestern Inspired Wallpaper
Source: Little Crown Interiors
This Southwestern inspired wallpaper takes the stage in this room, and while it's neutral, this is a nursery for a baby girl.
30. Pink Lattice Wallpaper
We are loving the pale pink, feminine vibe this lattice wallpaper brings to her nursery.
Baby Girl Nursery Ideas for a Small Room
Do you have a small room to work with?
If so, you'll love these ideas and tips!
31. Maximize Space with a Mini Crib
Use a mini crib to maximize your space and fit all of your nursery furniture.
32. Bold Wallpaper
Add bold wallpaper to draw your focus away from the size of the room.
33. Small Space Nursery Furniture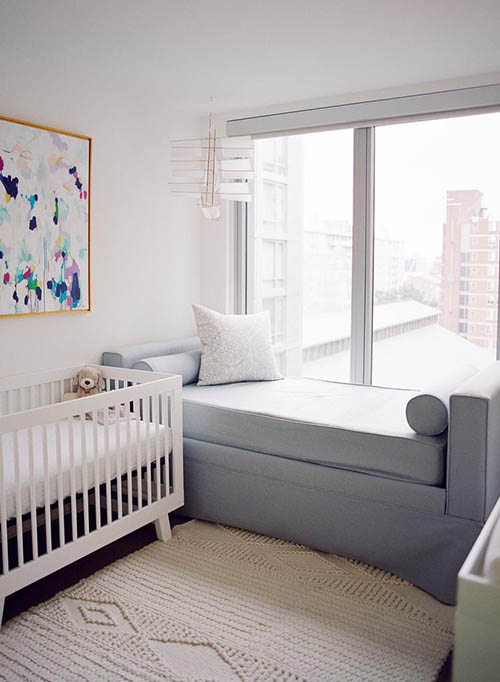 Designing a nursery in a small apartment?
Look for small space nursery furniture so you can maximize every inch of the room.
Nursery Ideas for a Baby Girl When You're On a Budget
If you are expecting a baby girl, you may be wondering how to decorate her nursery without spending a fortune.
Luckily, there's a few ways you can make a nursery look cute and stylish without having to break the bank.
Here are some ideas for decorating a baby girl's room on a budget.
34. Painted Geometric Mural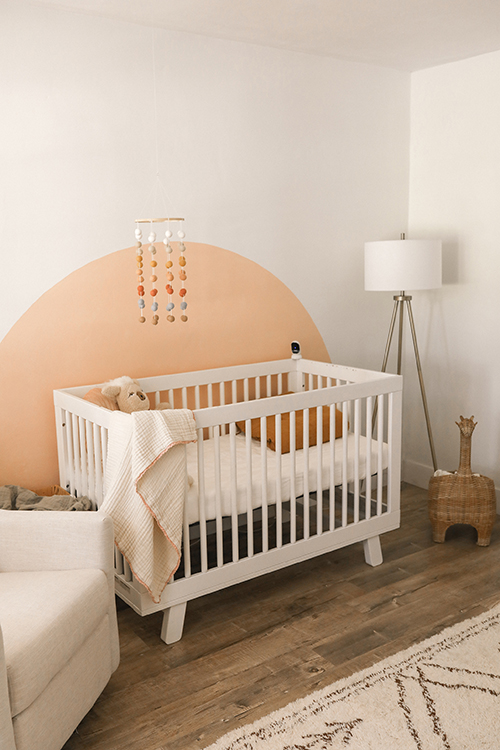 Instead of wallpaper or wall decals, paint a shape onto the wall yourself.
35. Oversized Gallery Wall
Place an oversized gallery wall behind the crib.
Use affordable IKEA photo frames and print your own high-quality photos online!
36. Statement Wall Mirror
If your budget doesn't allow for wallpaper, fill your blank wall with a pretty wall mirror.
37. Tiered Wall Shelves
Hang tiered, inexpensive book shelves to fill open wall space.
Fill photo frames you have with free printable art you can find online!
Floral Nurseries Are Still Trending Year After Year
Floral nurseries are still trending in popularity!
You're going to love the many examples of inspiring flower nurseries we found to share with you.
38. Delicate Pink Floral Vibes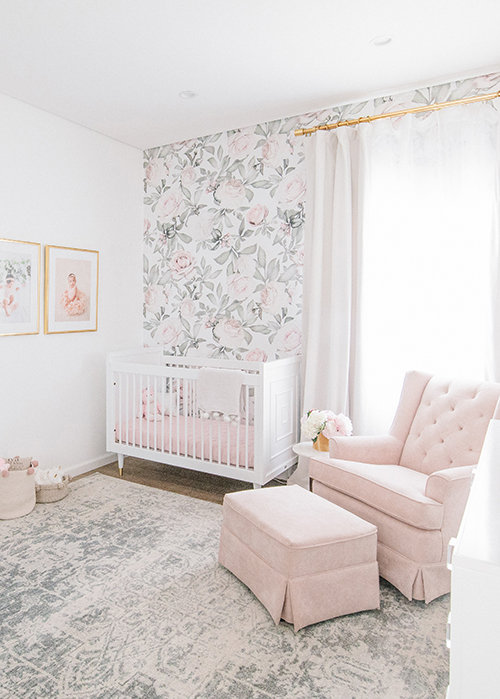 Source: Little Crown Interiors
It doesn't get any more classic than these delicate pink floral vibes we get from this pretty wallpaper!
39. Double Beaded Chandeliers
Double beaded chandeliers equal twin nursery heaven for two lucky baby girls.
40. Petite Florals and Crystals
Source: A Little Life and Style
This mix of a crystal chandelier and petite florals is oh so romantic!
41. Large Scale Floral Wallpaper
Source: Little Crown Interiors
The size and scale of this floral nursery wallpaper is like nothing we've seen before!
42. Pretty Pink Tulle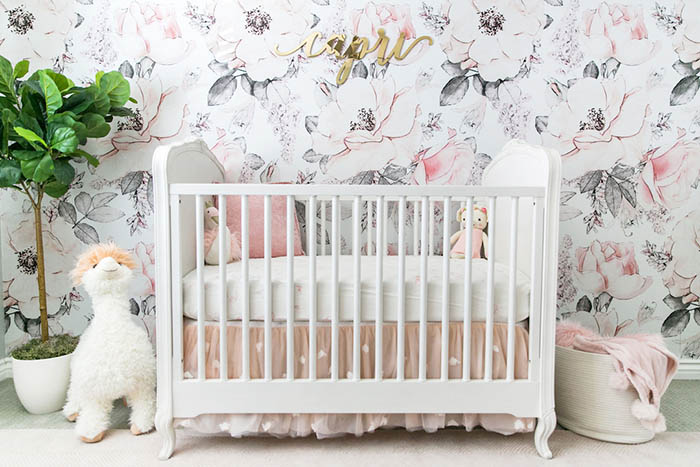 Source: Little Crown Interiors
Nothing complements a girly nursery more than pretty pink tulle.
43. Vintage Nursery Vibes
It's hard not to fall for the vintage vibes of this floral baby girl's nursery.
44. Bright and Airy Colors
A bright and airy nursery for a baby girl, where the wallpaper is your primary focal point.
45. Wood Shiplap Ceiling
The light wood shiplap ceiling makes this nursery snug and inviting.
Quirky Ideas for a Girl Nursery
Looking for something a little more out of the box?
We've got some quirky ideas to show you!
46. Painted Stripe Ceiling
Are you noticing a trend?
Paint or paneling on your ceiling may be the next nursery movement!
47. Wallpaper on Ceiling
Wallpaper on the ceiling seems to be rising in popularity, too.
48. Touch of Glam
A touch of glam for this little girl's nursery!
49. Acrylic Crib
Acrylic cribs also seem to be gaining momentum!
50. Hanging Rattan Chair
The hanging rattan chair adds a level of sophistication to this colorful girl's nursery.
More Baby Girl Nurseries
We've got even more baby girl nurseries you'll love!
There are so many different styles to choose from when designing a beautiful nursery.
Will you do a feature wall?
Do you prefer a pink nursery or a more neutral nursery design?
Can you take care of white furniture or should you opt for darker, neutral tones?
Should you paint your nursery walls or just hang plenty of wall art?
There are so many fun decisions to make!
We hope this final list of baby girl room ideas inspires you as a great example.
51. Pastel Colors
The vintage charm of this white crib and pastel colors are simply darling.
52. Mauve Accent Wall
A mauve accent wall that's perfect for a little lady.
53. Crown Chandelier
This darling crown chandelier is just perfect girls nursery decor!
54. Eclectic Decor
Using eclectic decor is an easy way to add personal touch.
55. Big Pop of Color
Add a pop of color for a huge impact!
56. Rainbow Wall Mural
Paint a rainbow to brighten the whole room.
57. Faux Fireplace Mantel
Source: Big Family Little Farmhouse
Create a faux fireplace mantel to make your nursery feel cozy.
58. Pendant Lighting
Hang a pendant light over baby's crib instead of a mobile.
59. Cover Your Carpet
Cover boring carpet with a neutral plush rug.
60. Light and Airy Feel
Embrace your white walls for a light and airy feel!
61. Mauve Colored Walls
Consider mauve colored walls and fun accents to make your nursery unique.
62. Bring in modern nursery furniture with rounded edges.
63. Put flower wall decals onto your nursery walls for a 70's vibe.
64. Choose dramatic ruffled curtains for an elegant look.
Source: Hello Morellos
Nurseries for Baby Girls – Frequently Asked Questions
When should I decorate my nursery?
Preparing the nursery in your home is a really fun job and can even be one of the most enjoyable times of your pregnancy. There are so many fun things to pick up along the way to adorn your nursery, but you might also be surprised how long some items will take to arrive and be ready to get into the room.
Start between 18-20 weeks to ensure you're able to take pleasure in the process and not be stressed at the end. Now if you are already well past this already, we don't want you to stress either! Check out this guide which will seriously speed up the process.
A lot of expecting parents prefer to wait to start on the nursery until they are out of the early miscarriage stage. It also makes the most sense to wait until you have found out what gender you are having. That's why 18-20 weeks is the perfect time to get started.
What should a baby nursery have?
In order to fully decorate your nursery, you'll want to get the following items:
Crib Mobile, Crib Skirt, Crib Sheets, Crib Rail Covers, and Decor for the Crib Wall
Blackout Curtains, Curtain Rod
Glider Throw Pillow, Glider Throw Blanket, Lamp or Nightlight for Next to Glider
Area Rug, Decorative Wall Shelving or Book Shelves
Decor/Artwork for Over the Changing Table/Dresser, Changing Table Topper, Laundry Basket
Basket or Toy Box for Toy Storage
What furniture does a nursery need?
In addition to the nursery decor above, you'll need the following nursery furniture pieces:
Crib
Glider or Rocking Chair and Ottoman
End Table for Next to Glider
Changing Table Dresser
We've published guides on the best affordable cribs, gliders, and changing table dressers.
How do you do a nursery on a budget?
One way to save is on your crib choice. All cribs for sale must meet the guidelines of the U.S. Consumer Product Safety Commission and come in a standard length & width. The greatest difference between cribs is style and price.
You don't need to buy a crib from Pottery Barn Kids that costs between $700-$1,000. You can get a crib that's both beautiful and well priced. The natural wood crib we used in my son's nursery cost under $300 and I did NOT sacrifice on style.
Take my suggestion and save yourself hundreds of dollars on the crib. You'll be glad you did the first morning you come in and find your little one has chewed up the crib rails. Which reminds me – DO NOT FORGET to put on crib rail covers! Now, I wrote a quick guide that you can check out with 9 of the most affordable and stylish cribs to save you some time.
Another way to save is on your changing table choice. It will get beat up over those first few years. You'll be wiping poop off of it and it will likely get scratched on the top. If you have the budget, Pottery Barn Kids carries my favorite changing table dressers but they will cost you between $700-$1,200.
If your budget is limited, I suggest saving on a lower priced changing table dresser and using some of those savings towards some really unique decor you love. This campaign changing table dresser we own can be the functional piece of furniture you need and it only costs $300.
You can also save by spending less on your rug. A gorgeous, eye-catching rug is key to any stunning nursery, but thankfully there are stores like Rugs USA that have high-quality rugs at a very low price. Chances are it's going to get messed up over the years anyway.
The final spot you can save is with lower priced décor from stores like Target or Home Goods. You'll switch out décor more frequently, so it makes sense not to make a high investment on things you will use for a short period of time.
What should you not buy for a newborn?
The number one thing I see new moms fall for is buying a nursery bedding set. A set includes a quilt and crib bumpers – neither of which you should use for a newborn. Both are against safe sleep guidelines from the American Academy of Pediatrics.
You won't be giving your child a blanket that size until between 18-24 months old and by then the matching crib sheet will likely be worn out.
Looking for more nursery decorating resources?
Check out these related posts!
10 Nursery Themes for Girls That Are Rising in Popularity
9 Pretty Daybed Ideas for Your Nursery
25 Gorgeous Storage Ideas for Your Playroom
PIN THIS