Creating the perfect nursery accent wall is a fun and exciting project for you as you prepare for the arrival of your little one!
A beautifully designed nursery accent wall can make a huge impact and set the tone for the entire room, reflecting your personal style and taste.
This list of 25+ unique nursery accent wall designs is sure to inspire you for your own project!
Let's get started…
Beautiful Nursery Accent Wall Ideas
No matter what nursery themes you are considering, any one of these accent wall ideas could work!
​Let's dive into these beautiful nursery accent wall ideas that make a seriously big impact.
1. Mix Wallpaper and Board & Batten
Source: Our Hawthorn Den Home
A great way to make your nursery accent wall stand out is by combining wallpaper and board & batten.
Choose a wallpaper design that complements the color and theme of your nursery!
With board & batten, you can add texture and depth to the wall, making it a perfect focal point.
We love the sconces on the wall in this darling neutral nursery, too!
Source: Jordan Miller Home
Above is another great example of a board and batten wall mixed with pretty wallpaper.
Such a gorgeous combination, don't you think?!
Consider using removable wallpaper so you switch up the room's theme, as your child gets older.
Related: Elegant French Nursery Room Inspiration
2. Use Fun Wallpaper Behind Baby's Crib
Source: Khemric and Jennifer Beek Hunter
Think about hanging wallpaper with a fun color scheme behind your baby's crib!
It will not only create a beautiful backdrop for the crib, but also stimulate your baby's imagination.
Plus, have you seen anything more dreamy than this pink trim?!
3. Paint a Rainbow on Your Nursery Walls
Source: Jess Makes Magic
Looking to liven up the feel of your baby's nursery?
Add a touch of color and creativity to it by painting a rainbow as the accent wall.
A DIY project like this will transform the room into a more comfortable, playful space for your little one.
4. Cut Wallpaper Into an Arch for Behind Baby's Crib
Source: Hayleyscornerr
Don't think I've ever seen this one!
Another interesting idea is to cut wallpaper into an arch shape for behind the baby's crib.
You'll have a unique, handmade design on the nursery accent wall, emphasizing the crib as a focal point!
Choose a wallpaper with a pattern or texture that blends in with the rest of your nursery decor.
5. Use Pretty Wall Decals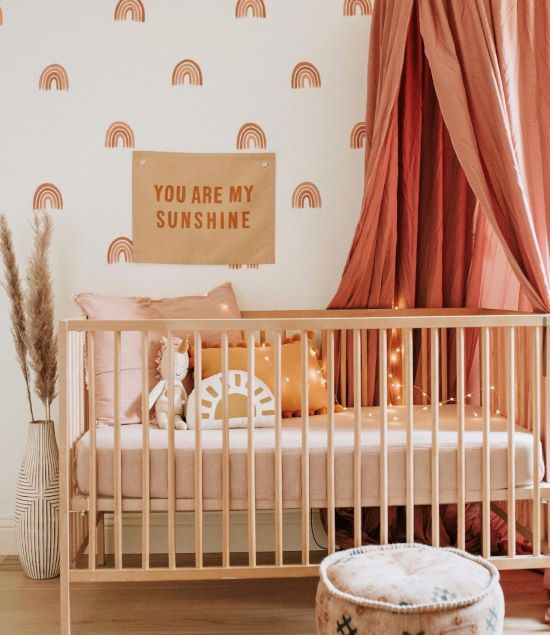 Source: IManiKids & Red Poppy Photography
What immediately catches your eye above?
Wall decals are an easy way to add personality and design to your nursery, without the commitment of wallpaper or paint.
Arrange them in a way makes your baby's crib stand out!
6. Combine Wallpaper and a Painted Accent Wall
Source: Harper Haus Interiors
Loving the look of this cozy, baby girl nursery?
For a more layered look, combine both wallpaper and a painted accent wall.
This creates an eye-catching contrast and adds depth to the whole room!
Pick a paint color that complements something you see in the wallpaper design as well.
7. Drive Home Your Nursery Theme with Woodland Wallpaper
Source: Pretty Domesticated
Looking for the perfect neutral nursery design?
We are falling in love with the woodland nursery theme lately!
This beautiful forest wallpaper really drives home the room's aesthetic.
8. Combine Wallpaper with Wainscoting
Source: Leann Ford Interiors
Who said you have to do one or the other?!
To add elegance and farmhouse charm to your baby's nursery, consider combining wallpaper with wainscoting.
Install wainscoting on the lower half of the wall and finish the top half with a beautiful wallpaper design.
This will create a gender-neutral nursery, showcasing your decorating skills!
The key to creating the perfect nursery accent wall is to consider the overall theme and colors of the room.
Wood Accent Wall Ideas
There's something so warm about using wood tones in a nursery design!
These wood accent wall ideas are the perfect way to make your baby's nursery feel cozy and inviting.
9. Add Traditional Wainscoting in a Fun Accent Color
Source: Magnolias Modern Mama
What's more fun than a seafoam green like this?!
Transform your nursery with a traditional wainscoting accent wall, but choose a fun accent color that complements the rest of the room too.
Source: Fashionably Kay
Here's another example of this theory at work!
We also love the pretty blush color of this moulding accent wall above.
10. Create Arrows with Trim Pieces for a One of a Kind Wood Accent Wall
Source: Living a Wilder Life
Looking to create a truly unique space? We love this gorgeous nursery with neutral tones!
Achieve the look by cutting trim pieces to create an arrow pattern as your accent wall.
This unique design adds dimension and direction to your nursery.
11. Do a Vertical Board and Batten Accent Wall
Source: Drab to Dreamy
Vertical board and batten accent walls add height and make your space feel larger.
This traditional style works with any color palette, but consider doing something fun with your paint colors to really make a statement!
12. Make a Statement with Modern Wood Panels
Source: Little House on a Little Land
Loving the look of a modern nursery?
Give your baby boy a one-of-a-kind nursery with a modern slat wall like this, assembled in a bold pattern.
13. Illuminate Your Wood Accent Wall with a Moody Color
Source: Jolaylebaby
Looking for a creative boy nursery idea?
Create a masculine atmosphere with a moodier paint color!
This style has been trending for a long time with interior designers.
14. Find Reclaimed Wood for Wall Paneling Your Nursery
Source: Leann Ford Interiors
Modern farmhouse has stayed popular a long time for a reason!
Reclaimed wood adds character and charm to any themed nursery.
It's also an eco-friendly option that works with various styles, from rustic to modern.
15. Cut Wood Into Strips to Make a Chevron Pattern
Source: Project Nursery & Kaci Hack
Obsessed with anything and everything chevron? Us too!
Turn a small space into something really special with a chevron pattern like this.
Cut wood into strips and arrange them into this striking, geometric design.
Unique Nursery Feature Wall Ideas
These next few unique nursery feature wall ideas will get your creative juices flowing!
You'll find inspiration for a nursery for a baby girl or boy, regardless of what you're having.
16. Frame Wallpaper into Wainscoting for Large Scale Artwork
Source: Alexa at Home
We are absolutely swooning over this gorgeous idea!
Create a stunning nursery feature wall by framing wallpaper into wainscoting for large-scale artwork.
This charming floral wallpaper, surrounded by clean lines, is for sure a stunner.
17. Hang Painted Shiplap Behind Baby's Crib
Source: Our Unique Home
Add character to your baby nursery by hanging painted shiplap behind the crib.
This accent wall offers a rustic charm and can be customized with your desired color!
The shiplap serves as an eye-catching backdrop for the crib and can be easily matched with your nursery theme.
18. Have a Mural Painted on Your Nursery Walls
Source: HKCung
Isn't this one of the most sophisticated nurseries you've ever seen?!
A mural is a fantastic way to personalize your nursery room.
Work with a local artist or choose from a variety of mural designs available online to create a captivating scene that reflects your nursery theme!
From whimsical landscapes to vibrant patterns, murals add a unique touch and allow you to unleash your creativity.
19. Paint Your Own Nursery Accent Wall in Triangles
Source: Decor for Kids
If budget is a concern, we love the affordability of this DIY project!
Channel your inner artist by painting your nursery accent wall in triangular patterns.
You have control over color selection, allowing you to blend the feature wall seamlessly with the rest of the baby room.
Experiment with different sizes and shades of triangles to create this easy accent wall.
20. Double Up Two Painted Arches Behind the Crib
Source: Raising Lion Hearts
For an artistic touch, paint two arches behind the crib to create a darling focal point.
We love how this mama-to-be mixed a solid color right next to this fun gingham pattern!
21. Stencil Diamonds on Your Nursery Walls
Source: Home of Chhetris
​Sometimes a wallpaper accent wall can be too expensive!
Consider stenciling your nursery walls on your own for an affordable option.
Final Words on Ideas for a Nursery Accent Wall
We hope you loved these great ideas for your own nursery accent wall!
Add visual interest to your entire project with just a little bit of creativity.
Some options cost more than others, but no matter which one you choose, it will turn out beautiful!