Looking for the perfect baby shower themes for boys?
We totally get wanting to find completely unique boy baby shower themes that you haven't seen before!
That's why we searched long and hard to find some NEW baby boy shower ideas to inspire you.
Sometimes planning a baby shower can be very time consuming and overwhelming, whether it's for yourself or a friend.
Hopefully you'll fall in love with one of these 15 baby shower themes so you can move onto the fun stuff… like shopping for baby shower decor!
Let's get started…
Disclosure: Affiliate links may be used in this post, at no cost to you.
Unique Boy Baby Shower Ideas
As a new parent, it's easy to get lost trying to come up with the perfect theme to shower your newest addition.
These baby shower hosts really got creative with these unique boy baby shower ideas!
Shower your little man with one of these fun baby shower themes.
Campfire Baby Shower
Source: Lindsey M Wagner
This campfire smores baby shower had a dessert table to die for!
It's an adorable baby shower theme that we haven't seen before.
No doubt it will be a huge success with your family and friends!
These party favors are just one of the adorable details this host put together.
Related: 8 Baby Shower Games That Don't Suck
Locally Grown Shower Theme
Source: Inspired By This
This Locally Grown baby shower theme incorporates the color blue in a sophisticated and subtle way.
It's such a cute theme for any mamas who love to live sustainably!
Use fresh flowers in various shades for the perfect baby shower decorations.
FYI – we've got a great post with 20 different festive fall baby shower ideas for those of you having fall & winter babies.
Related: 10 Nursery Closet Ideas to Inspire You
Mama to Bee Baby Shower Theme
Source: Kara's Party Ideas
We're obsessed with this gender-neutral baby shower theme that focus on the mama to be!
Some moms prefer to stay away from the traditional shower with blue colors.
If that's you, consider this cute baby shower theme and having a bee-themed baby shower for your little boy!
Related: 20 Winter Season Baby Showers
Little Cutie Citrus Baby Shower
Source: Project Nursery
Here's another great example of a fun theme with bright colors!
This host went all out with this balloon garland that's a perfect photo backdrop.
We've put together a great list of ideas for outdoor baby shower decorations if you need some.
Related: 17 Nursery Shelf Ideas You'll Want to Steal
Creative Baby Shower Themes for Boys
We've got more creative baby shower themes for boys!
These amazing baby shower themes will surely impress the mama to be and her guests.
Every one of these are a super cute way to celebrate your new little boy and will leave you with plenty of inspiration!
Living Garden Shower Theme
Source: Inspired by This
If you've got a hefty budget for flowers or you have access to an arboretum for a venue, this living garden theme is one of the most elegant baby shower theme ideas we've ever seen!
The pastel blue decorations and white flowers are fit for a royal prince.
Coffee and Cravings Baby Shower
Source: Project Nursery
Here's one of those totally unique baby shower themes that you don't see often!
The chalkboard with each sweet treats and coffee name is so clever.
It's an adorable idea for a baby shower with an early start time.
Related: The Best Changing Tables for Your Nursery
Pumpkin Spice and Everything Nice Shower Theme
Source: Project Nursery
Is there a mom out there who doesn't love pumpkin spice?!
Welcome the arrival of a new baby boy with this fun fall baby shower theme.
Celebrate your little pumpkin with a themed party like this one.
You could also consider a Halloween theme if you're looking for something really unique!
Children's Book Baby Shower Theme
Source: Pizzazzerie
Think you'll be raising a little book worm? Match baby books with food for the perfect baby shower theme.
Bonus: Have your guests bring the baby books… what a great way to stock the new parents with a big reading collection!
Related: Easy DIY Garland Tutorial for Above the Crib
Peter Rabbit Baby Shower
Source: The Balloon Clubb
Falling in love with the soft blues and fresh white flowers at this Peter Rabbit baby shower.
It's a great theme if you're looking to do something a little out of the ordinary!
Cute Baby Boy Shower Ideas
Above we looked at plenty of unique baby shower themes for boys. Now it's time to look at some more popular baby shower themes!
Each one is a fun way to celebrate baby and brings something a little different to the consider.
Teddy Bear Baby Shower
Source: Anagnydilone
Not sure I could be any more obsessed with this teddy bear baby shower theme!
What's cuter than party favors with a little cuddly teddy bear tied on them?!
Teddy bears are also super easy to incorporate when creating centerpieces for your tables.
Incorporate adorable sayings in your party decor such as…
We can bearly wait!
Thank you beary much!
You're beary loved!
We think this is one of the best baby shower themes!
Related: The Most Comfortable Gliders for You and Baby
Woodland Themed Baby Shower
Source: Pretty Collected
The Woodland themed baby shower has been a popular choice for quite some time and for good reason.
What's better than cute little forest animals?!
It's a versatile shower theme that can be used for baby boy, baby girl or even used gender-neutral.
If you're handy with wood working, you could easily make the tree stump serving stands for free!
Tie Dye Baby Boy Shower
Source: Sugar Parties LA
We all expect to see blue in a baby shower theme for a boy, but this one has a little Boho twist.
This host incorporated tie dye with varying shades of blue for a perfect party theme we haven't seen before!
Related: The Ultimate Checklist of Things You'll Need for the Baby
Born to Be Wild Themed Shower
Source: Inspired By This
The "Wild One" party theme has been growing in popularity but this host made it very specific to a baby shower by calling it "Born to Be Wild".
A giant rattan chair for opening shower gifts is a great idea for the perfect photo-op for the mama to be.
Those giant stuffed animals can also be repurposed as nursery or playroom decor for your little boy.
Rubber Ducky Baby Shower
Source: Party Decorations Balloons Phoenix
Not sure there's anything cuter than a bunch of little rubber ducks!
This is one of our favorite cute baby shower themes, perfect for the summer months.
Classic Boy Baby Shower Themes
Our final category of boy baby shower themes are all classic themes you'll definitely recognize.
Still, they are all totally swoon worthy in their own unique ways.
Winnie the Pooh Shower Theme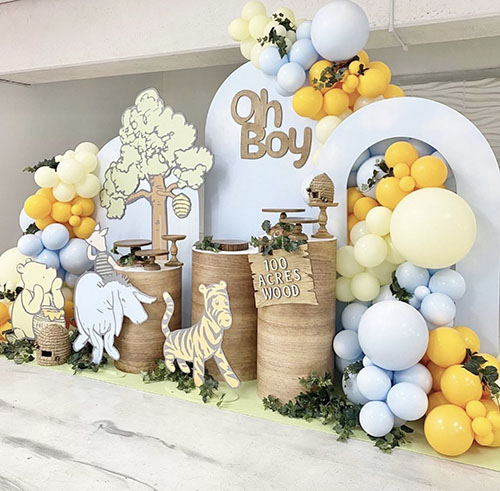 Source: Bizzie Bee Creations
This incredible backdrop was put together by an event planner, so don't feel bad if your baby shower is not as elaborate.
We love the balloon garland though which is totally doable by yourself!
On Etsy, you can purchase custom balloon garland kits that even come with a pump.
We've actually got a whole roundup of amazing Winnie the Pooh shower ideas you'll love!
Related: 9 Cheap Cribs That Are Functional and Gorgeous
Nautical Baby Boy Shower Theme
Source: Nedor Decor
Wanting to shower your little sailor with love?
This "Ahoy It's A Boy" baby shower is such a good theme!
It's nautical, boating vibe is perfect for a baby shower during the summer months.
Little Cowboy Baby Shower
Source: Moon and Shine Events
Gearing up for your little cowboy?
Nothing is more adorable than cow prints and little cowboy boots!
This fun western theme is perfect for just about anyone.
A Star Is Born Baby Shower
Source: Deetailz Eventz
Celebrate your soon-to-arrive little star with this cute baby boy shower theme!
​We love this gorgeous setup with a mix of metallic, white and blue balloons.
It's a good theme if you're hosting at an indoor venue during those cozy winter months.
Sandy Toes and Salty Kisses Baby Shower
Source: Purroy_Photo_Video
Do you absolutely love the beach? A coastal baby shower theme can be the perfect way to celebrate your coming soon new arrival.
If you live near a beach or visit one, collect some sand and pretty seashells to use as free table decor!
We've also got a cute coastal nursery theme to show you from my own son's nursery.
Hot Air Balloons Shower Theme
We have one final theme to show you on this list of baby shower themes for boys – it's a hot air balloons shower theme.
What's unique about this one is the inclusion of many different pastel colors, not just baby blue.
This color scheme really could work for any baby gender and it's so cheerful in nature.
Source: Project Nursery
Related: 175+ Southern Names for Boys You'll Love
Final Words on Picking a Shower Theme for Your Baby Boy
We hope you loved these boy baby shower themes!
Hopefully you hadn't seen many of them before and one motivates you to start planning ASAP.
Picking a baby shower theme is kind of like picking a baby name, you tend to just love what you love!
Not sure what you're having yet? Definitely check out our other post with 10 unique shower ideas for baby girls!
Related Posts
13 Baby Shower Game Gifts Your Guests Will Love
150 Cool Short Boy Names You'll Love
Our Favorite Nursery Paint Colors by Benjamin Moore
12 Neutral Rug Ideas for Your Nursery
Build This DIY Nursery Closet for Your Little One