Looking for adorable AND unique fall baby shower ideas? You're in the right place!
Plan the perfect fall baby shower theme for yourself or a friend today.
What is it that we love so much about the fall season?
For many of us it's a pumpkin spice latte, sweaters, leggings, and of course the fall leaves.
Capture the festive nature of the autumn season with with one of these adorable baby shower themes.
You'll find a bunch of different pumpkin fall baby shower ideas and also more unique fall baby shower themes such as a football theme.
Whichever theme you choose, one thing is guaranteed… it's the perfect season to host a baby shower that all your friends and family will remember!
Let's get started…
Disclosure: Affiliate links may be used in this post, at no cost to you.
Pumpkin Fall Baby Shower Ideas
What's more of a quintessential fall theme than a pumpkin-themed baby shower?!
Celebrate the arrival of your little pumpkin with things like pumpkin pies, apple cider, fall colors and a little pumpkin banner.
Here are our favorite pumpkin fall baby shower ideas to get you inspired.
Little Pumpkin Fall Baby Shower Theme with Gingham, Sunflowers and Pumpkin Pie
Source: Taneas Party Shop
In this first section, you'll notice a trend… the little pumpkin baby shower theme is on fire!
Many hosts and mamas to be are choosing this theme for a fall shower because it's such a fun way to recognize the season.
In this example, we love the gingham, pumpkin pies, faux pumpkins, and the little pumpkin banner.
Bonus: You can purchase a "Full Kit" from this shop on Etsy to easily get this exact look!
Related: 8 Baby Shower Games That Are Actually Fun
Fall Baby Shower Cookies
Source: Sugars by Leah
What better way to throw a fall shower than with custom pumpkin and gourd cookies!
We love the overall neutral color scheme with subtle orange mixed in.
Related: 12 Pretty AND Functional Changing Tables
Fall Foil Balloons and Apple Cider
Source: Eventfully Chelsea
There's no question whether this is a fall-themed baby shower… this foil balloon is the perfect way to create a photo backdrop for the mama to be and her guests.
Pick up both large pumpkins and mini pumpkins and use them for baby shower decorations.
Bonus Tip: Move them outside to your front porch for fall decor after the shower!
Related: 10 Unique Shower Themes for Baby Girls
Little Pumpkin Baby Shower Invitations
Source: Hunny Prints
Thinking about doing the Little Pumpkin theme?
These baby shower invitations would be absolutely perfect!
This host even added card stock inserts for a diaper raffle and a request for books in lieu of cards.
Related: 10 Crazy Comfy Nursery Gliders You'll Need
Pink Pumpkin Fall Baby Shower Theme
Source: Kara's Party Ideas
Love the idea of the Little Pumpkin theme but no so much a fan of the bright fall colors?
This elegant baby shower theme incorporate both pink, gold and white pumpkins as table centerpieces for the ultimate, sophisticated special event.
Pumpkin Outdoor Picnic Seating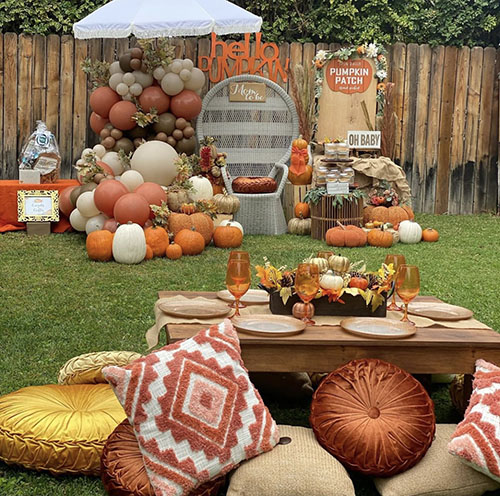 Source: Cairos Custom Events
We're obsessed with this Boho picnic table trend and how intimate of a setting they create.
Snag one of your own portable, folding tables like this for the perfect rustic farm look.
Related: 20 Ways to Decorate Your Nursery Without Painting
Pumpkin Baby Shower Photo Backdrop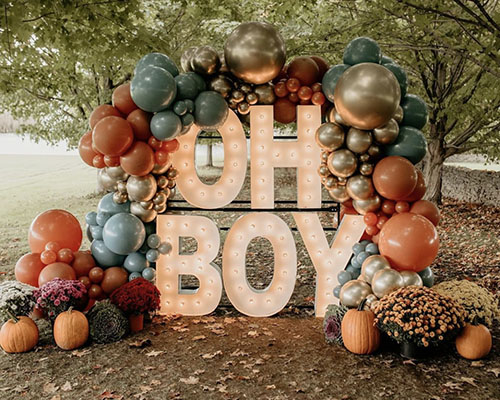 Source: Tiare Ding
If you're looking for one of the most unique little pumpkin baby shower ideas, these giant, 3 foot marquee letters with lights are one of the coolest ideas we've seen!
What a perfect way to capture some incredible photos on this special day.
Pumpkin Spice Baby Shower Theme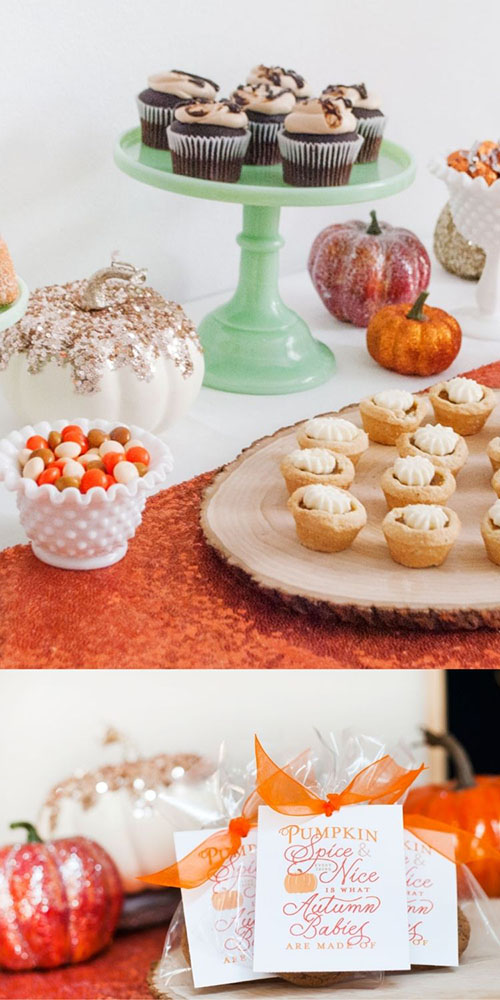 Source: Project Nursery
We think Pumpkin Spice is one of the best fall baby shower themes!
So much so, we originally featured it on our post with our favorite baby shower themes for boys.
Of course, this autumn baby shower theme would work perfectly for a little girl too.
What do we love about it?
It's focused around things like pumpkin spiced muffins and of course, pumpkin spiced lattes too!
Related: 18 Lighting Ideas for Your Baby's Nursery
Unique Fall Themes for a Baby Shower
What if you aren't looking for a traditional baby shower theme with pumpkins?
These next few fall themes for a baby shower are way more unique!
Football Fall Baby Shower Themes
Source: HH Paper Co
Expecting a baby boy and Daddy is a huge football fan?
Throw the football themed baby shower of his dreams!
Keep the planning simple and order this ready-to-go packaged set of shower decorations to get this look today.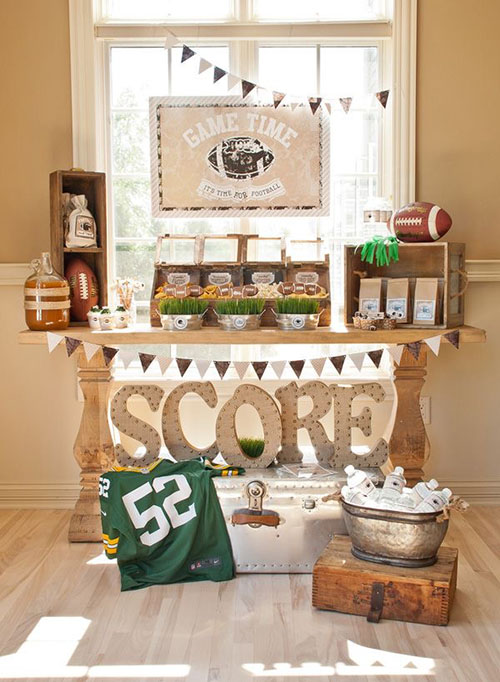 Source: Hostess With The Mostess
If you're looking for more neutral baby shower theme ideas, this football theme exudes a more subtle and graceful look.
So many cute cake toppers available on Etsy to easily pull off this theme perfect for those fall months.
Related: 9 Cute Cribs That Won't Break the Budget
Barn Yard Fall Baby Shower Theme
Source: Kara's Party Ideas & Lusso Event Styling Design
Here's another gorgeous example of a fall baby shower that uses pink as the main color!
We love this barn yard fall baby shower theme to celebrate the coming arrival of your little girl.
Camping Fall Baby Shower
Source: Inspired By This & Kelsey Albright
Are the parents to be outdoorsy and adventurous?
If so, this camping shower theme is one of the more unique fall baby shower ideas we've seen.
Think wood signs, teepees, and woodland creatures!
Related: 17 Nursery Shelf Decor Ideas to Inspire You
Fox Fall Baby Shower Theme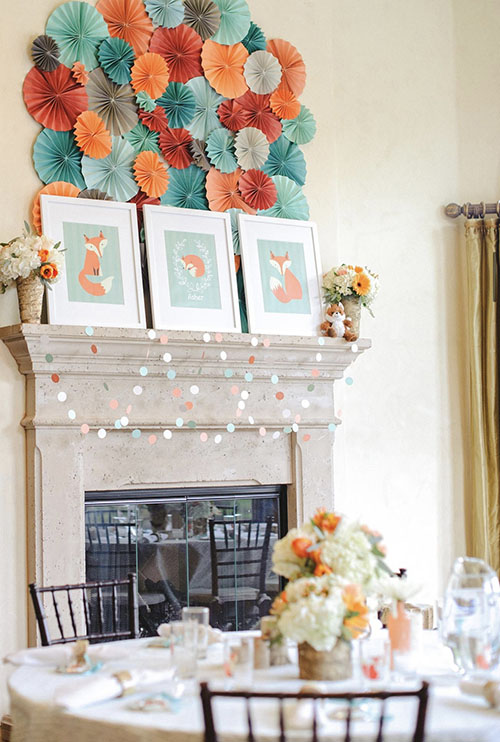 Source: Style Me Pretty
We've all seen the woodland creatures baby shower themes, but this one is a bit more unique focusing on only the baby fox.
Get the look with a fox baby shower banner like this one and these cute fox baby shower invites as well.
Source: Taneas Party Shop
Here's another non-pumpkin fall baby shower idea that's so much fun!
Celebrate the Mama to "Bee" with pretty yellow flowers and an easy shower decoration kit like this one.
You could also do a Winnie the Pooh baby shower theme that's similar and focused on sweets & honey!
Related: 30 Inspiring Ideas for Your Baby Boy's Nursery
Halloween Baby Shower Theme
Source: Kaitiorf
Planning a baby shower in the month of October? We love the fun nature of a Halloween themed baby shower.
With sayings like "A Baby is Brewing", "I Smell A Child", and "A Little Boo is Almost Due", there are so many cute balloon banners on Etsy for you to create the perfect table backdrop.
Have your shower guests wear black witches hats for a super fun and spooky event.
Festive Fall Baby Shower Themes
If you're looking for a shower theme that screams fall, but doesn't involve pumpkins, then these next few fall baby shower ideas are for you!
Fall Bouquet Bar
Source: I Do Details LV
Not sure there's anything more dreamy than a fall bouquet bar as take-home party favors for your shower guests!
Display a mixture of flowers with bright colors for the ultimate baby shower favors guests can enjoy taking with them.
Related: 50 Unique Ideas for a Baby Girl's Nursery
Baby Shower Cake With Real Fall Flowers
Source: Sweet Like Samof Orlando
Any fall themed baby shower wouldn't be complete without a Pinterest-perfect baby shower cake!
We love the simplicity of this naked cake adorned with real fall florals.
Woodland Fall Baby Shower Theme
Source: Baby Chick
The Woodland fall baby shower theme has been popular for awhile, but rightfully so, its pine cones and rustic tree slices have simply stolen our hearts!
Display your favorite sweet treats for a baby shower everyone will remember.
Related: 9 Neutral Nursery Rugs You'll Fall in Love With
Little Lumberjack Baby Shower Theme
Source: Kara's Party Ideas
S'mores and hot chocolate anyone?!
The festive Little Lumberjack shower theme would be perfect for your little man.
Include a trail mix bar with take home bags like this one for the cutest baby shower favors!
Modern Neutral Autumn Theme Baby Shower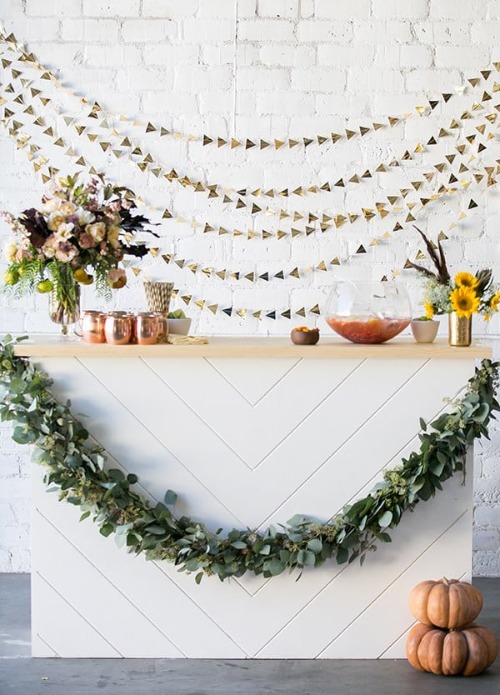 Source: Sugar and Charm
Finally, one of the prettiest autumn-themed baby showers we've ever seen.
With touches of greenery, gold glitter, and copper mugs, this classy baby shower theme really can't be beat!
Related: 20 Baby Shower Ideas for the Winter
Final Words on Planning the Perfect Fall Baby Shower
We hope this list of fall baby shower ideas left you inspired and ready to plan the perfect baby shower!
No matter which shower theme you choose, the most important thing is friends and family alike coming together to celebrate and shower the mama to be.
She'll look back on this special day for many years to come and will always cherish these moments as memories.
Related Posts
21 Pretty Decor Ideas for a Baby Shower
25 Party Ideas for a Teddy Bear Shower
13 Baby Shower Prize Ideas For Game Winners
12 Gender Neutral Baby Shower Ideas