Welcoming your new baby into the world will no doubt be the greatest joy of your life!
The birth of a new baby in the family is an exciting time for everyone.
An excellent way to show love and support to the parents-to-be is to host a baby shower for the expectant mom.
If she's a Disney lover, then a Winnie the Pooh baby shower theme will be perfect!
There are so things to consider when planning a themed event like this such as themed food, themed drink, Pooh invitations, and of course the party favors.
It can all seem overwhelming but don't worry… we've got you covered!
Here are some Winnie The Pooh baby shower ideas we'll sharing with you…
1. Winnie The Pooh Baby Shower for Boys
2. Winnie The Pooh Baby Shower For Girls
3. Gender Neutral Winnie The Pooh Baby Shower Decorations
4. Classic Winnie The Pooh Baby Shower
5. Vintage Winnie The Pooh Baby Shower
6. And more…
Ready to learn how to plan a Pinterest-perfect Winnie the Pooh baby shower?
Let's get started!
Disclosure: Affiliate links may be used in this post, at no cost to you.
1. Winnie The Pooh Baby Shower Ideas For Boys
Source: Soliza Events
Decorating The Venue
There are so many options for Winnie the Pooh baby shower decorations available now.
Welcome your guests with a welcome sign on a stand at the entrance to the venue.
Personalize an adorable Winnie the Pooh one that you can print yourself for a really affordable option!
Use a beautiful Pooh bear backdrop in soft blue colors for the perfect Pooh party.
Blue décor will never go out of fashion can be incorporated into almost any baby shower theme.
Layer in a pale blue and yellow balloon arch in front of that backdrop!
Place a beautiful white arm-armchair on one side for the guest of honor to open gifts on.
Hang a Winnie the Pooh throw blanket over the chair as a take-home gift for the nursery and to make an amazing photo op spot.
What's On The Menu
Fill your main table with fresh-cut fruit platters and a cheese board filled with assorted cheeses and biscuits.
Place healthy snacks like freshly sliced vegetables on a wooden platter and serve with creamy or yogurt dips.
Use Little Winnie food signs to name the tasty dishes after Pooh and his friends, such as Pooh's Fig and Goat's Cheese.
Set out Pooh's honey pot with wooden honey dippers next to it to drizzle over top!
A simple honey lemonade will be a light and refreshing drink.
Cupcakes are the best and easiest to make for something sweet and are always a hit at any gathering.
Set them on top of tree stumps to give your dessert table a little visual height.
Use different Winnie the Pooh cupcake toppers or even little bees!
Related: 20 Shower Ideas for a Winter Baby
Gift Table Décor
Arrange a gift table and place a gift table sign on one side of the table for guests to leave gift bags and boxes.
Weave in pretty yellow lanterns to decorate the gift table before guests start filling it.
Other ideas to decorate the table with are a wooden toy train, a Pooh bear, a lamp for the nursery, or a decorative set of boxes.
Stack them one on top of the other spelling out the word 'baby' with a Pooh bear on top.
Thank You Gifts For Shower Guests
Make shower favors for the guests a part of the decoration!
Arrange small glass honey pots filled with honey or chocolates.
Add a thank you tag from the parents.
2. Winnie The Pooh Baby Shower Ideas For Girls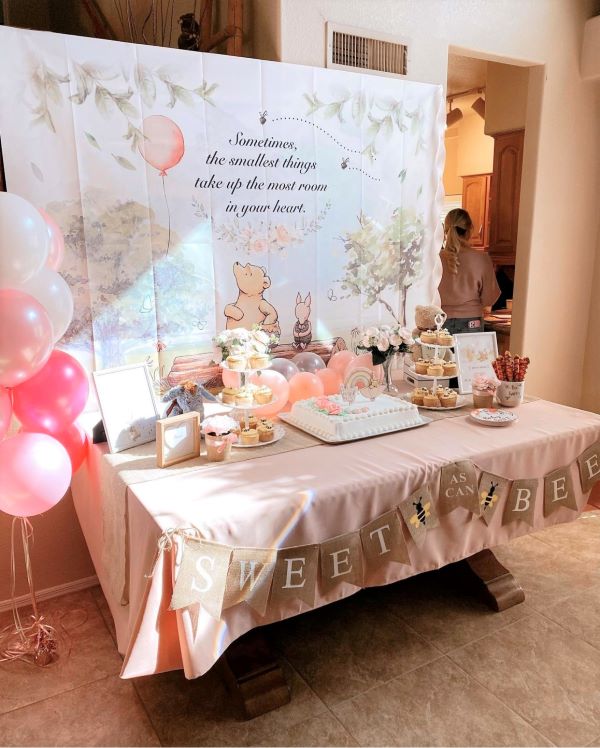 Source: Kelsalyn
Venue Décor
Set up a vertical bookshelf against the focal wall to set up a Winnie the Pooh theme, and it's an ideal gift for the nursery.
Arrange some gifts as decorations on the shelves, such as a soft pink Pooh bear, Pooh wall art, and a beautiful Winnie the Pooh photo album.
Place a soft and cozy pastel pink or beige wingback chair or loveseat next to the bookstand.
A pretty Winnie hundred acre wood map rug underneath the seat will look lovely!
Hang a Disney's Winnie the Pooh banner on the wall above the chair and to finish, place a Pooh scatter cushion on the seat.
Lunch For Your Guests
Guests can tuck into honey mustard chicken strips and salads such as pasta, greens, coleslaw, and potato.
Remember to use signs to name the different dishes using the names of Pooh and his friends (Tigger's Pasta Mix).
Serve some like "Eeyore's Gloomy Day Punch" for the thirsty and some custom sugar cookies with Pooh and his friends on them for dessert.
Other sweet treats such as donut holes and rice krispie treats with edible drip gold paint will be popular.
Shower Favors For Guests
Give the guests a unique Winnie the Pooh keyring in a small brown envelope.
Attach a Pooh bear thank you sticker on the packet and place envelopes in a picnic basket!
Tie a giant pink bow on the handle of the basket.
Related: 11 Gorgeous Maternity Picture Ideas You'll Love
3. Gender Neutral Winnie The Pooh Baby Shower Decorations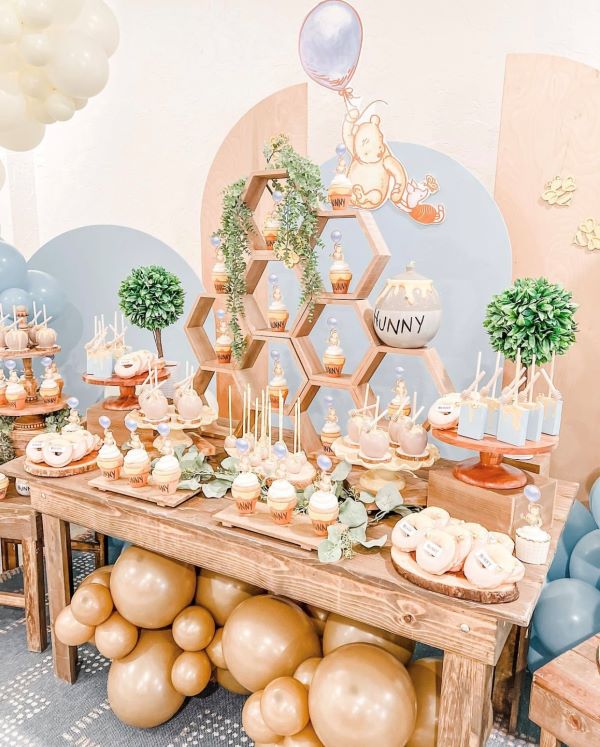 Source: Sweet Makery
How to Decorate the Shower Venue
If you're hosting a gender neutral shower, you'll want to opt for gender-neutral colors such as yellow, green, orange, brown and black.
One unique baby shower idea is to host an outdoor picnic themed party.
Look for a tree to become the focal point and have a wicker armchair for the mom to be.
Hang baby shower Winnie the Pooh banner and figurines of Pooh and his friends on long ribbon strings from the branches.
Have the guests sit on throws and pillows and place low wooden tables in the center of the throws.
Decorate each of the guest tables with bunches of white and yellow daisies tied with ribbon.
A Simple Menu for Shower Guests
Pack picnic snacks such as enclosed charcuteries boxes in large baskets and use Winnie the Pooh tableware.
Set up a gorgeous cake table for the baby shower cake so it's on display for all to see.
An Easy Shower Favor Idea
Place flower seeds in a small gift envelope for party favors.
You can attach a thank you sticker on the back of the envelope along with Tigger tails.
Related: 25 Cute Ideas for a Teddy Bear Baby Shower Theme
4. Classic Winnie The Pooh Baby Shower Ideas
Typically baby showers are usually held in the early afternoon at one of the homes of the expectant mom's best friends or family members.
"Classic Winnie" is one of the most popular Winnie the Pooh baby shower themes because of its muted and neutral colors.
Source: Bakes Bakery Co
Classic Winnie the Pooh Baby Shower Decorations
Start by setting up a cozy area with a comfortable chair for the mom to relax and open her gifts.
Place a set of clear white boxes on top of each other on one side of the chair.
Fill the containers with white and gold balloons to make a lovely display.
Arrange the gift bags and wrapped gifts on both sides of the chair.
Use a small table to add height to your gift table display.
Sit a classic Pooh bear against one of the gift bags and a classic Jack in the box musical toy on the table.
Place this adorable Winnie the Pooh coffee mug next to it all – a perfect little gift for the mama to be as well.
Finally, display a lovely Winnie the Pooh quilt over her chair.
If grandparents have gifted a large item such as a stroller or baby crib, bring this into the area.
Classic Winnie the Pooh Baby Shower Food
If you're having an afternoon baby shower, you can get away with simply serving tea or coffee with an assortment of cakes and sweet and savory pastries.
The rule of thumb is if you're having a shower during meal times i.e. lunch or dinner than you're expected to provide it for your guests.
Dessert is ALWAYS welcome at baby showers and a Classic Pooh cake decorated with this Winnie the Pooh cake topper will be the focal point of your food table.
Fill any empty space on your food table by sprinkling in fake grass.
Leave liters of lemonade and liters of sprite out for refreshing drink options for your shower guests.
5. Vintage Winnie The Pooh Baby Shower Ideas
Source: Pretty My Party and Place
It's apparent how much Vintage Winnie the Pooh is loved because of the variety of gifts and decor available today!
Vintage Winnie the Pooh Baby Shower Decorations
One way to give your Winnie the Pooh baby shower a vintage feel is to host a formal afternoon tea party.
Serve pots of piping hot tea in fine porcelain teapots.
Ask guests to wear a Winnie the Pooh-themed hat or hair adornment to add to the fun theme.
Plus, make a unique hat for the mom to be and prepare a particular space for her to sit.
Choose a wooden rocking chair for her seat and stack old-fashioned suitcases and vintage hat boxes on one side of the chair.
Then, creatively arrange a Pooh bear woven tapestry throw over the boxes and place a wooden end table on the other side of the chair with a vintage Winnie the Pooh lamp on it.
On the wall behind her chair, hang rows of Winnie the Pooh vintage style wildflower banners.
These will look so cute hung up in her nursery later!
Vintage Winnie Food Ideas
Small savory pies, cheese scones, finger sandwiches, dainty petit fours, tiny cupcakes, apple pie, and cream can all be served your shower guests.
Leave out fruit punch and jugs of water with lemon, orange, and strawberry slices on the table.
Planning The Perfect Winnie The Pooh Themed Baby Shower
Planning a baby shower can seem very overwhelming, but this step-by-step list of steps should help you systematically plan…
Pick a shower date – Plan the date a month or two before the baby's arrival date. If it's a surprise for the mom-to-be, discuss the dates with the expectant dad and close relatives and friends.
Make your shower guest list for invitations – Invite friends and family of the parents to be. Let them give you a list of guests they want to ask. Will it be "women only," or will dad and the granddads be invited too. Decide how you want to send out your Pooh baby shower invitations, handwritten by mail or per email, or schedule an event on social media.
Decide on the shower venue – Choose a venue depending on your budget, the estimated number of guests, and the style of the event. A formal luncheon will need a large dining area; for a picnic, use a lovely garden. If you are opting for a brunch, choose a beautiful patio.
Complete your gift registry – Ask the parents to be to create a baby registry but be sure to do this a few months before the date so that once the invitations are out, the guests can shop for a gift.
Shop for your shower decorations – Pick a color or colors to match the theme. Don't go overboard on too many themed Winnie the Pooh decorations. Mix these decorations with items in solid and neutral colors. Using gifts for the baby or nursery as decorations is a good idea to save money. Ask close relatives and friends to help with this then attach a tag with the giver's name on the item to know who the gift is from.
Select the food menu – Plan the menu around the venue and think of some exciting names for dishes and drinks with a Winnie the Pooh theme. Keep the meals simple and light, making the taste and presentation the optimal requirement. You can use caterers, or if you have some talented cooks and bakers in your social circle, rope them in to help.
Put together the shower favors – Shower favors are always an excellent way to say thank you for attending. There are many small Winnie the Pooh-themed gifts that can be used as favors.
Purchase or print off any baby shower games – Shower games are a way to have some fun and entertain the guests. You can actually buy printable Winnie the Pooh shower games or choose your own from baby shower game ideas you've found online.
Think about photos and photo backdrops – Recording special memories of the event is a must. You could hire a photographer or ask someone good at capturing magical moments to take the pictures. Make sure you have a pretty photo backdrop decorated for the mama-to-be and her guests to pose in front of.
Final Words
We hoped this list of Winnie the Pooh baby shower ideas inspired you with some new, creative ideas to use for your own!
Planning a baby shower should be fun, not stressful, so use as many online resources as necessary to come up with the perfect food and décor.
We've got a bunch of baby shower related posts to help you with this process… check out the list below!
Related Baby Shower Posts
15 Unique Baby Shower Table Centerpieces
13 Prizes for Baby Shower Games That Your Guests Will Love
10 Unique Themes for a Baby Girl's Shower
20 Festive Ideas for a Fall Baby Shower
15 Boy Shower Theme Ideas You'll Love