Looking for some creative baby shower decoration ideas?
Whether you're hosting a baby shower for your best friend or looking for inspiration for your own special day, this list of our favorite baby shower decorations is going to excite you!
From a balloon arch to sweet treats and beautiful flowers, you're going to love the perfect party decor we're featuring today.
You'll soon have the tools to host THE most perfect baby shower!
Let's get started!
Disclosure: Affiliate links may be used in this post, at no cost to you.
Beautiful Baby Shower Ideas
Welcoming a new baby is such a special time!
What better way to celebrate the newest addition than with an unforgettable party.
Here are a few beautiful baby shower ideas to get your creative juices flowing!
1. Design With a "Baby on Board" Party Theme
Source: Rent Boho Babes
If you're looking for unique baby shower decoration ideas, then the "Baby on Board" theme is for you!
We love the fun surfboard and dreamy cane backdrop.
Both are a great idea to decorate with!
2. Have a Photo Backdrop Made for Your Themed Baby Shower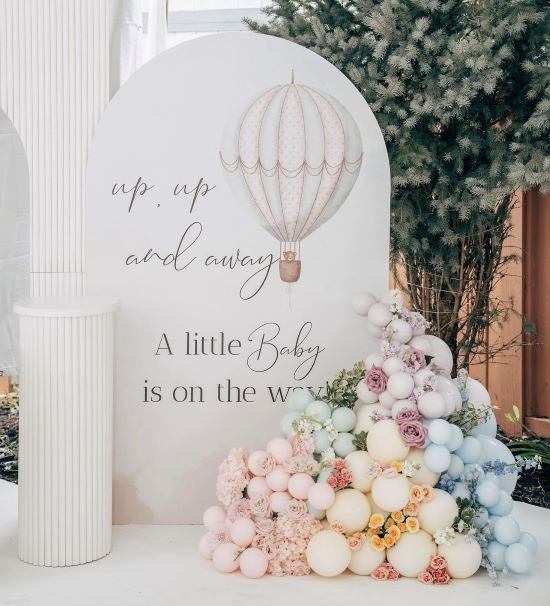 Source: Ballooniverse and Beyond
"Up, Up and Away" is another different baby shower theme!
Have a photo backdrop made like this one celebrating this baby shower theme.
3. Set Up a Favor Wall for Guest Party Favors
Source: Kai Luxe Events
A favor wall is a fun way to display your all of your shower favors.
Bonus: It doubles as impressive décor for your guests to enjoy!
Related: 10 Baby Shower Themes for Girls You'll Love
4. Set Out Two Decorative Chairs for Opening Gifts and Baby Shower Games
Source: Party Queen V
Set out two fun accent chairs for opening gifts and baby shower games!
Whether you find some at a thrift store or use ones you already own, these chairs are an easy way to make the baby shower special.
5. Hang Balloon Garlands over Your Dining Table
Source: Haute Off The Rack
We've all seen long dining tables at baby showers, but how pretty are these hanging balloon garlands?!
What better way to celebrate your little peanut than amongst close friends like this.
6. Set Up a Ball Pit for Little Ones
Source: Book A Bloom
Expecting young children at the baby shower?
What better way to keep them entertained than a fun slide and ball pit like this!
Related: 15 Creative Boy Baby Shower Themes
7. Freeze Flowers in Ice Cubes
Source: The Fashion Hour
Looking for a super simple way to elevate your baby shower?
Freeze some fresh flowers in ice cubes for a pretty element!
Sweet Baby Shower Decoration Ideas
Loving all of these fresh ideas so far?
Sometimes it's the simple things that make all the difference!
Whether you're looking for DIY baby shower decorations or cute things you can just busy, we've got more sweet baby shower decoration ideas to share with you.
8. Lean In On Themed Shower Decorations
Source: Rent Boho Babes
How stinking cute is this pumpkin favor wall for a fall baby shower?
Lean in on using theme-specific decorations to really make your baby shower theme shine.
9. Display a Giant Balloon Backdrop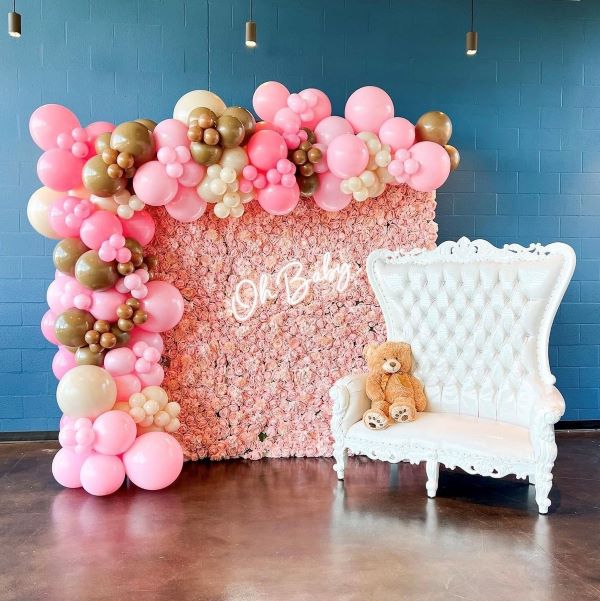 Source: Event Bar by Nie
What's more impressive than a giant balloon backdrop?!
You can make these from scratch yourself, buy a balloon kit to make it a little easier, or hire it out if you're low on time.
Watch as the guest of honor lights up when she sees it!
Related: 15 Cozy Ideas for an Outdoor Baby Shower
10. Hang Up Clothes for the New Addition
Source: Milk and Confetti
Not sure what you're having?!
The gender neutral color palette of this baby clothing banner is perfect if you don't know baby's gender.
Baby shower banners like this are common, but giving the mama-to-be clothing to take home for baby is priceless!
It's a good idea for any baby shower regardless of what gender they are having!
11. Set Out a Pretty Welcome Sign for Guests
Source: House of Backdrops
A welcome sign is something simple to show guests they are in the correct place.
It's also an opportunity to really personalize the event as baby shower hosts by including the shower theme and of course the guest of honor's name.
12. Personalize a Big Balloon
Source: Luna Moon Balloons
Another way to personalize the baby shower is by purchasing one of these darling balloons!
Set up this balloon display where guests enter for a little personal touch.
Related: 15+ Game Prize Ideas for a Baby Shower
13. Weave Greenery Into Your Balloon Arch
Source: Chic From Chicago
We've all seen balloon arches and sprawling floral arrangements, but what I love about this one is how they weaved greenery throughout them.
It makes for a whimsical, even Bohemian vibe!
14. Use Succulents and Flower Arrangements as a Cute Centerpiece
Source: Unique Succulent Boutique
If you're looking for unique baby shower centerpieces, then using little succulents is a great option!
Not only do they work as baby shower table decor, but they also double as baby shower favors that guests can take home with them.
Darling Baby Shower Decor Ideas
Whether you're expecting a baby boy or little princess, these final few darling baby shower decor ideas are all a great option!
15. Run LED Strip Lighting to Take It to the Next Level
Source: Hertfordshire Balloon Company
Take your baby shower decorations to the next level!
Use LED strip lighting on pretty much any decor to bring in a dreamy and cozy vibe.
Especially if the baby shower is being held in the late afternoon or evening!
16. Give Your Guests Baby Shower Favors They'll Love
Source: Lady Fingers Tea Lounge and Mariah Gale Creative
Whether or not to give out shower favors is always a debate!
Many times there can be a bunch left behind.
Give your guests a baby shower favor they will LOVE – like these mini champagne bottles!
I guarantee you they will all be taken and enjoyed.
Related: The Ultimate List of Pooh Bear Baby Shower Ideas
17. Set up a Boho Feather Backdrop for Photos With the New Parents
Source: Luna Moon Balloons
Have a large room to decorate with plenty of space for a large photo backdrop?
Guests will commemorate this special day with plenty of pictures with the mama-to-be.
18. Use a Standout Dish to Showcase as Shower Decor
Source: The Heart Boxes
Looking for affordable options to decorate a baby shower?
Use consumable decor options like food to decorate!
We love this charcuterie tower that's totally a work of art.
19. Make an Airplane for Your Dessert Table
Source: Vintage Unique Props
"You Are Our Greatest Adventure" is a pretty popular baby shower theme, but this is the first time I've seen an airplane as a dessert table!
DIY this project out of wood for a truly unique baby shower decoration.
Related: 21 Amazing Ideas for a Gender Reveal Party
20. Set Out a Huge, Cuddly Teddy Bear
Source: Beautiful_Balloons_MK
Teddy bear baby showers have been trending for awhile now, and rightfully so!
It's a totally adorable baby shower theme that's easy to implement.
Set out a huge teddy bear for a cute way to decorate in theme.
21. Decorate Your Tables With Pretty Centerpieces
Source: A Charming Fete
Make each dining table stand out with a pretty table centerpiece!
It can be as simple as baby's breath in mason jars from the Dollar Store, or as elaborate as these Hyacinth elephant planters that fit right in with their color scheme.
Final Words on Planning a Beautiful Baby Shower
We hope you loved this special list of baby shower decoration ideas to shower your new addition!
Whether you're hosting a giant guest list or just a few family members, planning the perfect baby shower can be a great way to honor the expectant parents.
PIN THIS