Are you looking for gender reveal ideas to help you plan the big reveal of the gender of your baby?
If so, we've got a whole list of fun gender reveal ideas to inspire you!
There's nothing more exciting than the day you find out your baby's gender, and what better way to find out than with your whole family and friends too.
You've likely seen a big announcement done with a smoke bomb, silly string, or pink and blue confetti. Don't worry, we've got some more creative gender reveal ideas in store for you!
Ready to plan this special moment for your new addition?
Let's get started…
Disclosure: Affiliate links may be used in this post, at no cost to you.
Creative Gender Reveal Ideas
If you're looking for creative ways to surprise yourself and your party guests, you're going to love these next few gender reveal ideas.
Snap a photo to let all of social media know your baby's sex after the big surprise is over!
1. Let Your Dog Participate in Your Gender Reveal
Source: Wandering_causey
Are you totally obsessed with your pup?! If so, you may want to involve the entire family in your big moment.
For this gender reveal idea, you'll need to buy a set of both blue and pink tennis balls.
On your big day, give the balls you purchased to a close friend as well as the sealed envelope that contains your baby's gender.
In secret, have he or she set aside the color balls that will instantly tell you the sex of your baby.
Have them throw them to your pup, and then call your pup over to you.
Your party guests will watch in amazement as you are overcome with joy and surprise!
2. Find Out the Sex of Your Baby With a Gender Reveal Box
Source: Rosalieak
Create a DIY gender reveal box with colors that match your party theme!
As with any gender reveal, you'll need to work with a close friend, big sister or another family member to help you set the big surprise up.
Give them your sealed envelope and have them write the sex of the baby on a long 12″ wide paper roll.
You can have one side colored so your party guests can see first or if you want to keep it simple use a paper roll with white on both sides so there is no chance you'll see as it pulls out.
Watch the faces of your guests as they find out the gender of your new baby and then join in on the surprise!
Related: 11 Unique Maternity Shoot Ideas You'll Love
3. Stuff a Bunch of Helium Balloons Inside an Armoire
Source: Claudiadionigi
With this creative gender reveal idea, both you and your party guests will be able to find out the good news at the same time!
Tie a bunch of blue helium balloons or pink ones together in a knot and stuff them into a clothing armoire.
As soon as you open the armoire doors, the balloons will coming flying out and you'll know baby's sex right away.
4. Place Gender-Specific Baby Clothing in an Armoire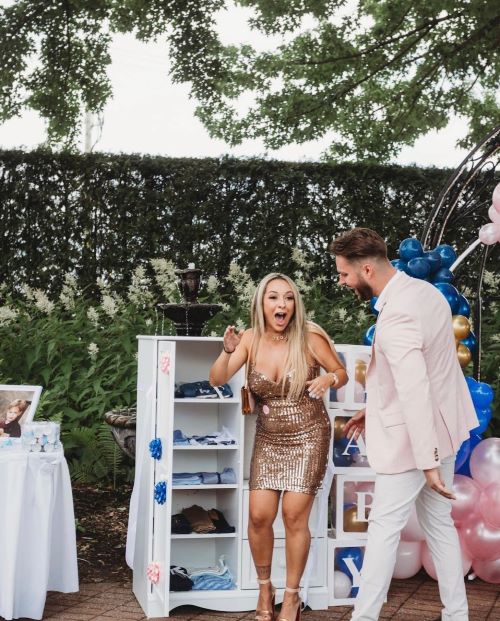 Source: Aya.benzekri
This gender reveal surprise is similar to the one above but in its own unique way.
Place gender-specific clothing for either a baby girl or baby boy so when the parents to be open up the armoire they know what baby's gender is right away!
Related: 15 Backyard Baby Shower Ideas to Steal
Unique Gender Reveal Ideas
If you've got a larger budget to work with or you just plain want to WOW your family and friends, these unique gender reveal ideas are going to have you crazy excited to start planning!
5. Have a Helicopter Drop Pink or Blue Powder in the Sky
Source: Optic Helicopters
It may seem crazy, but did you know that you can hire a helicopter company for your gender reveal party?
It's a crazy fun way to reveal your gender reveal surprise at the main event!
Imagine the faces of your family and friends when they see the helicopter flying in front of them.
6. Hire Professionals to Put on a Fireworks Show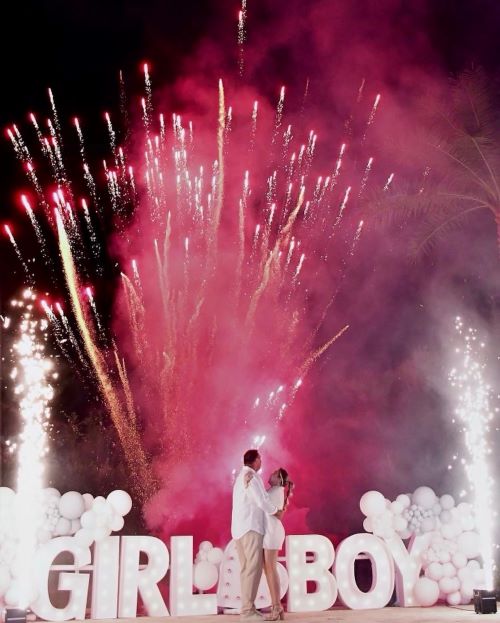 Source: Gender Reveal Miami
Channel the magic of New Year's Eve and hire a professional to set off pink or blue fireworks for your gender reveal!
It's one of the more unique ways we've seen yet to find out your baby's gender.
Related: 21 Ideas for Baby Shower Decorations
7. Send a Virtual Gender Reveal Package to Someone Special
Source: 9 by Neetz
Whether it's due to COVID or you have family cross-country, this virtual gender reveal is the perfect way to surprise someone with the gender of your baby.
Ask them to Face Time while they drop the duck into a bowl of water and watch their joy and surprise.
Fun Gender Reveal Ideas
If you're looking for gender reveal ideas that are just plain FUN then you're going to love the options below!
Here's a few special ways to reveal the gender of your baby in a way that is so much fun.
8. Have Blue or Pink Confetti Explode in the Air
You can do a more simple gender reveal with confetti such as having it explode out with a balloon pop.
If you're looking for a more dramatic effect like the one pictured above, you can purchase electric confetti poppers to shoot it up high.
This mama-to-be's Teddy Bear theme gender reveal was epic!
9. Shoot Gender-Specific Smoke Bombs into the Air
Source: _anagildersleeve
We love the simplicity of this fun gender reveal idea!
You can purchase these smoke bomb cannons for a great price and shoot them off facing your party guests for the ultimate surprise (and photo you'll remember forever).
10. Use a Pinata to Reveal Baby's Gender
Source: Marci Wallace
Hang a pinata from a tree outdoors or even your stairway indoors and have it filled with blue or pink confetti by a close friend or relative.
It's an affordable and cute way to reveal the big news!
Cute Gender Reveal Ideas
We've looked at some creative, fun, and unique gender reveal ideas!
Now let's get inspiration from a few cute gender reveal ideas…
11. Fill a Large Box with Pink or Blue Balloons
Source: Marieyou__

Fill a large box full of balloons and open it to reveal the big surprise!
It's another easy, perfect way to find out whether you're having a little boy or girl.
12. Get a Bakery to Make You a Gender Reveal Cake
Source: IVfruitful
A gender reveal cake is probably one of the first known ways to plan a gender reveal!
You simply give the bakery a sealed envelope with baby's gender inside and they bake you a cake with an inside that matches the gender of your baby.
If you aren't planning to have a gender reveal party, you can re-create this photo and use it as a gender reveal announcement for social media!
Gender Reveal Food Ideas
You've picked out the way you are going to do your gender reveal, but now it's time to focus on all of the important details… like food!
Here are some adorable and downright perfect gender reveal food ideas that will have your guests swooning.
13. Display Desserts in Individual Portions Like This Layered Panna Cotta
Source: Divine Desserts Co
Individually portioned desserts started trending more due to COVID, but its because they are so adorable they'll be here to stay!
These layered panna cotta are so pretty with both pink and blue colors.
14. Get Custom Gender Reveal Themed Cookies Made
Source: Sweetly Iced Bakery
We're obsessed with these "He or She" custom cookies made for a gender reveal party.
These sweet treats will not only be delicious, but they will also make perfect dessert table decor.
15. Make a Dessert Charcuterie Tray
Source: Jessicas__Sweets
Nothing will excite your party guests more than a table full of yummy sweets!
Have your dessert charcuterie tray filled with a mixture of pink and blue frosting to keep your friends and family guessing.
16. Make Your Gender Reveal Cake the Center of It All
Source: Claudiadionigi
A beautiful gender reveal cake can be the center focal point of not only a dessert table, but also your gift table too.
Make one of those two areas your primary focus so it's a gorgeous photo backdrop for the mama-to-be.
17. Incorporate Additional Sweet Finger Foods Like Cupcakes and Cake Pops
Incorporate additional sweet finger foods like cupcakes and cake pops!
We are obsessed with this baby shower theme called "We Love You Beary Much!".
More Baby Reveal Ideas
As more expectant parents choose to have a gender reveal party, our list of gender reveal ideas keeps growing!
Here are a few more baby reveal ideas that are unconventional…
18. Use Your Golf Club to Reveal Baby's Gender
Source: Poof There It Is Reveals
Got a golf lover on your hands?
Allow your man to reveal baby's gender with just a quick swing.
This gender reveal golf ball is a fun way to surprise both you and all of your party guests!
19. Do a Burnout with Your Car or Truck to Reveal the Surprise
Source: Poof There It Is Reveals
Are you both car, truck or motorcycle fans?
Using this gender reveal burnout powder kit would be an incredible way to find out baby's gender!
Your guests will have no idea why you're firing up the motor to your vehicle.
You better believe they'll be smiling when it's over!
20. Pop a Balloon with Pink or Blue Streamers Inside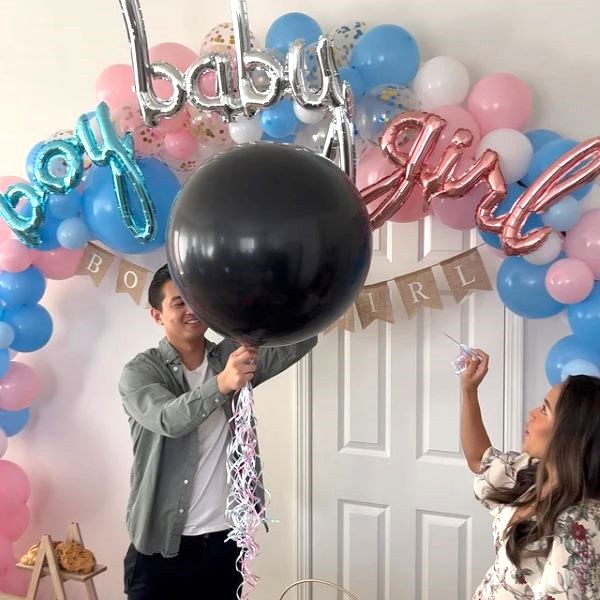 Source: Poof There It Is Reveals
If you're having an indoor gender reveal party, a balloon pop kit may a better mess-free option.
We love that both of you can participate in this surprise!
One person can hold the balloon while the other pops it.
Everyone will be in amazement as the streamers slowly drop.
21. Strap on Boxing Gloves to Reveal the Gender of Your Baby
Source: Poof There It Is Reveals
Here's another creative idea that both you and your partner can participate in.
Purchase this simple black boxing pack to act out the ultimate surprise!
As the saying goes, a picture is worth a thousand words…
Frequently Asked Questions on Planning a Gender Reveal
How do you do an easy gender reveal?
The two easiest ways to do a gender reveal are with a gender reveal cake and with disposable smoke or confetti cannons. With both options all you have to do is pay for them in advance and the surprise will be set up for you.
Many bakeries now specialize in gender reveals so it's as easy as a phone call from whoever has the sealed envelope containing the gender of your baby!
If you decide on using smoke or confetti cannons, most sets available online come with both pink and blue colors so your trusted confidant will handle which ones you end up setting off.
Do you bring a gift to a gender reveal?
It is not a general expectation that you are supposed to bring a gift to a gender reveal party. Many guests still feel obligated to do so though, out of kind gesture. Either way, the parents to be will certainly not be expecting one from everyone.
Looking for the perfect gender reveal gift? We compiled a list of 25 awesome options here!
What are some good gender reveal ideas?
Ribbon Inside of a Gender Reveal Box
Confetti Cannons
Smoke Bombs
Pinata with Confetti Inside
Gender Reveal Cake
Balloons Inside of a Big Box
Fireworks
Final Words on Hosting the Perfect Gender Reveal Party
Hosting a gender reveal party can be a really memorable event as you experience finding out the gender of your baby alongside your closest family and friends.
It's something you can look forward to in the second trimester of your pregnancy, in addition to your baby shower which is typically not until your third trimester.
No matter what size event you choose… the key aspect to all of these gender reveal ideas is having someone you trust to keep your big secret for you!
Related Posts
15 Centerpiece Ideas for a Baby Shower
13 Game Prize Ideas for Baby Showers
20 Cute Shower Ideas for Fall Babies
Shower Ideas for Winnie the Pooh Lovers