Hosting a backyard baby shower can save you some money from having to rent an event space, and it's a great way to utilize any beautiful outdoor space you may have.
Your guests will get to enjoy the beautiful spring, summer or fall weather all while attending your outdoor shower.
Whether you're considering a neutral color palette or something more colorful, a garden party or a tea party, this list of outdoor baby shower ideas will surely inspire your special day.
Today I'm going to share with you 15 dreamy backyard baby shower ideas that you're totally going to want to steal!
Let's get started…
Disclosure: Affiliate links may be used in this post, at no cost to you.
Backyard Baby Shower Ideas
Looking to host a backyard baby shower?
This first list of backyard baby shower ideas is going to leave you inspired!
1. Set up the perfect setting for a picnic
Source: Wildatheartco_
Create a cozy, intimate setting to enjoy a meal with the guest of honor.
A picnic is a good idea baby shower idea if you have a relatively small guest list.
Incorporate your overall color scheme into your table centerpieces and each place setting.
2. Bring out your dining table to double as the gift table
Source: Create and Inflate Events and Aubrey Huffman
Instead of using a foldout small table, bring your dining table outside to use as the gift table.
Attach a balloon banner to it for so much charm!
Related: 25 Awesome Gifts for a Gender Reveal Party
3. Build a wooden frame to drape sheer outdoor curtains from
Source: White Blossom Events
What's more darling than this outdoor baby shower set up?!
You may need a handy husband or close friend, but it's definitely something they could DIY.
If that seems too overwhelming, a great backup plan may be to simply rent a tent and hang sheer curtains from that instead.
4. Borrow or thrift a cool chair for the mama-to-be to open her baby shower gifts in
Source: Almost Makes Perfect
You'll want somewhere cute for both the expectant mom and her best friend to sit outdoors while opening gifts.
Borrow one, thrift one, or buy new!
5. Rent high top tables for a good spot for guests to eat and drink on
Source: Prim Rentals
You don't have to follow the fast rules of eating at a long, formal dining table.
Instead, you could rent high top tables for a great spot for guests to eat and drink on.
If you've got a large number of guests, this is a great setup for a more social setting and for a co-ed baby shower couples can rotate in and out of these tables.
Outdoor Baby Shower Ideas
Even if you don't have the backyard to host, you can still plan the perfect outdoor shower with these fun outdoor baby shower ideas.
Let's get to it!
6. DIY a bar cart as a great option to display a fun mimosa bar
Source: Kmcreativeco
Although the mama-to-be can't drink, family members and friends still can.
Many baby shower hosts still opt to set up a few refreshment options and this fun mimosa bar is the perfect way to do it!
7. Put all of the mama-to-be's gifts under a teepee the hosts are gifting her
Source: Lights for Nights
Purchase a cute kids teepee as a gift for the new parents, and use it as a place to put all of the shower gifts on the big day!
Love how they used picnic tables for a practical outside baby shower idea as well.
8. Float giant balloons for a whimsical and beautiful display
Source: Kevin Chin and Kate Siegel Fine Events
We love this idea for creating a whimsical effect over a backyard pool but you definitely don't need to have a pool to do this!
You can keep it neutral with all white balloons or use various shades that incorporate your baby shower theme colors.
Take plenty of photos as its a perfect photo backdrop!
9. Hire a local event company to take your picnic set up to the next level
Source: Aubrey Huffman
If you aren't up for shopping for all of this yourself, you can hire a local event company to set up one of these pop up picnics for you and your guests.
Just google luxury picnics and you'll find one near you!
We love how different this backyard baby shower atmosphere is than a traditional baby shower.
The jute rug is a darling finishing touch!
Unique Baby Shower Decoration Ideas for Your Backyard
Wanting to see some more unique baby shower decoration ideas?
You're going to want to steal every one of these!
10. Make a pretty welcome sign or purchase one from Etsy
Source: Kara's Party Ideas and Riner and Company
Welcome your shower guests with both a pretty welcome yard sign and balloon garlands.
They will know they are in the right place on arrival!
11. Find a vintage ice cream cart to dish out frozen treats to beat the summer heat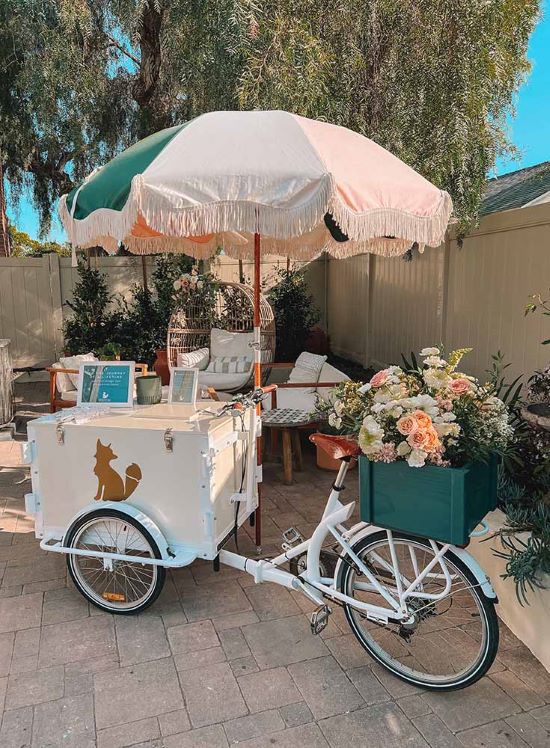 Source: The Blonde Abroad
Having a summer baby shower?
This vintage ice cream cart is just so adorable!
Your party guests can beat the heat with grab and go ice cream.
12. Let your guests make their own flower arrangements for an unforgettable party favor
Source: Stephanie Tara
A "make your own bouquet" bar is a unique way to send your guests home with baby shower favors.
This great idea could work for a spring, fall, or summer baby shower theme!
13. Rent a moon bounce to entertain any kids attending
Source: BalloonsWow
Not all baby showers welcome children, but a backyard baby shower certainly is the perfect place for hosting kids.
Keep them entertained all day long with a big moon bounce!
The one pictured above with the teddy bear is totally adorable.
14. Make your shower guests a variety of yummy mocktails
Source: Twink + Sis and One Eleven Photography
Re-create the gorgeous drink setup above with coordinating colors depending on whether you're having a baby boy or baby girl.
For example, purchase baby blue drinking glasses and make a blue electric lemonade if you're having a little boy.
15. Create a moment for your guests in a big way with a giant charcuterie board
Source: Danielle Alana
Last but not least, I can tell you right now… your guests will never forget a giant charcuterie board like this!
Use a variety of fresh fruit, cheeses, crackers, nuts, and breads for the ultimate feast to graze on.
Final Words on Throwing the Perfect Backyard Baby Shower
Welcoming a new baby is such an exciting time for the parents-to-be and of course their family and friends too!
You don't need to spend a lot of money to throw an Instagram-worthy, unforgettable party.
Hopefully one or all of these outdoor baby shower ideas inspired you while planning yours!
Related Posts
20 Ideas for a Winter Baby Shower
18 Dreamy Ideas for Baby's Gender Reveal
13 Prizes Ideas Your Shower Guests Will Love
8 Shower Games Your Friends Will Love