One of the most memorable events for a new Mom-to-be during pregnancy is her baby shower.
If you are the one fortunate enough to be hosting this event, whether for yourself, a friend, or a family member, there are so many unique baby shower themes for girls to choose from!
These days you no longer have to go with traditional pink colors.
Instead, you can consider a more fun baby shower theme your guests won't have seen before.
When it comes to planning the perfect baby shower theme, you have to consider so many aspects such as invitations, table settings, and girl baby shower decorations.
Plus, you'll want to incorporate the party theme into the food, fun baby shower games, and of course, the baby shower favors.
Let's take a look at this list of our favorite baby shower themes for girls!
Disclosure: Affiliate links may be used in this post, at no cost to you.
Unique Baby Shower Themes For Girls
There are so many different baby shower girl themes to choose from that it can be overwhelming to decide which one to choose.
If you prefer a baby shower theme that you don't see often, look no further.
Below are some truly unique baby shower themes for girls!
1. Alice In Wonderland Baby Shower Theme
Source: Kara's Party Ideas
Add a unique twist to the traditional tea party baby shower for an Alice in Wonderland themed girl baby shower.
Send out shower invitations with a picture of a pregnant Queen of Hearts or a 'Don't be late for this important date' headline.
There are so many different options to choose from with this great baby shower theme.
Here are some Alice in Wonderland decor ideas for this type of themed shower:
Lay out playing cards on each table
Use mismatched teacups for the attendees
Put pocket watches on display
Set up lantern mushrooms
Make signs with eat me, take a bite, drink me, etc.
When it comes to the shower food, go wild!
Cupcakes, biscuits, and muffins labeled with 'eat me' plus water bottles marked with 'drink me' are all great ideas.
You can also supply tea party sandwich triangles to add a bit of savory to your sweet.
Send your baby shower guests home with a key on a tag as a party favor or mad hatter hats on a keychain!
2. Bun In The Oven Themed Shower
We've got so many cute ideas for this adorable theme!
Most of them include some innuendos about what's baking in the Mom-to-be's tummy.
Invitations could consist of oven images with 'Bun in The Oven!' as a slogan, or the Mom-to-be invites you to join her in celebrating her bun in the oven.
Not many themes perfectly reflect the situation, but Bun in the Oven hits the mark.
When decorating for this themed baby shower, get these little oven boxes that hold treats inside for the shower guests to snack on.
Luckily this is a relatively easy theme to decorate as you can use many of the items you have in your kitchen.
For instance, vases with flowers, baking whisks, rolling pins, wooden spoons, a checkered table cloth, and cute tea towels will all make fantastic additions to the décor of this theme.
Food-wise, you can go with sweet treats like cupcakes, cookies, cinnamon rolls on sticks, mini donuts, brownies or tarts.
You can make these foods match the theme by strategically placing "Oh Baby" cupcake toppers like these in them.
Related: 11 Ideas for Pregnancy Photos to Inspire You
3. Coffee And Cravings Baby Shower Theme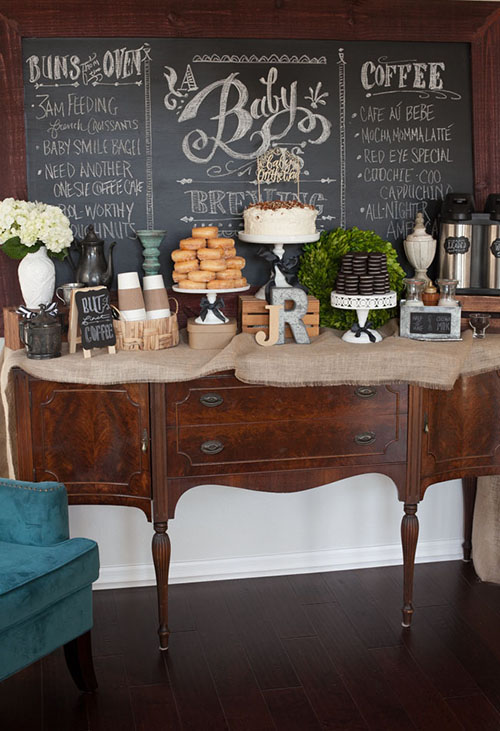 If you're looking for girl baby shower themes that don't follow the girly nature of most baby shower themes for girls, then look no further because this one is perfect.
This cute baby shower theme focuses on the cravings us basic ladies love, including coffee!
Put out a coffee bar station sign like this one that says 'A Baby is Brewing' or something along those lines.
You could also hang a foil balloon banner like this one behind the dessert table.
Your shower decorations can be sleek, modern and of course focused on coffee.
Write on chalkboards what's available to eat or some funny quotes about what to expect once the baby arrives.
Have a coffee stand, and take away coffee cups to decorate.
Food-wise, you could stock the baby shower with sweet treats that you might find at any coffee shop.
Think cakes, cupcakes, brownies, rice krispie treats, and other pastries.
The main focus should be on the available drinks though!
Have coffee on tap with various choices such as lattes, cappuccinos, ice coffees, espressos, and a variety of hot chocolate drinks, salted caramel, marshmallow delights, etc.
4. Mad Scientist Shower Theme Ideas
Source: Sugar and Cloth
Sugar, spice, and everything nice!
If you're expecting a new baby girl, you'll enjoy this non traditional shower theme for its quirky references to science!
You could lay out this theme in several ways, with shower invites that include slogans such as 'There's something brewing in this lab' or 'It's a baby girl!' with the letters looking like elements of the periodic table.
Here are some creative ideas for this baby shower theme…
Use cute cupcake toppers on your food & desserts like the ones below
Get some pink baby onesies printed with slogans such as 'Scientist in Training'
Print beaker images and warning signs
Use pinks and sparkly colors to keep a feminine theme
There is a range of fantastic ideas you can choose from to make edible science food like ice cream with colorful sprinkles, pink drinks served in test tubes and beakers, and blue jelly with edible glitter in small containers.
Some other single serving dessert ideas are macaroons and cupcakes with warning signs or pictures of elements.
Use jelly tots stuck together with toothpicks to look like atoms!
Source: Pretty Paper Giraffe
Related: 15 Creative Ideas for Hosting a Baby Shower in Your Backyard
Other Unique Girl Baby Shower Themes
There are so many amazing unique girl baby shower themes that we couldn't possibly describe all of them!
Below is a quick list of some other unique girl baby shower themes that you could explore…
Boho Chic Theme
Mermaid Theme
Fairy Theme
Superheroine Theme
Tropical Paradise Theme
Wild Child Theme
Related: 8 Baby Shower Games That Don't Suck
Pink Baby Shower Ideas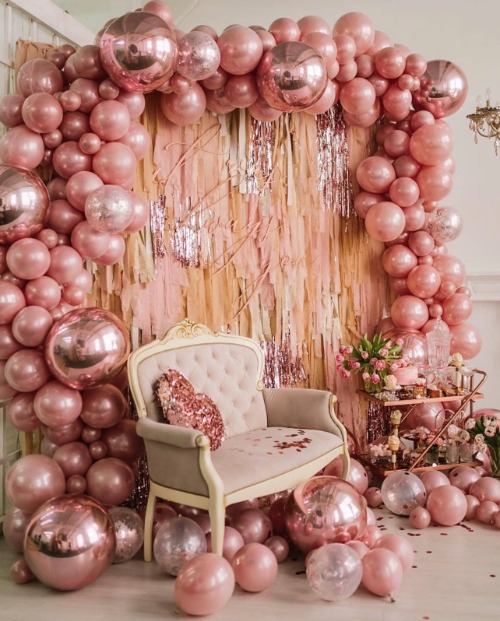 Source: Party.nook
One of the most timeless girl baby shower themes is the color pink.
Many Moms-to-be are choosing to change the color scheme these days, but nothing beats beautiful shades of pink when you are welcoming a little girl.
If you have decided to go with pink as your baby shower theme, you could consider going for a few things in this lovely color.
Invitations – When it comes to invitations, there are so many options are available with a pink theme! Look for flowers, princesses, roses, bows, etc. Consider whether you prefer a soft pink or bright colors instead.
Decorations – You can go with a specific theme for decorations or simply include beautiful pink-hued decorations all around the venue. Pick shower decorations in various shades but that all fall within a pink color palette!
Here are some fun pink baby shower ideas…
Pink balloons
Pink table cloths, cups and plates
Pink cake pops, cookies and cupcakes
Pink crowns and a pink throne for the guest of honor to open her gifts in
Entertain your guests with fun baby shower activities like decorating pink and white onesies with some fabric markers. Ask guests to decorate them for the new baby and leave sweet messages!
Related: 12 Gorgeous Gender Neutral Baby Shower Ideas
Popular Girl Baby Shower Themes
When it comes to baby shower themes for girls, there are many themes that are so popular you come across them often. Here are some of the most popular baby shower themes today…
5. Unicorn Baby Shower
Source: Veronicas Specialties
Welcoming a baby is a magical day, and for this reason, you often see the unicorn baby shower theme. It's a great excuse to be magical, girly, and colorful. Think glitter, sparkles, and unicorn horns! Invitations could include slogans such as 'Magical memories on the way!' with a background of splashed out pastel colors.
One of the great things about this baby girl baby shower theme is that you don't need to be shy about using colorful decorations. You can get helium-filled balloon unicorns and other sparkly balloons, placing them strategically around the room.
Unicorn plushies will also make the space more cheerful, and the great thing about them is that the Mom-to-be can take them home for her little girl to play with one day.
Some unicorn-themed shower food ideas include colorful treats and cakes decked out with unicorn horns and magical rainbows! Think pastel, bright, and sparkly, and you can go from there.
Party favors could include unicorn lip balm, unicorn bags containing small manicure sets, or little unicorn plushies!
6. Pink, White, And Roses Baby Shower
Source: Pizzazzerie
This classic girl baby shower theme has been popular for many years! Go for a more delicate invitation with beautiful images of floral arrangements inviting guests to join in on celebrating and honoring the soon-to-be Mom.
When decorating this themed baby shower, you could place vases at each table full of white and pink roses as the baby shower centerpieces. Paler colors would be a lovely idea for this classic and stylish theme! Set up bunches of balloons in the corners of the room, again in white and different shades of pink.
Set up a food spread no one will be able to resist! Include little tartlets with raspberries or strawberries on top, cookies decorated with pink bows, baby bottles or tiny pink and white onesies.
7. Mama to Bee Baby Shower Theme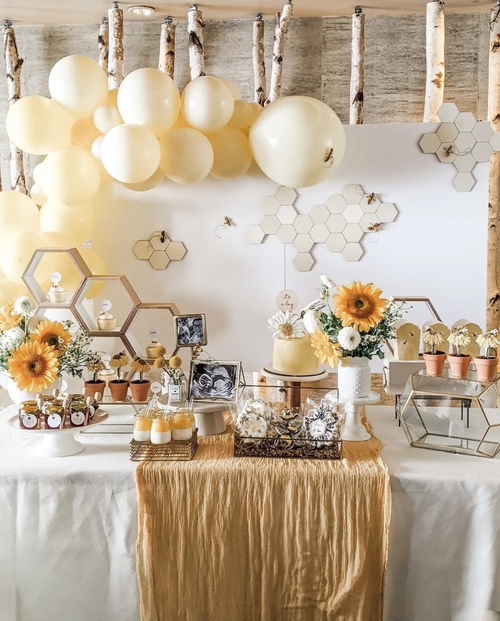 Source: Peonies_and_Sunshine
The Mama to Bee theme is another all-time favorite for planning a baby shower. The phrase 'Mommy to Bee!' is catchy and cute and now there is an awesome variety of baby shower decorations to go with this theme. You can even get some bee to put on her to complete the look! Use cute, theme-specific invitations like these with tiny flowers and bees.
As this is a popular shower theme, you can find Mama to Bee shower decorations for pretty much anything you need. Deck out your area with yellow and black balloons, yellow table cloths, pretty little honeycombs and little bees hanging in the air.
Foods can include tea and coffee, little honey pots, and other delicious snacks to suit Mommy-to-Bees cravings. You can send your shower guests home with little honey pots and honey spoons as a sweet party favor!
8. Princess Theme
Source: Angie's Dream Decorations
Another classic and all-time favorite is the princess themed baby shower. Here the Queen (Mommy-to-be) is expecting her very own little Princess. You can deck the invitations out with images of crowns, jewels, or babies in tiaras. Think pinks, whites, golds, and other girly colors.
Shower decorations can include many balloons in pinks, whites, golds, purples, etc. You can have a throne for the Mommy-to-be to sit on, tiaras for the Mom and her guests, princess slippers, and little onesies with cute slogans such as 'Mommy's Little Princess' or 'Daddy's Little Princess.' Bows, roses, and castles are also great options for decoration ideas.
Foods could include little sandwiches, cupcakes with crowns on them, macaroons in pretty colors, strawberries, any other regal foods you might think of, or anything that your special Mom-to-be might be craving at the time. Champagne or pink-colored drinks would also be a hit at this princess themed baby shower!
9. Good Vibes Boho Baby Shower
Source: Cupcakes and Cutlery
We've all seen Boho baby shower themes for girls trending, but I loved this unique "Good Vibes" take on it.
She's got a creative balloon DIY tutorial if you are looking for an affordable baby shower decor idea.
Her menu was filled with super simple snacks like a brownie cake and store-bought popcorn, nuts, and scones.
If you're looking for something really unique, check with the guest of honor's mother and mother-in-law to see if they have any family heirlooms to incorporate into her special day.
Other Popular Girl Baby Shower Themes
When it comes to popular girl baby shower themes, there are too many to describe them all. Below is a list of some more trendy themes to give you additional ideas for planning a girl's baby shower.
Cactus Theme
Flower Theme
Twinkle, Twinkle, Little Star Theme
Nautical Theme
Woodland Animals Theme
Ladybug Theme
Little Miss Sunshine Theme
Cute Decorations For A Baby Girl Baby Shower Theme
There are so many decoration options for planning a baby shower! You can go with something simple or choose much more elaborate decor. Some cute decorations for a girl baby shower theme include…
Final Words On Choosing One Of These Adorable Baby Girl Shower Themes
We hope you loved this list of baby shower themes for girls! Whichever theme you decide on, don't get caught up in spending too much on decorations or shower favors. Remember that what matters most is the special memories you and the Mom-to-be make together.
Related Posts
13 Baby Shower Prizes Your Guests Will Love
15 Baby Shower Theme Ideas for Boys
20 Cute Baby Shower Ideas for Fall Babies
The Ultimate List of Ideas for a Halloween-Themed Baby Shower