Looking for some gorgeous, creative gender neutral baby shower themes?!
Hosting a baby shower is an exciting time for any parent-to-be, but planning the perfect baby shower can also be a bit overwhelming.
One of the biggest decisions to make is choosing the theme of the baby shower.
While a traditional pink or blue color palette can be lovely, more and more parents are choosing to go with neutral colors.
Sometimes it's because they aren't finding out baby's gender, but many times it's because a neutral color theme when done well is simply beautiful.
In this post, we'll explore some of our favorite gender-neutral baby shower themes that are sure to impress your guests!
Your family and closest friends will be celebrating your little bundle of joy in style.
From teddy bears, pumpkins, woodland creatures and bees, there are gender-neutral baby shower ideas here for every taste and budget.
Let's get started!
Disclosure: Affiliate links may be used in this post, at no cost to you.
Gorgeous Gender Neutral Baby Shower Themes
Our first set of neutral baby shower theme ideas are definitely going to inspire you!
From baby shower favors to decorations to an impressive dessert table, you'll be ready to plan yours after.
1. Cutie Pie Baby Shower Theme
Source: Boho Babes
"Cutie Pie" is an incredibly fun theme and playful way to celebrate your new arrival!
With its bright colors, sweet treats, and adorable decorations, this gender-neutral theme is sure to put a smile on the face of every guest in attendance.
This mama-to-be's favor wall is lined with little pumpkin pies as party favors – how dreamy!
To really nail this cute fall theme, focus on decorating with pastel colors such orange, white, and green.
2. Birch, White and Gold Baby Shower Theme
Source: Creative Wife and Joyful Worker
We love this birch, white and gold gender-neutral shower theme!
Incorporate some faux or natural greenery for some easy neutral baby shower decorations.
No matter what the sex of the baby is, your guests will enjoy showering the expectant parents with this sweet theme.
3. Lil Cutie Baby Shower Theme
Source: Beijos Events
"Lil Cutie" is one of our favorite baby shower themes all thanks to its cute nature and vibrant colors!
It's a pretty popular theme so you can find all kinds of party supplies for it over on Etsy to make your planning easier.
While this cute theme can be used all year round, it's especially perfect for a summer baby shower.
Related: Our Favorite Winnie the Pooh Shower Ideas
4. Boho Animals Baby Shower Theme
Source: The Tom Kat Studio
The "Boho Baby Animals" is a different twist on the ever popular Woodland baby shower.
It features a neutral color scheme with natural materials like greenery and of course pops of gold!
She's also got a little tutorial on making those cute baby shower favors topped with animal figurines.
Theme Ideas for a Gender Neutral Baby Shower
Loving these theme ideas for a gender neutral baby shower?
We've got more interesting ideas to show you!
5. Moon and Stars Baby Shower Theme
Source: Beijos Events
The "Moon and Stars" baby shower theme is a different take on "Twinkle Twinkle Little Star".
What makes this baby shower party stand out is those incredible themed balloons!
A simple balloon arch is extremely popular, but have you ever seen a hanging moon made of balloons? So cool!
6. What Will Baby Bee Baby Shower Theme
Source: Rise and Design Company
"What Will Baby Bee?" is a perfect option when you don't know the gender of the baby.
Let your shower guests make guesses on baby's gender!
Decorate with "Mama-to-Bee" themed desserts, baby shower games, and décor.
Related: 15+ Pretty Centerpiece Ideas for Your Baby Shower
7. We Can Bearly Wait Baby Shower Theme
Source: Boho Luxe Events
Teddy Bear baby showers have taken over in popularity and for good reason!
What better way to celebrate the arrival of a new baby than with cuddly teddy bears.
It's a super easy neutral baby shower theme to decorate for and works perfect whether you're having a little girl or little boy.
8. White Fairytale Baby Shower Theme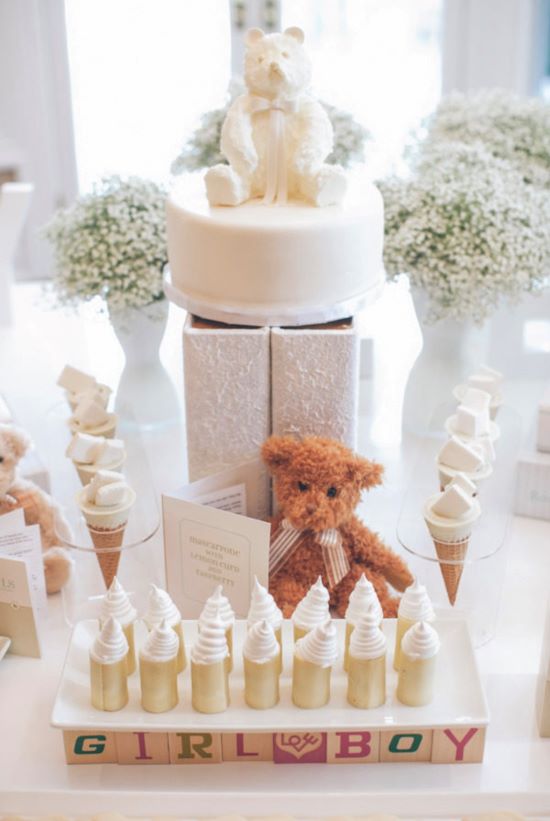 Source: Style Me Pretty and Mimma and Co
Dreaming of an all white baby shower?
Create the fairytale baby shower you've always wanted.
Set out all white desserts and fresh flowers for a truly beautiful and gender neutral theme.
Unisex Gender Neutral Baby Shower Themes
Likely your family or closest friend is planning a party as a fun way to shower your little bundle of joy.
Many times they'll be looking for inspiration to throw you a great baby shower!
These last few unisex gender neutral baby shower themes will leave them with endless ideas to get started.
9. Sweet Little Lamb Baby Shower Theme
Source: Twinkle Twinkle Little Party
This "Little Lamb" baby shower theme is just too sweet!
We love how these hosts set out a Little Lamb rocking toy to drive home the theme.
Decorate with lots of white and neutral colors like yellow, green, etc.
Here are some cute Little Lamb invitations and a big "Our Sweet Little Lamb" sign.
Related: 13 Game Prize Ideas for Your Baby Shower
10. Neutral Boho Baby Shower Theme
Source: Milk and Confetti
A Boho baby shower is one of those traditional themes that's been popular for a long time now!
We love this big rattan chair where the mama-to-be will open her gifts.
With this baby shower theme, it's easy to use calming, neutral colors along with many textures.
11. All White Baby Shower Theme
Source: This Life of Ours
What's awesome about a choosing an all white baby shower theme is how easy it is to decorate for!
Think white balloons, white roses, desserts with white icing and more.
It's simple, elegant and oh-so-refined.
12. "Oh Baby" Baby Shower Theme
Source: Miss Kyree Loves
How incredible is this giant grazing table?
Impress your guests with one of these with an "Oh Baby" banner behind it!
Add fresh flowers and pretty balloons for an unbelievable gender neutral baby shower.
Final Words on Planning the Perfect Baby Shower
We hope you loved this list of gorgeous gender neutral baby shower themes!
Add your personal style to these ideas and you are sure to host an unforgettable event.
Looking for more baby shower ideas?
We've got a whole list of posts that will help you with what you need!
Related Posts
15+ Outdoor Ideas for Your Baby Shower
10+ Ideas for a Halloween Baby Shower
20+ Dreamy Ideas for a Winter Baby Shower
PIN THIS