Are you looking for unique baby shower centerpieces for your upcoming baby shower?
Something other than just a bouquet of beautiful flowers?
Whether you're looking for easy DIY projects or something you can just buy at online stores, we've got you covered!
We're going to start off with some seriously inspiring baby shower centerpiece ideas, followed by baby shower table decor you instantly buy.
Here are 15 beautiful centerpieces for a baby shower to instantly inspire you!
Let's get started…
Disclosure: Affiliate links are used in this post, at no cost to you.
Beautiful Baby Shower Centerpieces
It's sometimes hard to get creative with baby shower decorations, so these examples of pretty table centerpieces should get your creative juices going!
1. Hot Air Balloon Centerpiece
Source: Debash_deko
If you enjoy a good DIY project, then creating a few hot air balloon centerpieces will be fun a project for you.
We love the various shades of color on this one as well as the adorable teddy bear.
Place it in the center of the table for a truly adorable baby shower centerpiece.
2. Glass Vases With Floating Candles
Source: Party Slate
Create a totally dreamy ambience with these tall glass vases and floating candles.
It's an easy way to decorate each table with pretty much any themed baby shower.
Pro Tip: You can probably pick up glass vases like these at the Dollar Store!
Related: 25 Unique Gender Reveal Gifts You'll Love
3. Cupcakes in a Glass Dome
Source: Blue Five Event Styling
Here's a fun and easy centerpiece idea!
Put some mini cupcakes in a pretty glass dome for a functional AND edible baby shower centerpiece.
Tailor the color of both your cupcakes and place settings to the gender of the baby if the expectant mother chose to find out.
4. Pampas Grass in Simple White Vases
Source: Pipa & Belu
Totally in love with the Bohemian baby shower decorations?
Pampas grass all lined up makes gorgeous baby shower centerpieces!
These picnic-style baby showers are so cozy.
5. Baby's Breath in Mason Jars or Glass Vases
Source: PS Events & Design
Baby's breath will forever be a great idea for affordable table centerpieces.
You can actually buy it in bulk for a great price on Costco's website.
I'm guessing these baby shower hosts just sprayed painted it to make this really cool line of ombre baby shower centerpieces! Such a good idea.
6. Real or Faux Palm Tree Leaves
Source: Bohemia Event Planner
Skip the table runner and use real or faux palm tree leaves as a super simple and cute centerpiece.
Lay them down like a garland across your gift table or dessert table as well, for a cohesive look.
7. Wood Boxes with Pine Cones and Mini Woodland Creatures
Source: Daisy & Lola Events
Woodland Animals make such a cute baby shower theme!
Fill a wooden box with pine cones and florals for a pretty and rustic baby shower centerpiece.
Set out cute things around it like these little forest animals.
8. Painted Pumpkins
Source: Kara's Party Ideas
Hosting a fall baby shower?
You've got plenty of options with painted pumpkins!
Spray paint them in various colors that match your theme.
We love this one with a feminine twist! Pink, white, and rose gold – so pretty!
9. Ornaments on Display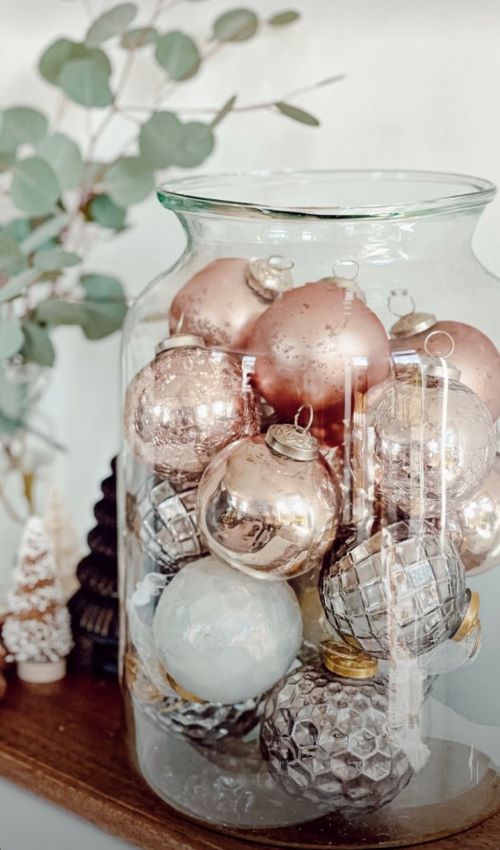 Source: Real_honeybrook
Expecting a winter baby?
"Winter Wonderland" is such a timeless baby shower theme and we love how you can keep the colors neutral or go gender-specific.
This glass jar filled with holiday ornaments makes the perfect table centerpiece for a winter baby shower.
It can be a really cost-effective option if you or one of your girlfriends already has pretty ornaments you can use.
Baby Shower Table Decor You Can Simply Buy
Many hosts find it overwhelming to DIY their baby shower decorations, preferring to buy their party supplies instead.
If you're looking for baby shower table decor you can simply buy, these next few options are for you!
10. Princess Mini Diaper Cake
Source: Angel's Diaper Cake
These little diaper centerpieces are definitely fit for a princess!
Save yourself a lot of time as these come fully assembled.
Don't worry, if you're having a little boy, she makes the same item in blue & silver too!
11. Hydrangea Alphabet Baby Blocks
Source: Sprout & Fete Co
It doesn't get any easier than this!
These alphabet baby blocks come fastened together and pre-stuffed with these pretty faux hydrangeas.
You can purchase these in baby blue for a baby boy, pastel pink for a baby girl, and sage green for gender neutral.
12. Eucalyptus Mini Diaper Cake
Source: Leone Baby Co
Not sure what you're having yet or simply craving a neutral color scheme?
These mini diaper cakes with greenery are just easy and oh-so-adorable!
13. Vintage Baby Carriage
Source: Stazies Stiches N Stuff
Place one of these vintage baby carriages at the center of each table for a darling feminine vibe.
You can opt to leave them empty like this or even put a floral arrangement inside for a truly grand look.
14. ABC Block Teddy Bear Centerpiece
Source: Bakers Mold Supply
If you're hosting a teddy bear baby shower, you can purchase these baby shower centerpieces to look just like the above!
You can also purchase just the neutral ABC block if you had a different baby shower theme in mind, attaching whatever you'd like on the top.
15. Winter Snowflake Wands
Source: Sparkle Bee Party Co
Buy a bundle of these pretty snowflake wands and display them in a tall glass vase at the center of each table.
They are perfect for a "Little Snowflake" or "Winter Wonderland" winter baby shower theme!
Frequently Asked Questions on Baby Shower Centerpiece Ideas
What is a good centerpiece for a baby shower?
We think this list of baby shower centerpieces is full of great ideas! You can make a table centerpiece out of almost anything, but the most important aspect to choosing one is making sure it's the correct size for the table.
For example, if your table is 6 ft round then a 6″ table centerpiece is going to look too dinky and small. Whereas if your table is long and only 30″ wide, a 6″ centerpiece would work just fine!
Do baby showers need centerpieces?
If your baby shower will have guests seated at a table, the center of the table should definitely be decorated with a centerpiece.
Many baby showers opt for finger foods that guests eat standing up or seated on couches. In that case, you can skip any table centerpieces.
What do you put on the table at a baby shower?
Each dining table at a baby shower should have a centerpiece in the middle of the table, as well as plates, silverware, glassware, and napkins.
You can opt to surround the table centerpiece with other small theme-specific decor.
Final Words on Centerpiece Ideas for Baby Showers
We hope this list of centerpiece ideas for baby showers inspired you!
Whether you're making your own or looking for something to buy, there are so many unique options to make your event truly special.
Related Posts
15 Pretty Baby Shower Ideas for Your Backyard
18 Gorgeous Gender Reveal Parties You'll Love
Winnie the Pooh Shower Ideas to Welcome Baby
10 Cute Shower Themes for a Baby Girl