Looking for pretty pink baby girl room ideas?
We've got some seriously unique ideas to show you for your baby girl nursery!
Whether you're looking for a subtle touch of pink or an entire pink baby room… we've got you covered.
Let's dive right into each one of these 10 pink nursery ideas that will leave you inspired!
Disclosure: Affiliate links may be used in this post, at no cost to you.
Pink Baby Girl Room Ideas
Some of these pink baby girl room ideas are as simple as hanging a mirror or some curtains.
Other pink nursery ideas involve a bit more leg work like painting.
The goal here is to inspire you with one or more ideas to create your dream pink baby room!
Paint the Doors and Trim Pastel Pink
Source: Jen Talbot Design
To be honest I don't know that I've ever seen this!
I LOVE the idea of painting the doors and trim in your baby's nursery pink… so fun and unique!
As she grows older, if you want to change it back to white you always can.
Paint an Accent Wall with DIY Molding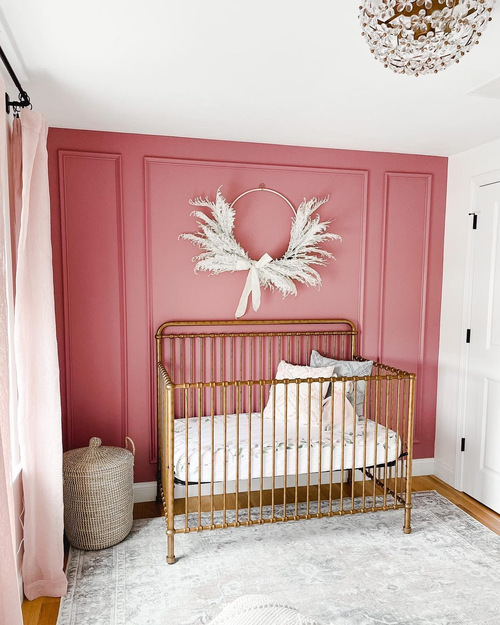 Source: Farm Coast Home
Add molding to your wall as a DIY project and then paint it a pretty pink color.
This baby girl's room is fit for a little princess!
Related: 18 Pretty Nursery Light Fixtures for Baby's Room
Use Pretty Pink Blackout Curtains
Source: The Greenspring Home
Use pretty pink blackout curtains like the ones pictured to incorporate pink accent colors with white furniture!
You can also use pink throw pillows on your rocking chair to bring in more pink to your color scheme.
Pink Baby Girl Nursery Ideas
Hang a Dreamy Pink Canopy
Source: Pretty Playful Styling
Hang a dreamy pink bed canopy over baby's crib or your nursery glider.
We also love this mama's floral wallpaper and pink stripes on the wall.
It's certainly one of the most styled baby girl nursery themes we've seen!
Related: 16 Neat Nursery Book Storage Ideas
Put Up a Muted Pink Wallpaper Mural
Source: My Four Wonders
Hoping for a more muted and less intense pink color palette?
We love the neutral tones of this subtle pink wallpaper mural for a girls nursery idea!
Install a Pink Board and Batten Wall
Source: The Double Take Girls
Install a pink board and batten wall for a major design statement.
It's totally the focal point in this perfect pink baby room!
Related: 15 Gender Neutral Ideas for Your Nursery
Pink Baby Room Ideas
Hang a Round Pink Mirror on the Walls
Source: New England Berner Home
Not looking to paint anything like some of the pink nurseries we've seen above?
Try adding pink nursery decor instead like this round pink mirror over your changing table.
Paint a Shiplap Wall Pink
Source: West Cottage Blog
This mama has gone all out with a completely pink baby room!
With pink walls, a pink baby crib, a pink pom pom garland, a pink rug, and even a pink dresser, no detail was overlooked.
Try adding a pink shiplap feature wall behind your baby's crib to get the look.
Related: 11 Simple Ideas for a Maternity Photoshoot
Use Pink Blackout Roman Shades on the Windows
Source: Everhem
Here's a super subtle way to incorporate pink into your baby girl's nursery. Use pink blackout roman shades on your windows!
We love the lighter shade of pink used for a more sophisticated feel.
Perfect for an eclectic nursery!
Add Light Pink Wainscoting Behind Baby's Crib
Source: Studio_Wellington
Another way to incorporate this delicate, almost neutral color is with a half wall of wainscoting behind baby's crib.
The floral accent above it is just a beautiful personal touch!
The design style in this pink baby nursery certainly steals our hearts.
Final Words on Designing the Perfect Pink Nursery
We hope you fell in love with at least one of these pink baby girl room ideas!
Incorporate one or more of these nursery designs and you'll have the perfect pink nursery.
Your little princess will be able to grow into this room for years to come.
Related Baby Girl Nursery Posts
45 Beautiful Decorating Ideas for Baby's Bedroom
9 Gorgeous Daybeds for Your Nursery
17 Ideas for Decorating Your Nursery Shelves
20 Ways to Decorate the Nursery Without Paint