The Rock n Play was once a parents go-to product, but since it was taken off the market by the Consumer Product Safety Commission, new parents have been desperate to find a safe Rock n Play alternative that their babies will still love.
Some parents want something similar to a portable crib; others are looking for another inclined sleeper due to acid reflux. In a world of millions of baby products, you may be wondering… which Rock 'n Play alternatives are the best?
Any Rock and Play alternatives must position babies flat on their back for sleep. Thankfully there are options that meet this requirement that fit within every budget!
Here is our shortlist of the Top 5 Rock n Play Alternatives…
You're going to notice that none of the Rock n' Play alternatives below are on an incline like the Rock and Play was. That's due to the recent guidelines published by the The American Academy of Pediatrics (AAP) on the dangers of these inclined sleepers.
Instead, they only recommend the sale and use of bassinets, cribs, or portable play yards for naps and overnight sleep. This means that any Rock and Play alternative needs to have a firm, flat surface, free of soft bedding, and ensure babies sleep on their backs, alone.
We took a deep dive into all of the infant sleepers available, to bring you the top 12 Rock n Play alternatives that are a safe place for newborn babies. You'll find a great alternative in every price range!
Let's get started…
Disclosure: Affiliate links may be used in this post, at no cost to you.
Budget Rock N Play Alternative Ideas
Pro Parenting Tip: Just because it's expensive doesn't always mean it's safer!
Many times the more expensive option just means its made of more expensive materials or has features you may not even need. Here are four budget-friendly alternatives to the Rock and Play that allow your baby to still sleep on their back.
Safety: ASTM Certified (American Society for Testing and Materials)
Age: 0-5 months
Weight Requirements: 5.5 lb minimum
The Fisher-Price On-The-Go Baby Dome is a handy device to own, regardless if you have a different bassinet or crib for regular naptime. You can take this thing to the beach, camping, picnics, or the park, and it will keep the little one shaded and mosquito-free. 
The 5.35lb giant-baby-salad bowl has two removable toys, folds flats, and handles for easy transport. The canopy easily folds back to allow interaction, and the mesh provides plenty of air circulation and visibility. It's an excellent alternative to the Rock n Play due to its firm mattress for babies' safety.
Safety: CPSIA, CPSC Certified
Age: 0-6 months
Weight Limit: 33 lbs max
The MiClassic All Mesh 2in1 Stationary & Rock Bassinet is a mesh basket with a firm surface maximizing airflow and visibility. Its rocking mode can be turned on or off, depending on you and your baby's preference. It is a breeze to set up or fold up, taking only seconds. Plus, there is no assembly.
However, this sturdy system weighs 19lbs, so it isn't the easiest to pack around for quick trips to the beach. To move about the house or for an overnight trip though, it's a fantastic, affordable option. Despite the high sides, this product is not recommended after the baby begins to push up to all fours due to safety concerns.
We think this is the closest of our budget-friendly options to a Rock n Play alternative.
Related: 10 of Our Favorite Portable Bassinets for Baby
Safety: JPMA Certified
Age: 0-5 months
Weight Limit: 15 lbs max
The Delta Children EZ Fold Ultra Compact resembles a smaller MiClassic with a Fisher-Price Dome canopy. It weighs 15lbs and folds up nicely, complete with a tote bag. The canopy is fully removable, but when on, it protects from your baby from mosquitos and the sun.
These canopies are also great if you have pets that keep trying to lick the baby's face. Unfortunately, the canopy isn't cat-pounce proof. So for parents looking for a cat-proof dome, this isn't it. But it is a handy bassinet for parents who want their kids up, off the floor, at bed height, and desire portability.
This portable sleeper also has the JPMA certification, which confirms the product was independently tested to see if it met ASTM International guidelines. You can also read Consumer Reports' opinions on JPMA.
Safety: ASTM Certified
Age: No age requirement, refer to weight limit
Weight Limit: 33 lbs maximum
The Baby Joy Baby Foldable Travel Crib is the most affordable playard on our list. This play yard is safe for babies that can move around, including standing up. The mesh sides ensure the baby can see out and you can see in. It also has a clever little zipper "door" that can allow a baby to crawl in and out of it, turning it into a game when bored on vacation.
The design is sturdy, even when a baby shakes it. The top of the frame is padded to prevent bumps and bruises. The mattress is made of foam for comfort but is still firm for safe sleep practices. It is also removable, so you can shake off crumbs and give it a good wipe down. The whole thing is easy to set up and take down and comes with a carrying bag.
Related: Free Printable Guide to Things You'll Need for the Baby
Mid-Range Rock 'N Play Alternative Ideas
The next 3 Rock n Play alternative ideas have a mid-range price tag. With that, you start finding sturdy materials that are lighter weight. They also tend to have a bit more style or extra features.
Let's take a look…
Safety: JPMA Certified
Age: Not Listed
Weight Limit: 25 lbs maximum
The Dream On Me Traveler Portable Bassinet is incredibly roomy piece of baby gear yet only weighs 7.5 lbs. It also has some pretty fabric panels (5 different color options) interspersed in the mesh, giving it style without compromising the breathability and visibility. Thus, you can pick one to match your bedroom or the nursery.
It is easy to use, folds up like a dream, and has won a plethora of awards for safe sleep guidelines, including the 2020 JPMA. Thanks to it not weighing a ton, it is easily portable. The fabric cover is also machine washable (whew). While this can hold up to 25 lbs, it is a bassinet, so discontinue use once your baby can get on hands and knees or sit up.
Safety: JPMA Certified
Age: 0-5 months
Weight Limit: 20 lbs maximum
The Fisher-Price Soothing Motions Bassinet can be set to soothe with calming vibrations, lights, sounds, music, or a combination. There is also a nightlight, and the bassinet can sway. We think this is a very similar product to the original Rock n Play (minus the incline sleeping position). In addition, the projector can be detached to use elsewhere, if desired, to keep the baby entertained.
The bassinet has mesh sides, allowing maximum airflow and breathability. The mattress cover is fully washable, and the bottom rack of the stand can be used for storing light items. An excellent choice for babies that crave a bit more sound effect or visual focus to settle.
Related: The Best Portable Blackout Curtains for Babies
Safety: JPMA Certified
Age: 0–5 months
Weight Limit: 20 lbs maximum
The HALO BassiNest Swivel Sleeper is great for parents who enjoy having a bassinet beside their beds. HALO is height adjustable to different positions, so you can ensure it is at the exact level that best suits your mattress.
In addition, this bassinet can rotate 360 degrees, making it easier for parents to get in and out of bed. This is one of its best features especially after a C-section. It also has bendable sides, making it easier to lift the baby out while in your bed (these can be locked).
This mesh bassinet has been recommended by the AAP and won numerous awards, including Good Housekeeping's Best Handy Beside Sleeper in 2020. HALO is also partners with International Hip Dysplasia Institute and First Candle, which is committed to saving babies from Sudden Infant Death Syndrome and supporting grieving parents.
So, unsurprisingly, this is our most expensive mid-priced recommendation.
High End Rock and Play Alternative Ideas
High-end alternatives to the Rock and Play are where you find play yard sleep surfaces that are incredibly durable but also lightweight. Some different models are even designed for air travel! There are also rocking bassinets in this price range that weigh less than previous options and have elegant touches, such as polished wood supports.
Safety: GreenGuard Gold, ASTM, CPSIA, CFR Certified
Age: 0-3 months
Weight Limit: None
The Lotus Travel Crib is built for families that sometimes need to fly to reach their destination. This play sleeper weighs only 13 lbs and can be carried like a backpack, making it one of our most portable options. It takes about 15 seconds to set up, meaning you could quickly put it together in an airport during a layover if needed.
The Lotus has a quiet side zipper to open the side panel for playing games or for new moms to be beside it to nurse baby to sleep. The mattress sits on a fabric panel supported by the floor, eliminating a weight limit.
Related: A Detailed Review of the Nontoxic Newton Crib Mattress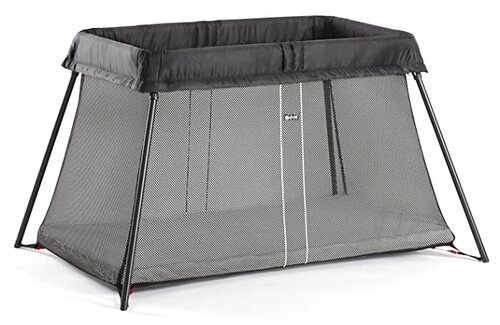 Safety: JPMA Certified
Age: 0-3 months
Weight Limit: 8–33 lbs
The Baby Bjorn Travel Crib Lite is another 13 lb travel crib and play yard with mesh sides. It is easy to set up; it takes about half a minute, and the mattress is surprisingly comfortable despite the firmness. It is also very sturdy and stable, passing the baby-shake-their-crib test.
However, there is no handy zipper door, which is a pity, especially for shorter parents who find Bjorn's high safety walls too high. Use this popular baby item not only for nighttime sleep but also for play time and quiet time.
Safety: ASTM, SPSC, NHTSA Certified
Age: 0-5 months
Weight Limit: 20 lbs max
The Graco DreamMore Bedside Bassinet is similar to the HALO in that it has adjustable height to match the bed and can sway just like the Rock and Play. It has mesh sides to ensure maximum visibility and breathability, too.
The quilted mattress pad is also machine washable, and its gliding leg stand allows the bassinet to be slid right up to your bed. This bassinet does detach for times you want to move it free of the base for easy portability.
Related: Is the Dreamland Sleep Sack Safe for Babies?
Safety: JPMA
Age: 0-6 months
Weight: 8 – 17 lbs
The Baby Bjorn Cradle is for parents who love an elegant and clean aesthetic. The white mesh cradle rocks on polished wooden supports, and the bottom foot grips are designed to protect your floors. The entire piece of furniture weighs 13 pounds, so it can easily be lifted into another room, despite not being a packable design. Just like with the Rock n Play, babies seem to love the gentle rock!
Safety: JPMA Certified
Age: No minimum
Weight Limit: 25 lbs max
Not every parent can afford a Rock N Play alternative priced at nearly $1,500, but for those that can, there is one obvious choice to make.
The SNOO Smart Sleeper is very expensive. You might ask yourself… why on earth anyone would pay so much for an item babies can only use for 6 months? Well, because this product promises parents more sleep! It is amazing how much parents will pay when they're sleep-deprived. Even better? It helps teach babies to sleep.
The Happiest Baby SNOO bassinet was developed by pediatrician Dr. Harvey Karp and his business partner Nina Montée Karp. In fact, it is the AAP's number one recommended sleep surface product for babies' safety. It even prevents babies from rolling and includes 3 hip-safe sleep sack swaddles.
This bed, which is connected to the parents' phones, essentially listens to your baby and responds when the baby is getting restless. It has white noise and motion calming calibrated to start gradually and increase if needed. It claims to be able to calm a fussy sleeper in under a minute. It also has a preemie mode and transition-to-a-crib program.
Best of all, a study of over 42,000 infants found that most SNOO babies were sleeping 9+ hours per night by 3 months. So that right there is why parents take out a loan or rob a bank (maybe) to own one of these.
Frequently Asked Questions About the Fisher-Price Rock n Play
Did you miss the Consumer Reports about the Fisher Price Rock 'n Play recall? No judgment; sleep deprivation makes it difficult to keep up with the news. Let us help you catch you up…
Why Was The Rock and Play Recalled?
The Rock N Play was a sleeper that angled a baby up more than 10 degrees, which increases the risk of suffocation. Up to 30 infant deaths may have occurred due to its use. Since then, the CPSC banned inclined sleepers, and this is why none of our alternatives to the Rock N Play resemble its sloped position.
Am I Able to Still Use My Rock n Play?
"Can" and "should" are different words, but no, you should not use your Rock n Play. Rock 'n Plays also should not be sold second-hand or donated due to its risk of infant fatalities.
What Should I Use Instead Of A Rock 'n Play?
It is essential to understand the intended use of this baby product. Baby gear similar to the Rock n Play is also only meant to be used when a baby is awake. If the baby falls asleep, the baby needs to be removed from them (sorry, but it is the safest thing to do) or kept under constant supervision. Thus, you can still find angled Rock n Play-like items for sale, but they are for wake time and play time only.
However, Rock and Play was so loved because babies easily fell asleep in it. If you really need an alternative for sleep, consider one of our 12 recommendations above with the rocking mechanism.
If another product catches your eye, check that it meets safety guidelines, including having a firm, flat mattress, free of soft bedding, and ensuring babies sleep on their backs, alone. Mesh is also highly recommended for any "walls."
Conclusion
Navigating the safety guidelines for baby products can be confusing. For those of you looking for a Rock N Play alternative, just remember it needs to keep the baby flat and have no "cushioning" on the sides that could suffocate a baby.
Thankfully, there are many products on the market like this at varying price points that meet these requirements!
Related Posts on Baby Products
The Best Breathable Baby Mattress on the Market
Snuggle Me vs DockATot: Which One is Better?
6 Best Mattresses for Your Pack n Play
Everything You Need to Know About the SlumberPod
A Review of the Baby Merlin's Magic Sleepsuit