Are you overwhelmed by the amount of baby products out there? Do you need someone to just tell you what things you need for the baby? I've prepared this newborn checklist as a complete guide for everything you need from A-Z.
Our newborn checklist is going to focus on what newborns need right away or in those first few months. We'll cover everything you need to be prepared to bring home your newborn baby!
You can use each section of this newborn checklist to quickly put together your shopping list or entire baby registry. If your baby shower registry is already complete, use this checklist to cross-check what you already have to ensure you don't miss a thing.
Let's get started!
Disclosure: Affiliate links may be used in this post, at no cost to you.
Feeding Essentials Checklist for Your Newborn Baby
Baby bottle set: Ideally (4) 4 oz bottles & (4) 8 oz bottles
Bottle brush: You'll want two of these so you can replace the first one as the end starts to fall apart.
Bottle drying rack: You'll use this every day for cleaning and drying bottles, pacifiers, teething toys, and sippy cups.
Bottle warmer: You can use a mug of hot water to heat baby's bottle, but many moms prefer the ease of a bottle warmer.
Burp cloths: If your baby is a spitter you may use up to 6-8 of these a day.
Bibs: If your baby is a spitter and/or messy eater you may use up to 6-8 of these a day.
Nursing pillow or feeding pillow: Whether you're breastfeeding or bottle feeding, it's much easier to have baby propped up closer to you instead of you having to hunch down to feed them.
Container of formula: Even if you're breastfeeding, it's always a good idea to have a backup container of formula available in case you are struggling with breastfeeding during those first days home. If you're formula feeding, you should still only buy one can at a time in case the type you bought doesn't sit well with baby's tummy. A lot of times you may have to trial many different brands of formula.
Diapering Essentials Checklist for Your New Baby
Diapers: You'll want one jumbo size box of Newborn size diapers, but after that you'll want to stock up with 1-2 boxes of Size 1 diapers. Most babies are not in Newborn size diapers long!
Diaper Pail: Unless your nursery room is on the first level of your house, where you can take the diaper right to the trash can, you're going to want a diaper pail for those smelly diapers.
Baby Wipes: You can never buy too many baby wipes! You'll need these for years to come.
Diaper Rash Cream: One large tub of A&D.
Changing Pad: If you plan to have a dresser or changing table for diaper changes, you'll put this on top.
Changing Pad Covers: Register for two of these, that way when one gets dirty you have a backup while the other is washing.
Diaper Bag: You can use a traditional diaper bag or opt for a backpack! Either way, you'll need one to pack and bring baby items on the go daily.
Newborn Checklist for Baby Gear You'll Need
Infant Car Seat & Bases: You'll only need one infant car seat but you're going to want to have two bases – one for your car and one for your husband's car. You can also transfer that second base to a grandparent or nanny's car when needed, without having to constantly re-install yours.
Stroller: If you plan to take walks with your newborn baby, ensure that you register for a stroller that accommodates newborns. This means the back should recline all the way back! An important thing to remember is that many strollers are made for babies 6 months and older and they do not recline – so check the product description carefully.
Travel Crib: A travel crib is also known as the "Pack and Play" or playpen or play yard. It is one of the biggest must-haves for babies! You'll definitely use for overnights away from home… but also as a playpen once they start crawling.
Travel Fitted Sheets: The pack n'play sleeping surface is smaller than a standard size crib, so you'll need special sized sheets to cover the bottom while baby is sleeping.
Baby Carrier: A carrier is more structured and better suited for older, heavier babies who eventually want to face out, like when you're socializing at a party.
Baby Wrap: The wrap is for those first few months when you want to get some housework done while baby is fussy.
Bouncy Seat: When you need to get things done around the house, a bouncy seat is a lifesaver! It's a safe, soothing spot for you to lay your newborn baby down and free up your hands.
Baby Swing: The baby swing is another tool to occupy and entertain your newborn baby while you get a few things done. Most babies love the back and forth motion!
Sleeping Essentials Checklist for Newborn Babies
Baby Monitor or Baby Camera: Even if you are sleeping in the room next door, you'll want to be able to SEE and check on your baby without always going into their room.
Swaddles: You'll want at least 3 of these to rotate, as they need to be washed regularly. Middle of the night blowouts may have you using more than you thought.
Wearable Blankets: Typically around 12 weeks, but sometimes sooner, baby will move on from the swaddle. At that time, some mamas choose to move straight to footed pajamas. However, if baby is sleeping well you may want to avoid major changes in which case it's easier to transition baby to a sleep sack. You'll need at least 3 of these to rotate as they'll get covered in diaper leaks or dribbled bedtime milk.
Crib Bedding: Because baby is usually wrapped in a swaddle or sleepsack, your crib bedding will stay pretty dry those first few months. I recommend stocking up on at least 2 crib sheets so you can rotate them through the wash. Aside from crib sheets, no other crib bedding is needed for a newborn. Crib quilts and crib bumpers are not approved by the American Academy of Pediatrics for safe sleep.
Crib Mattress: All crib mattresses are manufactured in standard dimensions so you don't need to worry about the size. Focus on choosing a non-toxic, breathable crib mattress.
Waterproof mattress cover: Protect your crib mattress from soiling by placing a waterproof mattress cover on it first thing.
Sound Machine: Most baby sleep experts recommend using a white noise machine to help baby sleep soundly. It also helps muffle any household noise you may have from dogs or other children.
Nightlight and Lamp with Dim Bulb: Babies actually sleep best in pitch black dark; however, you are going to need to be able to see when you walk into baby's room in the middle of the night. Purchase a motion-activated nightlight and place it right by the doorway. That way, when baby starts crying in the middle of the night and you enter the room, you can see right away. Once you pick up baby and get to your nursery glider, you can switch on your lamp with a dim bulb for nursing.
Pacifiers: Don't buy more than 1-2 pacifiers before baby's arrival because you never know whether your baby will end up taking a pacifier (some don't). It's good to have one on hand though at the hospital and for when you first get home.
Newborn Baby Essentials for the Bath
Infant Tub: This item is critical! You'll need a padded, safe infant tub to set your newborn in during bath time.
Wash Cloths: One six pack of washcloths is all you need.
Hooded Towels: Some mamas like to make a nightly bath part of their bedtime routine. If that's you, you'll want two hooded towels to rotate in while the other is being washed.
Bath Stool: Save your knees and back from hunching over the side of the tub… put a bath stool up against the tub for you to sit on.
Baby Body Wash: Use body wash only every few days, to avoid giving your newborn dry skin.
Baby Shampoo: Same for shampoo… use sparingly! You want avoid drying out the skin on your newborn's head.
Baby Lotion: Keep baby lotion on hand to keep your newborn's skin moisturized, especially during the colder months.
New Parents Health & Safety Checklist for Baby
Infant First Aid-Kit: If this is your first baby, you'll want to stock up on a basic infant first aid kit.
Thermometer: Your first aid kit may come with a basic rectal thermometer but a forehead thermometer is much easier to quickly use.
Infant Grooming Kit: Look for one with nail clippers and a hair comb at a minimum.
Bulb Syringe/Saline Spray: If baby is congested, you'll want quick access to a bulb syringe and saline spray to unclog mucous. Another option is the FridaBaby Nose Frida where you can quite literally suck the snot out!
Gas Drops: Gas drops are a great way to ease fussiness during the typical gassy phase for infants which is when they are 4-12 weeks old.
Fever Medication: It doesn't hurt to have Infant's Tylenol or Motrin on hand in case of fever, but always call your pediatrician before administering anything when they are that young.
Newborn Baby Clothing Essentials for Your Baby Registry
Coming home outfit: Dress your newborn in an oh-so-cute outfit to bring baby home in! You'll be glad you did looking back at all of your first photos of baby.
One-piece outfits: These are also called Sleep 'n Plays. Make sure you have 2-4 of these in Newborn size, 4-6 of these in 0 to 3 months size, and 4-6 of these in 3-6 months size. Some babies are born immediately fitting into 0-3 month outfits and are in 3 to 6 month outfits in just a month or two. Avoid button down outfits and look for the zipper up sleepers for easy diaper changes!
Onesies: 2-4 in Newborn size, 3-5 in 0-3 months size, and 3-5 in 3-6 months size.
Pants: 2-4 in Newborn size, 3-5 in 0-3 months size, and 3-5 in 3-6 months size.
Dressy outfits: Getting out with a newborn is hard, and dressy outfits aren't the easiest to take on and off of a newborn. You won't use as many as you think, so only purchase up to 3 of these outfits max in each size.
Hats: For newborns born in spring, summer, or fall, two hats will suffice. If you're having a winter baby, you may want 3-4 if you need to keep one on at all times. Newborns lose all of their body heat through their heads!
Socks or booties: Keep babies feet warm and you'll keep baby happy! Make sure you get socks with elastic around the ankles to prevent them from slipping off and/or invest in a pair of booties that snap around the ankle.
Mittens: Mittens are critical to keep your newborn from scratching his/her face. They are really easy to lose though! Pro-tip: Look for sleep and plays with the wrist pockets that fold down. They are built in mittens!
Bunting: Depending on the month your newborn is born, you'll want to invest in a warm bunting in lieu of a coat. Purchase a lightweight one for a spring or fall baby or a thick one for winter babies.
Baby Nursery Room Checklist
Crib: Choose an affordable crib in the color of your choice.
Crib Mobile: Find a fun crib mobile that adds to your nursery theme.
Crib Skirt: Make your crib look "dressed up" by covering the empty space below.
Nursery Dresser or Changing Table: Save your back during diaper changes by placing a changing pad on your nursery dresser or set up a dedicated changing table.
Nursery Glider and Ottoman: Do your research and make sure you get a really comfortable nursery glider for those long sleepless nights!
End Table: You'll want an end table next to your glider for your lamp, phone, baby's bottles, and more.
Blackout Curtains: Blackout curtains are critical to successful naps!
Curtain Rod: Measure the nursery window and ensure you purchase a rod that extends 6″ longer on both sides.
Area rug: Pick a soft, affordable area rug to cushion both you and baby during tummy time and play time.
Laundry hamper: Set the laundry hamper right next to the changing table, that way you can throw dirty outfits in right away.
Newborn Baby Checklist for Playtime
Activity Gym: This will be a source of entertainment for your newborn during their scheduled wake times.
Soft Toys and Teethers: Have soft toys and teethers lying around to hand to baby once they can grasp things.
Breastfeeding Essentials for Nursing Moms
Nipple Cream: This can also be called "Nipple Butter" and it will SAVE your nipples as a new mom nursing those first two weeks! Use it religiously.
Nursing Bras: Make it easy on yourself and stock up on 2-3 nursing bras to make those frequent feedings much easier.
Nursing Pads: Protect your nursing bras and clothing from leaking by using disposable nursing pads those first three months as your supply regulates.
Nursing Cover: Bring this along with you for feedings while out and about.
Breast Pump: Your health insurance should cover this for free! You can order this in month 6 or 7 of your pregnancy to ensure it's shipped to your house in time.
Haakaa Manual Pump: This is a new hack for building your freezer stash! Wear the Haakaa on your other breast to collect breast milk that would've otherwise leaked and been wasted.
Breast Milk Storage Bags: If you decide to pump at any time, you'll store any extra breast milk in these storage bags to freeze.
Breast Milk Storage Bottles: If you pump and bottle feed, you'll store your recently pumped milk in the refrigerator in these.
Download Our Free PDF Newborn Checklist
We hope you find this baby checklist helpful!
Download and print off our free newborn checklist PDF to stay organized.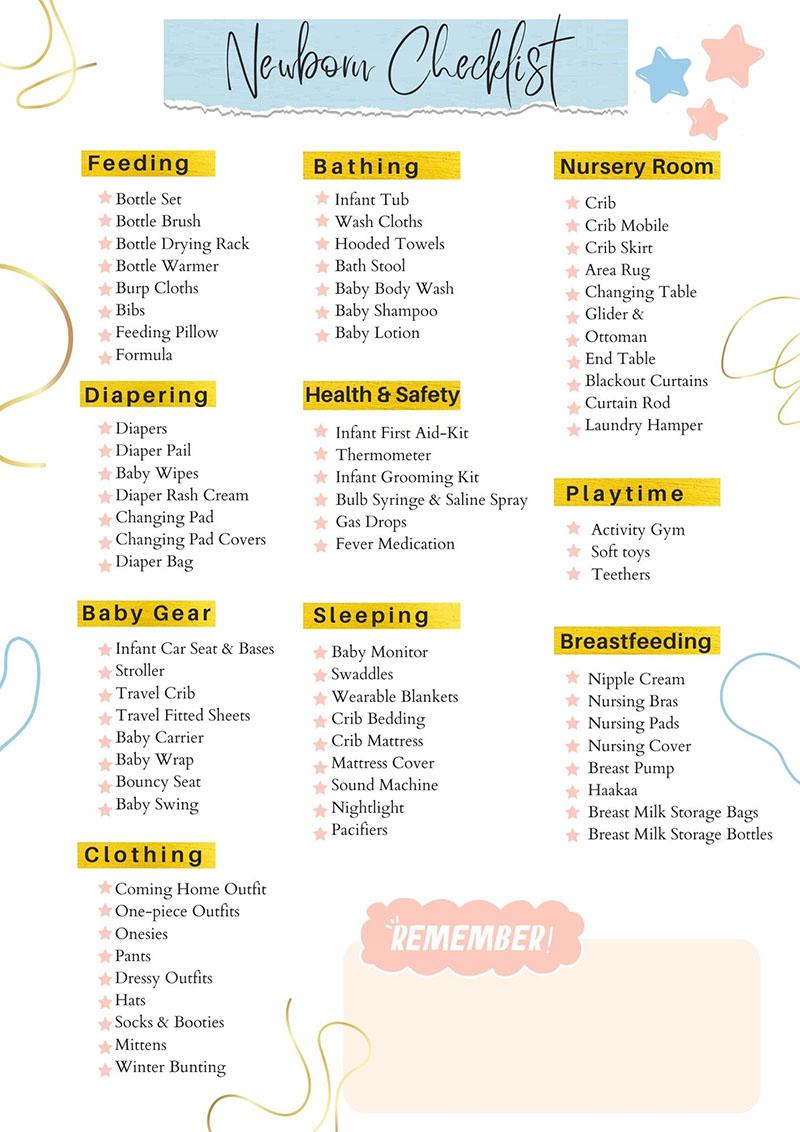 Need More Help with Your Nursery?
Nursery Furniture Buying Guides
The Best Nursery Dresser Changing Tables
Nursery Q&A
Pack and Play vs Crib: Which Do I Need?
Experts Reveal What to Look for in Baby Safe Paint
Fact or Myth: Can a Nursery Ceiling Fan Help Prevent SIDS?
Baby Product Reviews
Everything You Need to Know about the SlumberPod