Are you overwhelmed by the amount of baby products out there? Do you need someone to just tell you what things you need for the baby? I've prepared this newborn checklist as a complete guide for everything you need from A-Z.
Our newborn checklist is going to focus on what newborns need right away or in those first few months. We'll cover everything you need to be prepared to bring home your newborn baby!
You can use each section of this newborn checklist to quickly put together your shopping list or entire baby registry. If your baby shower registry is already complete, use this checklist to cross-check what you already have to ensure you don't miss a thing.
Let's get started!
Disclosure: Affiliate links may be used in this post, at no cost to you.
Feeding Essentials Checklist for Your Newborn Baby
Related: 6 Best Mattresses for Graco Pack n Play
Diapering Essentials Checklist for Your New Baby
Related: 17 Pretty Ideas for Nursery Shelves
Newborn Checklist for Baby Gear You'll Need
Related: 10 Portable Bassinets for Baby We Love
Sleeping Essentials Checklist for Newborn Babies
Related: A Detailed Review of the Baby Merlin's Magic Sleepsuit
Newborn Baby Essentials for the Bath
New Parents Health & Safety Checklist for Baby
Related: 10 Gorgeous Ideas for Your Nursery Closet
Newborn Baby Clothing Essentials for Your Baby Registry
Related: 10 Unique Ways to Organize Your Nursery Dresser
Baby Nursery Room Checklist
Related: 18 Beautiful Lighting Ideas for Your Nursery
Newborn Baby Checklist for Playtime
Breastfeeding Essentials for Nursing Moms
Related: The Prettiest Nursery Daybeds (Plus, Why You Want One)
Download Our Free PDF Newborn Checklist
We hope you find this baby checklist helpful!
Download and print off our free newborn checklist PDF to stay organized.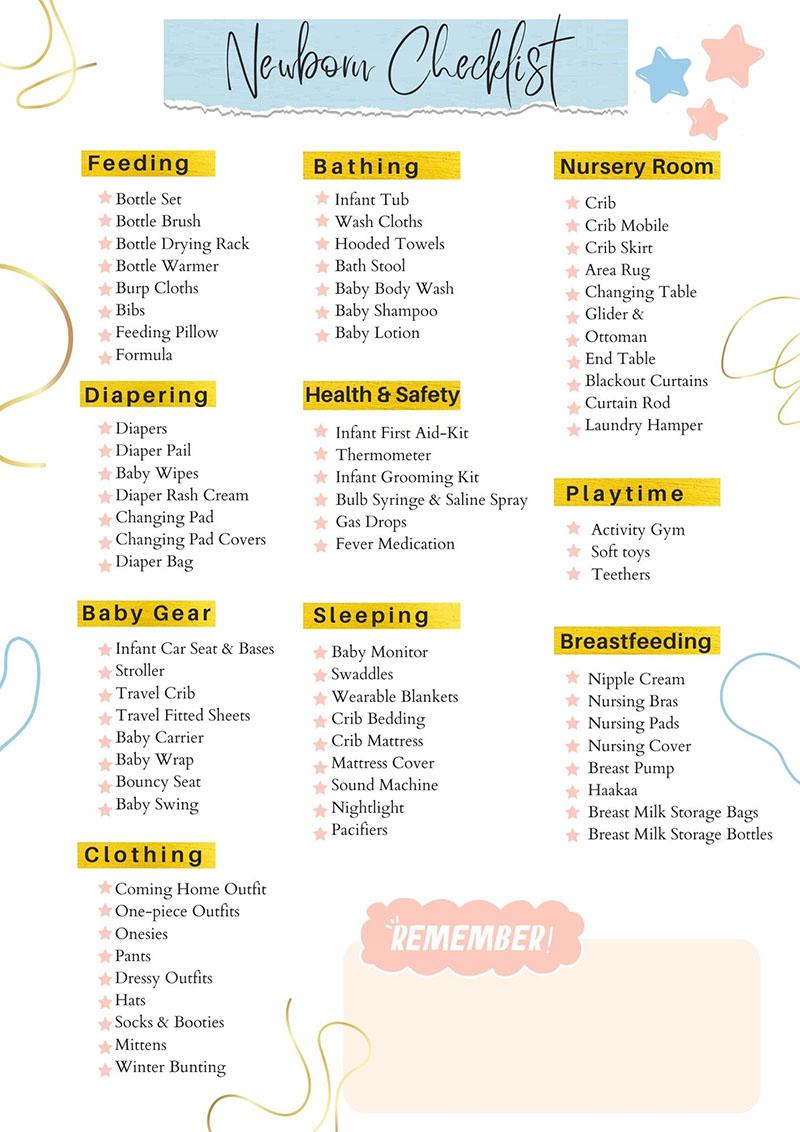 There are SO many tasks to do before baby arrives that it can seem overwhelming!
This list of five important decisions to make during pregnancy should also help you feel prepared.
No matter what… all you really need is the love between you and your baby!
Need More Help with Your Nursery?
Nursery Furniture Buying Guides
The Best Nursery Dresser Changing Tables
The Best Nursery Blackout Curtains
Nursery Design Ideas
45 Baby Room Ideas for Decorating
Ideas for Decorating Your Nursery Without Painting
30 Inspiring Boy Nursery Ideas You'll Love
50 Pretty Nursery Ideas for a Baby Girl
Nursery Q&A
Pack and Play vs Crib: Which Do I Need?
Experts Reveal What to Look for in Baby Safe Paint
Fact or Myth: Can a Nursery Ceiling Fan Help Prevent SIDS?
Baby Product Reviews
Everything You Need to Know about the SlumberPod
Complete Review of the Newton Baby Crib Mattress
Sleepout Curtain Review: Travel Blackout Curtains