Looking for closet organization ideas that are functional AND pretty?
You are going to fall in LOVE with these 10 baby closet ideas!
Hopefully you can use one, if not more, of these ideas depending on your closet space.
I've got baby closets to show you with built-in dressers, pull out drawers, cubby storage, over the door storage, and so much more.
Whether you have a small nursery closet or a larger space to work with, we've got you covered.
Let's get started!
Disclosure: Affiliate links are used in this post, at no cost to you.
Built-in Baby Closet Ideas
How can you not crush on this gorgeous nursery closet?! It even has a built-in dresser!
You'll either need a VERY handy husband OR a custom cabinetry person for this project, but I do love that you could save some space on your nursery room floor by putting the dresser drawers in the closet.
Then you could get a fancier, open changing table… something like this one.
This simple, all-white closet works for either gender and the open shelving is definitely cheaper than purchasing drawers.
However, the cost of baskets can add up, so unless you already have quite a few extra, it may come out to around the same price as using drawers.
I do love her tiered acrylic shoe shelf.
Related: 45 Inspiring Ideas to Decorate Baby's Nursery
The next baby closet I have to show you is actually our own!
This small nursery closet was only 48″ wide so we had to DIY this project by making the closet system we purchased smaller to fit.
I swapped out the plastic white rods it came with and used these oak closet rods instead.
Related: 20 Decorating Ideas for Your Nursery Without Painting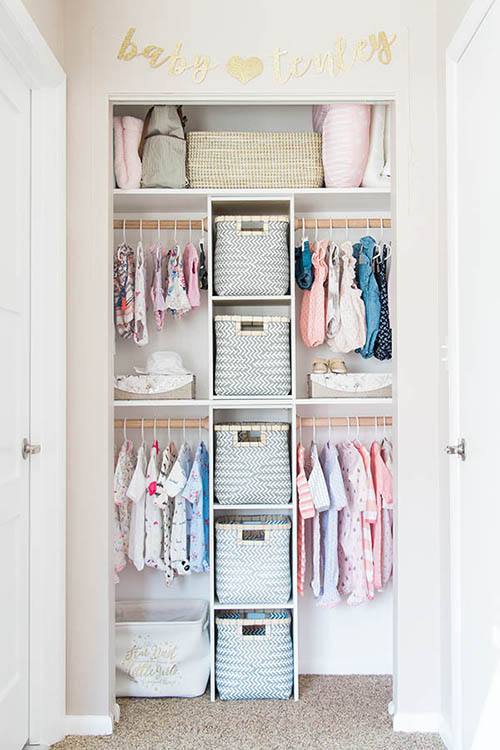 Once we moved my son into my daughter's nursery, we set up an all new closet for her in her new room.
I found these adorable bow drawer pulls to personalize the closet system a bit more.
You can read the full tutorial with all Sources HERE.
Seriously obsessed with how creative this twin mama was by adding wallpaper to the back wall.
It makes such a big impact and the closet looks much more personalized.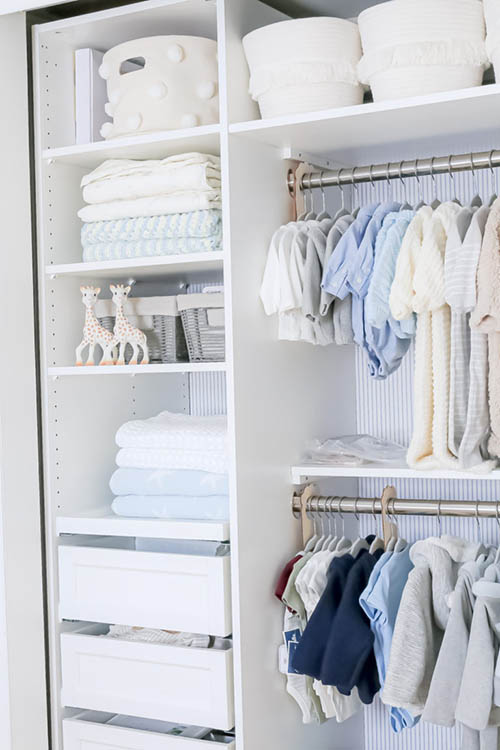 Source: The Pretty Little Home
The below closet is actually for two siblings sharing a room! She put her smaller baby clothing on the top and her longer toddler clothing on the bottom.
Wire drawers are a fun way to display swaddles and other items you don't need hidden.
Related: 10 Super Smart Ways to Organize Your Baby's Dresser
Freestanding Nursery Closet Ideas
Does the room you're using for the nursery not have it's own closet? If so, a freestanding baby closet would be perfect!
The closet system below stands on it's own which means it's not drilled into the wall behind it.
If you're renting a home this is a great idea because you can take it with you one day.
This is one of my favorite closets because of the pull out drawers. Even cooler that they have glass fronts so you can see what's in them.
Not to mention, this mama has THE cutest nursery closet decor. This level of organization makes my heart happy!
Calling all neutral lovers!
Do you love boho nursery decor? Have you seen the earth tone nursery color palette?
This closet would fit in perfectly with those nursery themes!
I love the simplicity of this one, if your budget is tight.
All this mama added was a freestanding cubby storage unit with baskets.
There is nothing to install so no handy skills required, and you are still utilizing maximum space in the closet.
Related: 15 Gender-Neutral Ways to Decorate Your Nursery
Here is another unique way to maximize the space in a traditional closet without installing a new closet system.
A stand alone plastic drawer organizer fills the bottom half of this closet, and the system on the back of the door provides SO much extra space!
Love that each drawer is labeled so everything has it's own place.
Another closet with cubby storage at the bottom!
I feel like it's always pretty closets for baby girls that get the love, but this mountain theme for a baby boy is oh so cute. The rustic vibe makes it feel and look a little bit different.
Creative Hanging Ideas
Finally, for all of you looking for ideas for a small nursery closet… I love this creative use of the side wall for storing and displaying accessories (bows in this case).
She hung towel rods and purchased little clips to hang them.
If you're expecting a baby boy, you could do this with his hats, booties, mittens, and even swaddle blankets on the bottom rod.
Need More Ideas for Your Nursery?
You'll love our top recommendations for the best nursery gliders, best nursery dressers, and nursery paint colors.
Plus, check out these 18 pretty nursery light fixtures for your baby's room.
PIN THIS