Looking for closet organization ideas that are functional AND pretty?
You are going to fall in LOVE with these 25+ baby closet ideas!
Hopefully you can use one, if not more, of these ideas depending on your closet space.
Today we'll look at baby closet ideas with built-in dressers, pull out drawers, cubby storage, over the door storage, and so much more.
Whether you have a small nursery closet or a larger space to work with, we've got you covered.
Let's get started!
Disclosure: Affiliate links are used in this post, at no cost to you.
Built-in Baby Closet Ideas
How can you not crush on this gorgeous nursery closet?! It even has a built-in dresser!
You'll either need a VERY handy husband OR a custom cabinetry person for this project, but I do love that you could save some space on your nursery room floor by putting the dresser drawers in the closet.
Then you could get a fancier, open changing table… something like this one.
This simple, all-white closet works for either gender and the open shelving is definitely cheaper than purchasing drawers.
However, the cost of baskets can add up, so unless you already have quite a few extra, it may come out to around the same price as using drawers.
I do love her tiered acrylic shoe shelf.
Related: 45 Inspiring Ideas to Decorate Baby's Nursery
The next baby closet I have to show you is actually our own!
This small nursery closet was only 48″ wide so we had to DIY this project by making the closet system we purchased smaller to fit.
I swapped out the plastic white rods it came with and used these oak closet rods instead.
We also used the top shelf for storing larger baby items.
Related: 20 Decorating Ideas for Your Nursery Without Painting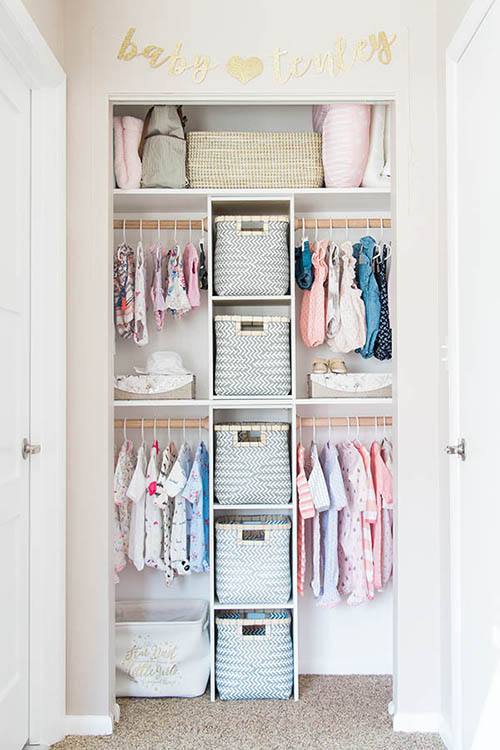 Once we moved my son into my daughter's nursery, we set up an all new closet for her in her new room.
I found these adorable bow drawer pulls to personalize the closet system a bit more.
You can read the full tutorial with all Sources HERE.
I love seeing all of her cute outfits on display!
These drawer organizers give us so much space for small items like socks, shoes, bathing suits etc.
Seriously obsessed with how creative this twin mama was by adding wallpaper to the back wall.
Decorating the back of the closet makes such a big impact and the closet looks much more personalized.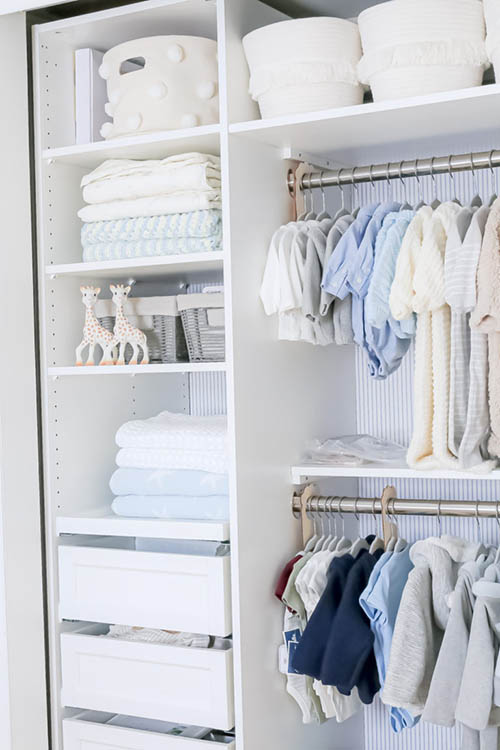 Source: The Pretty Little Home
The below closet is actually for two siblings sharing a room! She put her smaller baby clothing on the top and her longer toddler clothing on the bottom.
Wire drawers are a fun way to display swaddles and other items you don't need hidden.
Related: 10 Super Smart Ways to Organize Your Baby's Dresser
Freestanding Nursery Closet Ideas
Does the room you're using for the nursery not have it's own closet? If so, these freestanding baby closet ideas would be perfect!
The closet system below stands on it's own which means it's not drilled into the wall behind it.
If you're renting a home this is a great idea because you can take it with you one day.
This is one of my favorite closets because of the pull out drawers. Even cooler that they have glass fronts so you can see what's in them.
Not to mention, this mama has THE cutest nursery closet decor. This level of organization makes my heart happy!
Calling all neutral lovers!
Do you love boho nursery decor? Have you seen the earth tone nursery color palette?
This closet would fit in perfectly with those nursery themes!
I love the simplicity of this one, if your budget is tight.
All this mama added was a freestanding cubby storage unit with baskets.
There is nothing to install so no handy skills required, and you are still utilizing maximum space in the closet.
Related: 15 Gender-Neutral Ways to Decorate Your Nursery
Here is another unique way to maximize the space in a traditional closet without installing a new closet system.
A stand alone plastic drawer organizer fills the bottom half of this closet, and the system on the back of the door provides SO much extra space!
Love that each drawer is labeled so everything has it's own place.
Another closet with cubby storage at the bottom!
I feel like it's always pretty closets for baby girls that get the love, but this mountain theme for a baby boy is oh so cute.
The rustic vibe makes it feel and look a little bit different.
It's not only a great option for a small space, but it's also a super affordable option too!
Related: 25+ Pretty Ideas for Nursery Walls
Creative Hanging Ideas for Baby's Closet
For all of you looking for ideas for a small nursery closet… I love this creative use of the side wall for storing and displaying accessories (bows in this case).
She hung towel rods and purchased little clips to hang them.
If you're expecting a baby boy, you could do this with his hats, booties, mittens, and even swaddle blankets on the bottom rod.
More Baby Closet Inspiration
We're totally astounded at how many mamas have designed jaw dropping baby closets!
Here's some more beautiful baby closet inspiration to inspire you…
Source: Sarah Guiler
This nursery closet is sweet and simple!
Love the creative idea to paint the closet door forest green for a fun pop of color.
This mama left the closet's traditional long hanging rod and then just slid in a freestanding cube organizer for additional storage.
Related: 50+ Gorgeous Nursery Modern Ideas
Source: Josey.Castro1
All I can say is wow – what an incredible use of vertical space!
This mama must have high ceilings to accommodate that many rows of shelves and hanging.
Love the dreamy warm lighting that cozies up this space.
Source: Rustic Love Craft Co
Instead of open shelving, many parents prefer hidden storage.
If you don't have the budget for a bunch of built-in drawers, baskets are a great way to contain the mess and sort items by type as well.
Source: Creative Tonic
Based on the color and shelving placement, this looks like custom cabinetry.
It's oh-so-functional though and the wallpaper behind it is just darling!
There are multiple sections for hanging, each with varying heights.
While there are onesies stored now, eventually those will transition into shirts and bottoms.
Source: The Vidal Nest
Here's another classic example of a perfect baby closet on a budget!
The builder grade wire shelf remains, but she simply added cube storage to the bottom of the closet.
She nearly tripled the amount of nursery closet storage she had just by adding a few rows of baskets!
Source: Ali Manno
Not sure I've seen anything more darling than acrylic pulls and bunny knobs?!
If you're expecting a little girl, this nursery closet is an absolute dream!
She's got pretty items on the left and functional storage in the drawers and on the right.
Source: The Marshall Concept
A hanging door organizer, labels and a shelving system – if this looks like a Container Store ad, that's because it is!
This baby's closet has been professionally organized with the Elfa system and it couldn't be more aesthetically pleasing.
Source: Hayley Dolson
There's something so satisfying about a newborn baby closet perfectly organized.
While they're a baby, everything stays exactly where you put it so it's almost like a work of art!
Take your closet doors off like in this nursery so you can enjoy looking at it daily.
Source: Homeyohmy
Small nursery closet? No problem!
Utilize every inch of space, including the back of the door, with an over the door organizer.
We love the neutral fabric one used in this space!
Source: Jenna Sue Design
How do you take a pain white closet and make it Pinterest perfect?
Hang wallpaper behind your nursery closet organizer for a truly statement look!
Source: McKenna Bleu
Whether you're expecting a little boy or girl, by now you've noticed you can change the look of your baby's closet with just a little wallpaper.
Using white for the closet organizer itself is a great way to keep your nursery neutral, so you can easily swap it out for baby # 2.
Source: Arlynn Wiebe
Creating double hanging sections is the best way to maximize space in an infant closet.
Their little baby clothes are so short that a standard one rod closet just doesn't make sense!
Putting baskets in every remaining corner was a great way to organize the rest.
Source: Talia Alivia
Prefer folding most of your baby's clothes versus hanging them on a hanger?
This mama came up with a unique way on how to organize a nursery closet with those darling hooks for hair accessories.
Source: Katelyn Jones
Looking for baby closet ideas that satisfy your type A, OCD tendencies?!
This may be the most organized baby room closet we've ever seen.
Pull out drawers, shelving, storage baskets, hanging and more.
Add in some labels and you'll never be guessing where baby's things are.
Need More Ideas for Your Nursery?
We hope you loved all of these creative nursery closet organizers! Every one of these mamas maximized their available storage space in the most practical ways.
Welcoming a new baby can seem overwhelming, but as new parents, having all of baby's essentials in easy access is an easy way to make life easier.
Plus, having a functional nursery closet can really bring boy too!
Related Posts
PIN THIS