Are you looking for the perfect nursery paint colors for your little one?
Does the amount of paint color options out there completely overwhelm you?
I've got THE best nursery paint colors by Benjamin Moore to help you with this important decision.
Not sure where a Benjamin Moore paint store is near you?
You can have these colors mixed up at any Home Depot, Lowe's, Sherwin Williams etc.
Here are color suggestions for every type of nursery, with a REAL nursery in each paint color.
The Best Nursery Paint Colors for a Baby Boy's Nursery by Benjamin Moore
Benjamin Moore Boothbay Gray
Benjamin Moore Boothbay Gray is a gorgeous alternative to a traditional blue color scheme for a little boy.
I LOVE it on this nursery accent wall (or feature wall) from Design Loves Detail, and honestly, its green undertones could work for a gender-neutral or baby girl's nursery as well.
Personally I wouldn't have thought to use a black crib, but it's darker tones are the perfect contrast to an otherwise light room.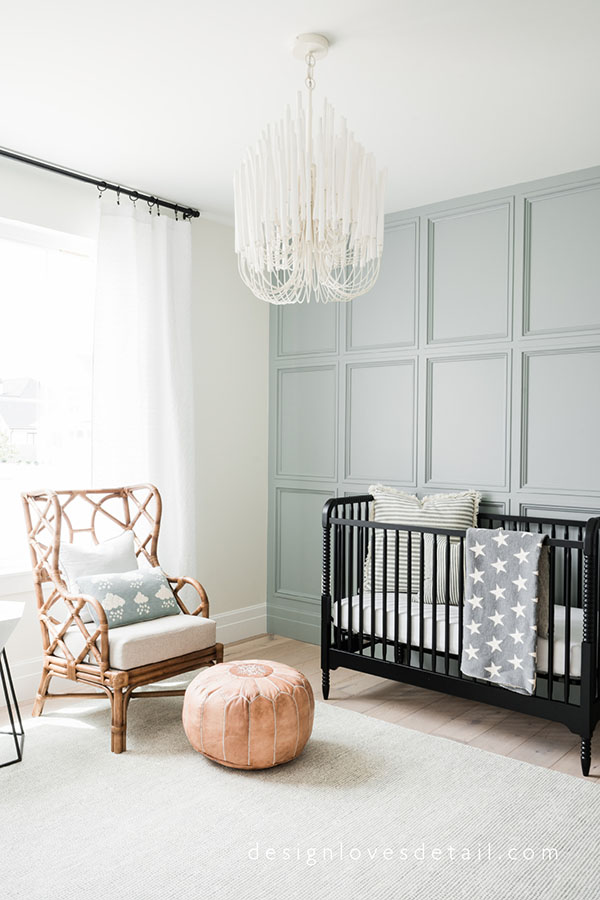 Related: The Best Neutral Nursery Rugs
Benjamin Moore First Snowfall
Benjamin Moore First Snowfall is the perfect paint color for a traditional baby boy's nursery.
Who doesn't love baby blue?
Courtney of Tuft & Trim incorporated blue with neutrals and white furniture to create a soft, sophisticated look.
Related: 16 Unique Nursery Book Storage Ideas
Benjamin Moore Whitestone Gray
Benjamin Moore Whitestone Gray is a classic gray paint color with blue undertones.
Gray creates the perfect neutral background so that you can get creative with other accent colors, through your furniture and décor choices.
It's a great choice for a baby boy's nursery where you could incorporate a lot of fun, different shades of blue, like this designer from Apartment 34.
Related: The Best Nursery Gliders of the Year
Benjamin Moore Charcoal Slate
Benjamin Moore Charcoal Slate is the perfect color for your baby boy's nursery!
Although it's one of the first dark colors we've looked at, we feel it still totally has a calming effect.
It's a great option if you want a contrasting overall look, and designer Lexi Grace nailed it!
Benjamin Moore Colony Green
If you love the color green and are looking for soothing shades, then Benjamin Moore Colony Green is one of the best paint colors!
It's a wall color that really could work for your child's room with any gender.
We love how tranquil it makes this room feel!
Source: Christine Tran Ferguson
Benjamin Moore Fanfare
This dreamy light blue is a great way to incorporate soft colors into your little boy's nursery!
It's perfect for a nursery that gets so much natural light.
That's why it's easy to fall in love with Benjamin Moore Fanfare as one of our favorite nursery colors.
The Best Nursery Paint Colors for a Gender-Neutral Nursery by Benjamin Moore
Benjamin Moore Chantilly Lace
Benjamin Moore Chantilly Lace is one of those paint colors you could literally use anywhere, and it's perfect in this white nursery.
It's the optimal shade of crisp white, with no undertones, and Jillian Harris nailed using it here on her board and batten wall.
White walls are not for everyone, but you have to admit this color palette is calming!
Dress your walls up with some nursery wall decor and it's anything but ordinary.
Benjamin Moore Big Bend Beige
Benjamin Moore Big Bend Beige is the best beige to match with anything and everything.
It really shines in nurseries with a lot of natural light!
I personally used this color in both my son and daughter's nurseries, which makes it a true gender-neutral nursery color.
I still love it as much as the day we put it up! I know it will stand the test of time, even as my children grow older.
Shop My Son's Nursery:

Shop My Daughter's Nursery:

Related: The Top Nursery Dressers of the Year
Benjamin Moore Ashwood
Benjamin Moore Ashwood is a mix of white and beige, for those who can't decide on either!
A lot of times I hear that white is too boring, but not this off-white neutral color option The Ivory Lane used in her nursery design.
This soft color may just give you the warmth you're looking for.
Related: The Very Best Blackout Curtains for Your Nursery
Benjamin Moore Silver Lake
If you prefer a lighter shade and cool colors, then Benjamin Moore Silver Lake is a clear winner.
The accent wall in this perfect nursery is painted with such a calming color.
If you're not finding out what you're having, or you just prefer a neutral color palette, paint your nursery walls with this neutral paint color and watch it quickly become one of your favorite colors!
The Best Nursery Paint Colors for a Baby Girl's Nursery by Benjamin Moore
Benjamin Moore Pink Bliss
If you've dreamt of having a baby girl your whole life, you can never get enough of soft pink.
Benjamin Moore Pink Bliss is the quintessential pretty pink color, and Megan of Sugar Color House couldn't have made it look any better.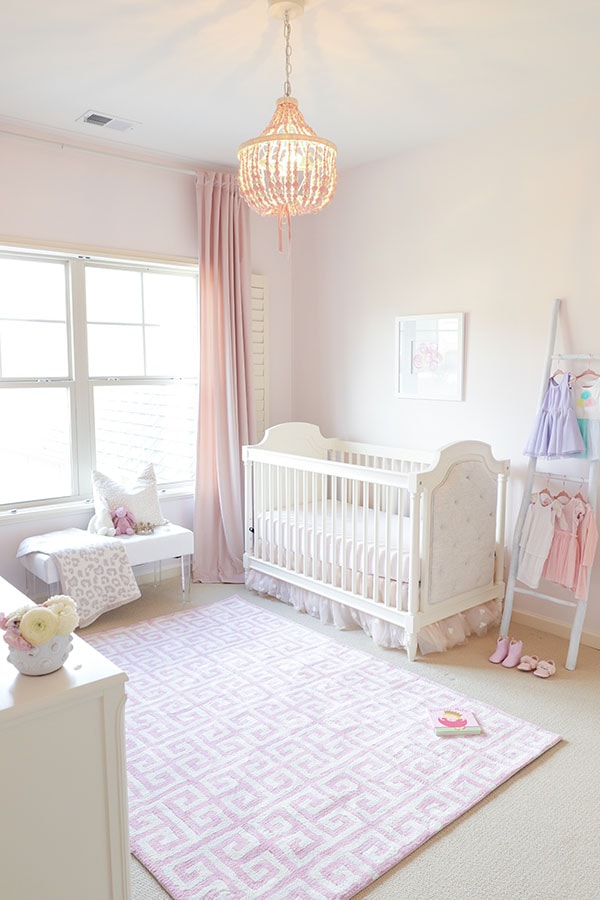 Benjamin Moore Gentle Butterfly
Benjamin Moore Gentle Butterfly is a slighter cooler shade of pink, shown here in this fun and girly nursery on The Glitter Guide.
Could that wall art be any more special? This little girl's pink nursery couldn't be any more charming.
Related: 50+ Nursery Ideas for the Modern Mom
Benjamin Moore Queen Anne Pink
Benjamin Moore Queen Anne Pink is not your typical pink.
Its peachy tone and colorful accents gives this nursery a splendid touch of southern charm, making it one of our favorite warm colors.
Benjamin Moore Southern Comfort
Can't get enough of traditional pinks for a nursery?
We love the girly and fun vibes that pink paint colors bring.
Benjamin Moore Southern Comfort is a bit of a different color though!
It's like a mauve color that's almost got a neutral tone.
Perfect for any little girl!
Frequently Asked Questions about Nursery Paint Colors
What paint is best for a nursery?
One of the most common questions is whether you need a special paint for a baby's room.
This article interviews 7 top experts on why choosing a baby safe paint for the nursery is so important.
What were some of their top paint line recommendations for a new baby?
Harmony from Sherwin-Williams
Lullaby Paints
Benjamin Moore Eco Spec
Natura Waterborne by Benjamin Moore
When should I paint my nursery?
According to ConsumerReports.org, you should paint the baby's nursery at least two months before your baby arrives.
That allows time for fumes to subside before your baby comes home.
Use a paint that's labeled low-VOC or zero VOCs (volatile organic compounds), which are solvents that are released into the air as the paint dries and may be irritating to a baby–and some adults.
What are the best paint colors to paint a nursery?
Who better to ask than Christine, a certified Child Sleep Consultant at Bella Luna Family.
"It is recommended to use neutral colors or soft to medium tones of calming colors such as soft greens, light blues, and pale pinks. 
Gray, beige, greige, white, and off white are all good neutral nursery colors and luckily these are also trendy right now too! 
If you want to add a pop of color, you can do that through smaller accessories like the throw pillow on your glider."
What are calming colors for a nursery?
What color should you NOT paint a baby's room?
We asked architect and designer Julio Arco, and here was his advice…
"When it comes to painting a baby's room, it's important to avoid using colors that could be too bright or overwhelming for a baby's developing eyes.
This means staying away from bold and bright colors like neon or fluorescent shades.
It's also best to avoid dark colors like black or dark brown, as they can create a gloomy and uninviting atmosphere.
Additionally, it's important to be aware that some colors can have a psychological effect and evoke certain emotions. Hence, it's best to avoid using colors known to have negative effects on mood, such as red or orange.
Stick with soft, muted, and neutral colors like pastels, soft greens and blues, and pale yellows, which can help create a peaceful and comfortable environment for the baby to grow and develop in."
Need More Inspiration for your Nursery?
17 Nursery Shelf Ideas You'll Be Dying to Decorate
How to Design the Nursery of Your Dreams
18 Stunning Ceiling Light Ideas for Your Nursery
How to Decorate The Walls of Your Nursery Without Painting
The Cutest Personalized Round Baby Name Signs
PIN THIS