Today we're highlighting 21 baby girl nursery themes that are rising in popularity.
It's OKAY to choose a trending nursery theme because nurseries are inherently temporary.
Every one of these girl nurseries are jaw-dropping and gorgeous!
I've broken these baby girl nursery themes out into four categories for you – extra girly, fun and colorful, neutral, and inspired by green.
Let's get started… you're going to love them!
Disclosure: Affiliate links are used in this post, at no cost to you.
Baby girl nursery themes that are extra girly.
1. Pink Coastal Nursery
We've all seen Coastal themed nurseries before, but have you come across a PINK Coastal nursery?!
The pineapple wallpaper, seashell chandelier, pelican wall art, and shell pillow make this girl nursery so beachy and unique.
2. Floral Baby Nursery
Floral baby nurseries have been on trend for years, but sophisticated nurseries have been rising in popularity.
We love how Paola made her nursery a room that will be age-appropriate for many years.
The beaded chandelier and dreamy canopy are both fit for a princess.
Speaking of floral nursery themes… this post has 50 nursery ideas for a girl, and there's some really unique florals we've never seen!
Related: 9 Cute Nursery Daybeds You'll Love!
Source Credit: My Welli House Decor on Instagram
Girl nursery ideas that are fun and colorful.
3. Cactus Nursery
We can tell the Cactus theme is getting more and more popular because Etsy is absolutely filled with fun cactus accessories.
I love all of the pops of pink mixed in that make it very clear this nursery is for a baby girl.
Related: 9 Adorable Baby Name Signs for the Nursery
Source Credit: Two Babes and a Bundle
4. Pink Lemonade Nursery
A twist on a Lemons girl nursery theme – this nursery incorporates layers of soft pink.
Nursery wallpaper is all the rage and it surely does make a statement.
Source Credit: Melissa Grace Designs
5. Rainbow Nursery
Who isn't obsessing over rainbows these days?!
We love it so much that I had to share two examples.
This rainbow wall decal gives this nursery major WOW factor!
I love that the colors are subtle.
Source Credit: Kate L Photography
Related: Cute Woodland Nursery Ideas
Whereas this rainbow nursery is whimsical with its bright colors.
Not only are rainbows fun, but they also represent something special.
Babies who are born to families after they've lost a child.
Related: 20 Tips for Decorating Your Nursery Without Painting
6. Unicorn & Princess Nursery
While unicorns & princesses have always been a staple in every little girl's life, we've never seen them looking quite as adorable as this!
Pastel colors have made its way into our hearts lately, and this nursery's wallpaper exudes this trend perfectly.
7. Palm Leaf Nursery
The tropical trend of palm leaves is here to stay, and expecting mamas are finding new ways to make this girl nursery theme unique.
This contrasting, girly tassel chandelier gives this space a little boho flair.
Related: 6 Stylish & Top-Rated Blackout Curtains for Your Nursery
Neutral girl nursery themes that are absolutely gorgeous.
8. Boho Farmhouse Nursery
Boho nurseries have been a thing for awhile now, and so has the Joanna Gaines farmhouse era.
Now we are seeing a combination called Boho Farmhouse – and I absolutely adore it!
Source Credit: Project Nursery
9. Earth Tone Nursery
Earth tone nursery color palettes are popping up everywhere this year, representing the color of the earth's soil.
It's a timeless look with a cozy, calming feel.
Source Credit: The Greenspring Home
Related: 25+ Pretty Ideas for Nursery Wall Decor
These baby girl rooms are rocking the green trend.
10. Plant Inspired Nursery
The hanging greenery is the focal point of this girl nursery theme.
It's simple but yet scroll stopping!
Source Credit: Lorla Studio
11. Sophisticated Green Nursery
Sophisticated nurseries are on trend and online searches for green nursery inspiration are on the rise!
These pops of green are playful amongst an otherwise fairly neutral room.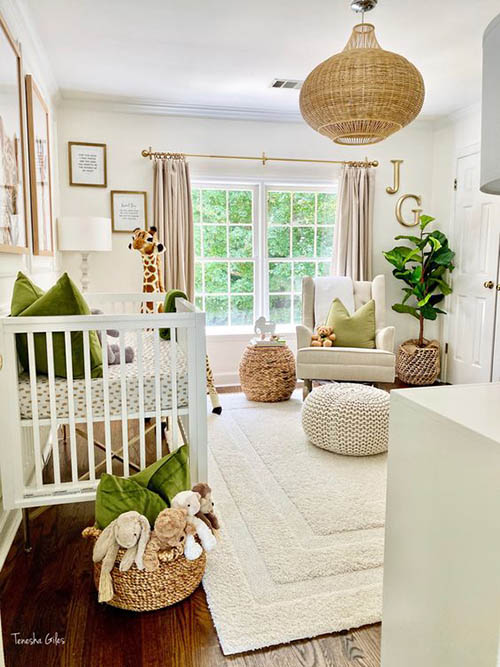 Related: 25+ Best Crib Options for Baby
More Baby Girl Nursery Themes
Looking for more unique girl nursery themes?!
We've got more baby themes to show you below!
12. Surf Inspired Nursery Theme
This surf inspired baby's room is a breath of fresh air!
Small details and design elements like the mounted surf board, palm trees, and shell pillow really make this particular theme obvious.
It's a simple design that's oh-so-adorable for a little lady!
Source Credit: Tay Fusco Design
13. Bunny Nursery Theme
The bunny accent wall makes this baby girl's room such a fun theme!
It's got the perfect light colors and decorative items for any little princess.
Source Credit: Green Wedding Shoes
Related: 50+ Modern Nurseries You'll Love
14. Dessert Inspired Nursery Theme
Dying at this whole room full of fun, dessert-inspired nursery decor!
A white crib and white furniture complement the pops of color so perfectly.
It's such a special room decorated with a gumball machine, sweethearts, milkshakes and cupcakes!
Source Credit: Project Nursery and May Pole Studios
This Parisian inspired baby's nursery theme is perfectly feminine with natural colors.
It's got the perfect pink color but in a subtle color palette!
If you've been wanting a floral theme but in a sophisticated way, then this may be the perfect girl nursery theme for you.
Source Credit: Jenny Cipoletti
Related: 15+ Inspiring Gender Neutral Nurseries
16. Peter Pan Baby Girl Nursery
Looking for the perfect theme around your favorite fairly tale?!
This Peter Pan pink nursery is so inspiring!
Between the pink plush rug and dreamy pink curtains, this mama did an amazing job with her little girl's room.
17. Zebra Lovers Nursery
Seeking out a more unique girl nursery theme?
We love this next baby girl nursery for you zebra lovers!
Between the stunning light fixture and contrasting black accents, the entire room makes a serious statement.
Source Credit: Casey Napolitano
Related: 45+ Ideas for Decorating Baby's Room
18. Tiny Dancer Nursery Theme
This mama-to-be added a real personal touch for her tiny little dancer!
It's one of the most unique baby girl nursery themes we've seen today.
The mirror, ballet railing, and personalized sign simply make the rest of the room!
Source Credit: A Midwest Mamahood
19. Botanical Girl Nursery
If you're dreaming of an elegant nursery then a botanical nursery could be the perfect choice!
We love the dainty framed florals for good reason.
The green glider makes it one of our favorite baby girl nurseries!
20. Swan Girls Nursery
We love how popular swans are becoming for a girls nursery theme!
They're perfectly dainty and adorable – fit for any queen.
21. Alice in Wonderland Nursery
Finally, an Alice in Wonderland nursery theme for all of my Disney lovers!
This mama-to-be incorporated shades of pink for the perfect pop of color.
Source Credit: Six Foot Photography
One last themed nursery below – my own baby girl's nursery!
You have to check out my post on How to Design the Nursery of Your Dreams.
I share a step-by-step process to follow, including how and where to place each piece of furniture.
There are also many more photos of her nursery, including source links for everything with where to buy.

Source Credit: The Greenspring Home
Nursery Themes for a Girl – Frequently Asked Questions
How do I choose a theme for my baby nursery?
Do you prefer neutrals or something colorful?
Do you want a sophisticated look or something that suits babies?
Do you want a loose theme or a very defined one?
These are all questions you'll need to answer when you're choosing your nursery theme.
Whether you're having a baby boy or girl, begin by starting a Pinterest board for your nursery and use it as inspiration.
This will help you streamline your style and determine what you ultimately want it to look like.
Narrow it down to the top three photos you love and draw from those to help you decide on your nursery theme.
Begin with broad concepts, but don't forget to pin the little things that make your heart melt.
Remember: A single accessory can be the starting point for an entire nursery design. Just pin what you love.
Drowning in too many inspiration images?
Settling on a color or decorating style is the quickest way to give your design focus.
Does a nursery have to have a theme?
You don't have to choose a traditional set nursery theme such as baby animals, boho, nautical etc.
Identifying a "theme" can be as simple as choosing a color scheme to work within.
For example, in my daughter's nursery I simply focused on neutrals with pops of gold and pink girly accents.
How do you decorate a baby room on a budget?
Buy an affordable crib. All cribs for sale must meet the guidelines of the U.S. Consumer Product Safety Commission and come in a standard length & width. Therefore the only difference between cribs is their style and price.
Choose an inexpensive changing table dresser because it

will get beat up over those first few years.

You'll be wiping poop off of it and it will likely get scratched on the top.

Get a cheap area rug. Rugs USA has some amazing rugs that will fit any nursery theme and they are all super affordable with free shipping.
Find low-cost nursery wall decor for your nursery from T.J.Maxx.
Need More Babygirl Nursery Inspiration?
Check out these 10 unique baby closet ideas you'll surely fall in love with!
More Related Posts:
25 Unique Kids Playroom Storage Ideas
18 Must-See Light Fixtures for Your Nursery
Complete Your Registry: The Only Newborn Checklist You'll Need
PIN THIS