Wondering why so many moms today are using nursery daybeds? I'll tell you why!
First, they are the perfect spot to lay down in between those frequent night feedings or sleepless nights when baby just won't go down.
Second, they are a great place for your husband to join you during your nightly bedtime routine. Otherwise while you're on the glider, he's on the floor.
Third, your nursery can double as an extra guest room or guest sleeping space when needed.
Finally, a nursery daybed is the perfect transition for when your toddler is ready to leave the crib, making it functional for years to come.
Let's start by looking at some of the cutest nursery daybeds on the internet, followed by my favorite daybeds available now – all top-rated, with options for every budget!
Disclosure: Affiliate links are used in this post, at no cost to you. 
Here are Four of the Cutest Rooms with Nursery Daybeds
This nursery design is absolutely incredible!
I love the neutral, monochromatic colors.
Mostly importantly – the nursery day bed looks insanely cozy.
Again I love the warm, comfortable feel the daybed gives this baby's nursery.
The rattan frame of this nursery daybed immediately stood out to me… how unique!
Source Credit: Emily Henderson
Minimalist, Boho nursery themes are on the rise and I liked how in this one, the small daybed doesn't take up a ton of space.
Related: 9 of The Best Nursery Dresser Changing Tables
Nursery Daybeds that not only come in twin size, but also full size.
Nursery daybeds that come in full size will last the longest as your child grows, but the down side is that they take up more space.
I recommend purchasing the full size if your room is big enough, but if it's not, go for the twin size… with a trundle bed for sleepovers one day!
All three of the below nursery daybeds are GREENGUARD Gold Certified, which means they have been tested for more than 10,000 chemicals and VOCs to ensure it's safe for baby.
Canopy beds are on trend right now for master bedrooms, so I was really excited to see a canopy daybed for nurseries and kids rooms!
Must. Have.
While a portable bassinet is quite popular for baby sleeping in your room, some families find it easier if the husband isn't woken all night as well.
Tired moms rejoice everywhere!
We now have a comfortable place to lay down in the nursery those first early months.
The glamorous trim on this twin bed daybed steals my heart and because it's classic it will never go out of style.
The cut-out geometric pattern on this nursery daybed adds eclectic style really making a statement!
It's a cozy spot to relax during wake times even as baby gets older.
Related: 9 of the Best Nursery Gliders
Kids daybeds can be moved to a guest room or home office, lasting years to come.
One day your child will tell you they want a bigger bed, and when they do, you can move the daybed into a playroom, guest room, living room or home office.
It will serve as an additional guest bed for overnight guests PLUS double as decor.
Cane has topped the charts for interior design trends due to its coastal feel.
This particular daybed comes in white/tan pictured above and the French gray color below.
I love that it's a versatile piece of furniture for any room.
Design your room with one of these cute nursery daybeds.
Each one of the nursery daybeds below is completely unique!
You'll find a few different styles – woven materials, spindles, lattice and vertical shiplap.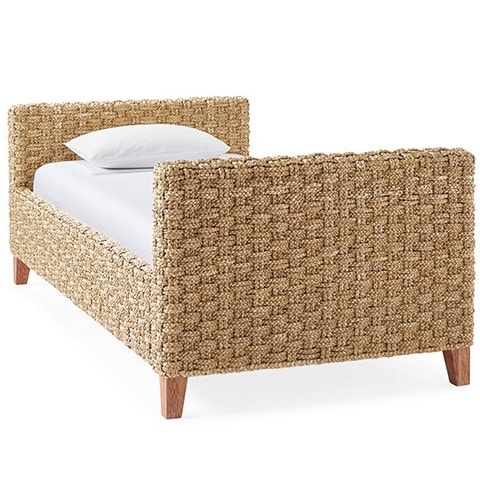 This small bed daybed is made of chunky, hand-braided water hyacinth.
I've never seen one like it!
What a perfect size if it's going into a small room.
Related: 9 Affordable Cribs That Won't Break Your Budget
Spindles are making a comeback and we are loving their French country flair.
You had no idea there were so many different daybed options, did you?!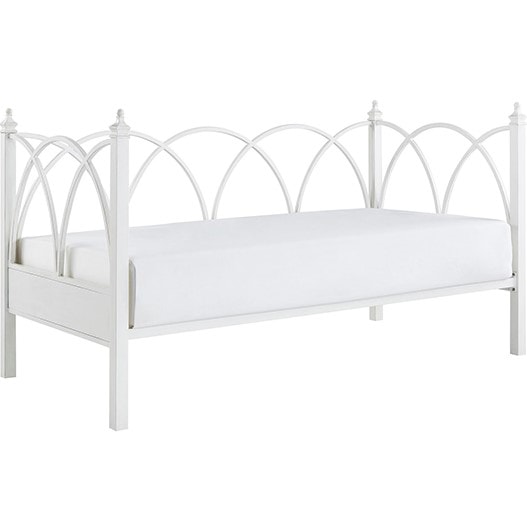 This nursery daybed design features lattice on three sides for a fun yet classic look.
It looks like a regular bed so it'll be a functional piece for many years.
This nursery daybed is covered in shiplap-inspired paneling that creates a homey, cottage aesthetic.
The storage drawers pull out for either additional storage OR many new moms put twin mattresses underneath so it's a trundle bed.
Related: The Best Baby Name Signs for Your Nursery
Shop The Best Daybeds for a Nursery

Need More Baby Nursery Inspiration?
Save some yourself some research time and check out the posts below!
25+ Nursery Wall Decorations You'll Love
The Best Neutral Nursery Rugs of the Year
The Best Nursery Paint Colors by Benjamin Moore
7 Top Experts Reveal What to Look for in Baby Safe Paint