Looking for easy ways to organize your playroom so that it's both functional AND pretty?!
You're going to love these 25 pretty playroom storage ideas that will keep your space clutter-free.
Need something easy that you can set up right away? You'll find plenty of quick playroom storage ideas that you can get started on today!
Have a small space to work with? No problem! We'll cover a few wall storage solutions to maximize your floor space.
Designing a new build or renovation project? You're going to love these gorgeous built in wall storage options!
Tired of all your art and craft supplies getting lost? Use these examples to corral and organize them all into one spot!
Whatever playroom storage you need, we've got you covered. Let's get started…
Disclosure: Affiliate links are used in this post, at no cost to you.
Unique Toy Storage Ideas for the Playroom You'll Love
Peg Board Toy Storage
Mount peg boards onto your wall for additional vertical storage. You can nearly double your storage space by taking advantage of the whole wall!
Plus, it's so nice being able to view everything without it feeling unorganized and cluttered.
Spray paint the peg boards as a DIY project to match the rest of your playroom decor!
Pull Out Drawers for Toy Organization
Source: Kelly and a Little One
We love the use of pull out drawers for toy organization. Keep all of your small toys organized and put away!
Add drawer labels so you know where everything is immediately.
Once again, mounting these onto the wall is a great way to maximize the size of your space!
Related: 13 Must-See Toy Storage Ideas for Your Living Room
An Open Display for Play Kitchen Food
This open display area of play kitchen food is one of the coolest things we've ever seen!
Your child can "shop" everything just like in a grocery store, keeping them in plain sight.
Hanging Wall Shelving for Off the Floor Toy Storage
Take advantage of your wall space by installing some open shelving.
Easily rotate toys without tantrums because this keeps them out of sight and reach!
Toy rotation will keep your child from getting overwhelmed when too many toys are out at once.
Stuff N Sit for Hidden Toy Storage
If you haven't heard of the Stuff n' Sit, it's a super cool option for stuffed animal storage!
Basically you stuff it with all the stuffed animals lying around, and it becomes a bean bag chair.
The Stuff n' Sit measures 38 inches in diameter when full. It holds about 90 plush toys, so you'll never have to get rid of their stuffed animal friends in lieu of space.
Don't have that many stuffed animals? It also holds extra pillows and blankets!
Galvanized Buckets for Labeled Playroom Storage
Galvanized buckets are perfect for an industrial, rustic or farmhouse vibe.
You could probably score some at a thrift store if you go hunting!
You'll feel like a professional organizer once you add labels for each type of toy.
Hanging Canvas Totes on Door for Additional Toy Storage
Install hooks onto your door for easy access to hanging canvas totes.
You can easily corral toys with small parts that your child plays with often.
Freestanding Wire Baskets for Open Toy Storage
You're going to see a few examples of using wire baskets for storage, and that's because we love being able to see what's inside to spark your child's imagination.
No wasting time pulling out toy bins to find what you're looking for!
Wall Hanging Wire Baskets for Organizing Toys
Installing wire baskets on the wall is such a creative way to leave your floor space open.
This mama even installed a shelf above this play kitchen – I've never seen that!
What a fun way to display play kitchen accessories to spark creativity during play time.
Wire Baskets for Tiered Wall Storage
Here's another great example of wall mounted wire baskets but with a twist.
These chalkboard labels are a great way to organize play kitchen plates, cups, and more.
Wood Crates for Organizing Your Kids Toys
This kids play space has a mix of storage types. Using wood crates is a great budget-friendly way to store your kids toys… especially things like trucks or action figures!
There's also open cubbies with a reach in toy box at the bottom.
Classic Playroom Storage with Cube Baskets and Bins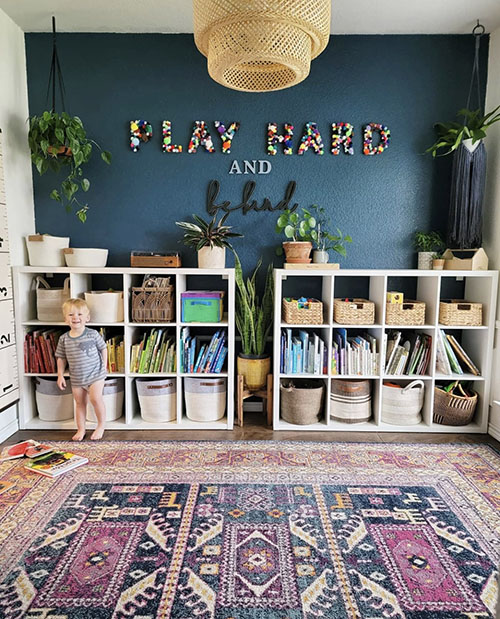 Here's an example of the traditional playroom storage that we all know and love!
A cubby system with baskets and open shelves for books – perfect for decluttering your kids space.
If you're a mama who only has time to throw everything in the baskets once per day, this will work perfectly for you.
The only downside is small parts tend to not stay together, so if you're looking for better organization, pull out drawers with labels may be a better storage solution for you.
Pretty and Practical Playroom Storage Ideas
Ladder for Play Mat Storage
Have one or more play mats lying around?
Use a small ladder to hang and display them which doubles as toy room decor.
Large Pull Out Drawer for Montessori-Style Playroom Storage
Here's something unique! A pull out drawer system for hidden playroom storage.
It also doubles as a cute bench seat.
Raised Storage Solution for Small Spaces
If your husband is handy these custom DIY shelves are the perfect storage solution for small spaces!
This mama is able to store TWELVE baskets of kid toy clutter off the floor, saving so much floor space.
The top shelves can't be reached by tiny hands so those baskets are perfect for rotating toys.
You can even hide new toys from Christmas that you want to phase in over the next few months.
Built In Open Wall Storage
If you have the budget, we love the polished look of built in wall storage.
This one is unique because it's all open shelf storage, which will cost you a lot less than full cabinetry.
Open and Closed Built In Wall Storage
Here's a nice compromise if your budget is limited.
This playroom has a closed storage unit on the bottom and open shelving on top.
We love how the cabinetry doubles as a long bench for playroom seating for kids, parents or grandparents!
Built In Cabinetry for Hidden Playroom Storage
Source: Easy Like Sunday Morning
If you're planning a new build, you'll have an opportunity to add in full built in cabinetry.
What I love about this option is how sophisticated it looks, and that you can convert this room into a second living space once you know longer need a dedicated playroom.
Playroom Storage for Art and Craft Supplies
Rolling Cart for Storing Art Supplies
Struggling to find an organized way to store your child's art supplies?
Use a rolling cart to display them all neatly and vertically.
Large bins are great but they do not work for something like art supplies.
Bonus points that you can easily roll it around their room to a kids table!
Small Pull Out Drawers for Art Supplies
These small pull out drawers are another great option to store art supplies underneath your kids table for art projects.
Store paint brushes, markers, crayons, stickers, paper and more!
Clear Jars for Storing Craft Supplies
Organize craft supplies such as felt balls, ribbon, string, card stock and crayons in little plastic jars with lids like these from Amazon.
My perfectionist personality loves how they are color coded!
Wood Wall Storage for Small Parts and Pieces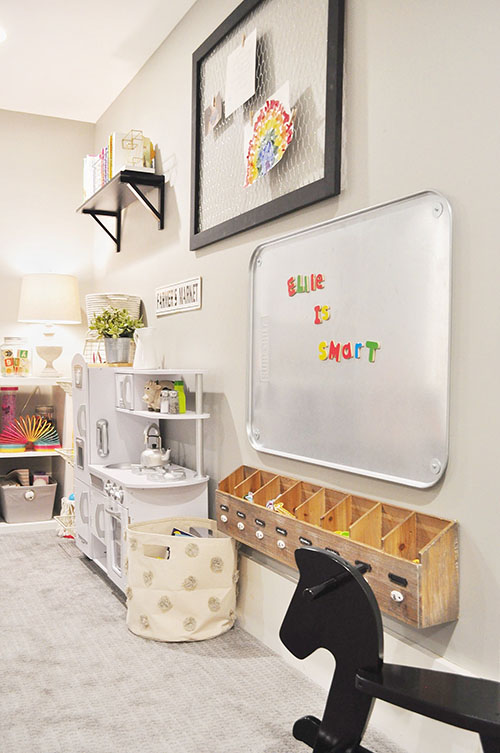 Not only is this wood wall storage perfect for small parts and pieces, but also it's perfectly placed right underneath this magnet board for the magnets.
It's actually a magnetic oil drip pan from a car shop… how creative!
Book Storage Ideas for Your Kids Playroom
Wire Baskets for Book Storage
Mounting wire baskets to the wall for book storage is something unique you don't see often. It's a nice change from the typical book shelves you usually see!
Another great idea – make them your own by spray painting them. Use another color that matches the rest of your playroom – like gold, pink, mint, baby blue, white or even rose gold.
Acrylic Wall Shelves for Kids Books
Acrylic is trending right now in nurseries, kids rooms, and even adult spaces!
We love the fresh take these bring to this playroom – fit for a queen.
Open Swivel Bookcase for Creative Book Storage
Finally, this open swivel bookcase is crazy cool!
This whole playroom is set up Montessori-style, without bright colors, and with everything easily accessible for a toddler.
Need More Kids Organization Inspiration?
You'll love these posts!
10 Kids Closets You'll Fall in Love With
Baby Closet DIY: How to Build This Beautiful Nursery Closet Organizer