Looking for ideas to decorate your babys bedroom?
If so, you're going to fall in love with these 45 baby room ideas you're totally going to want to steal!
We've got ideas for decorating the walls in baby's bedroom, functional baby room ideas, and of course unique baby's room ideas you likely haven't seen before.
Decorating your baby's nursery while you're expecting is something you'll always cherish and remember. Let it be fun and the opposite of stressful!
Let's get started…
Disclosure: Affiliate links may be used in this post, at no cost to you.
Ideas For Decorating the Walls in Baby's Bedroom
Here are a bunch of different ways you can decorate the walls in babys bedroom.
Some ideas are do-it-yourself options and some ideas are easy things you can buy!
Add a Wall Mural Behind Baby's Crib
Source: _ericashaw
Add a wall mural behind baby's crib to really set the tone of the room.
We're obsessed with this rainbow one… you can easily recreate the look!
It's the perfect funky nursery decor for an otherwise all white room.
Hang a Chalkboard Sign Above Babys Bed
Source: Amanda Joy Photos
Hang a chalkboard sign above babys bed with a cute message like this one.
Snag a sign like this one and change the message often depending on your mood!
Related: 10 Pretty Pink Baby Girl Room Ideas You'll Love
Put Up a Round Sign With Baby's Name
Source: Caden_lane_baby
Put up a round sign with baby's name to personalize your nursery.
We love every detail of this Parisian themed nursery!
If you're searching for the perfect name sign, here's a whole post on our favorite round baby name signs to help you choose one.
Install a Board and Batten Feature Wall in Baby's Nursery
Source: Trendykenziee
Have a handy husband? Ask him to install a board and batten feature wall in baby's nursery!
Paint it a fun accent color to really elevate baby's room.
Related: 16 Clever Ideas for Book Storage for Kids
Place Vertical Shiplap on a Wall in Baby's Room
Source: Kmdesigncompany
Place vertical shiplap on a wall in baby's room to make an otherwise neutral nursery feel very cozy.
Even though this nursery has a white color scheme, it's anything but ordinary.
Make a Statement with Wall Decals for Nursery Decor
Source: Nic.maxam
Make a statement with whimsical elements like these wall decals for unique nursery decor.
These are fun and will grow with your child as they transition to their next kids' room.
Use Wall Paint to Create an Accent Wall in Babys Bedroom
Source: Lexi Grace Design
Use just a quart of wall paint to transform your babys bedroom with a simple accent wall.
Black walls are trending right now and this one is absolutely stunning!
Hang a Round Wall Mirror Above Baby's Crib or Changing Table
Source: Two Babes and a Bundle
Hang a round wall mirror above baby's crib or changing table for a gorgeous, sophisticated look.
Welcome the arrival of your little girl with this similar, budget friendly round mirror today.
Add a Partial Wall of Wainscoting Behind Babys Bed
Add a partial wall of wainscoting to create a high end look in your baby nursery.
This baby boy nursery has a great mix of paint colors to keep its neutral color palette from looking boring.
Get Creative With DIY Wall Art in Baby's Nursery
The mama of this boho girls nursery got creative by creating her own wall art. She framed some cane material and a photo of her wedding arch for truly unique wall decor.
Hang Wallpaper to Define Your Baby's Nursery Theme
What immediately stands out to you in this otherwise pink nursery? It's the wallpaper that defines this baby girl's nursery theme!
Functional Baby Room Ideas
Now let's look at some baby room ideas that are totally functional, practical, and down right necessary!
Think nursery furniture, closet space, and places for a diaper change.
Find a Nursery Dresser That Doubles as Your Changing Table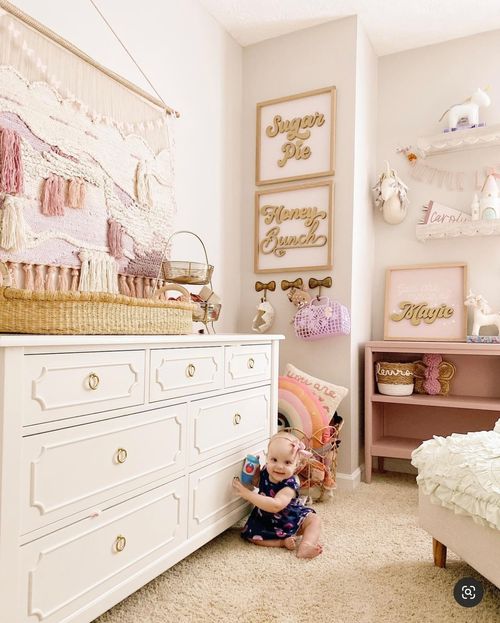 Source: thecuratedkids
Find a nursery dresser that doubles as your changing table!
White is one of the best colors for nursery furniture because it blends in with pretty much any other nursery decor.
We're obsessed with the one pictured… it's the Ava Regency extra-wide dresser.
They also make it in a single wide size as well if you've got small nursery space to work with.
Organize Your Baby's Dresser with Printable Drawer Labels
Source: Jenna_franke
Satisfy your OCD needs with printable drawer labels like the ones used in this perfectly organized baby dresser.
Get a Super Comfortable Nursery Glider
Source: Little Crown Interiors & David_FullSpectrum
You're definitely going to need a super comfortable nursery glider, for those middle of the night feedings.
Both you and your husband will be glad you invested in one those first few months of life.
We've got a great post on the best nursery gliders to help you make a decision.
Set Up Baby's Closet to Be Functional AND Pretty
Source: Ania.suwinska
Set up your baby's closet to be both functional AND pretty!
Most closets have just one single hanging rod, which doesn't maximize the closet space when you're hanging small baby clothes.
We've got a great DIY tutorial on how to build this custom nursery closet for under $150.
However if you're looking for a non-permanent solution, this mama used a standalone IKEA Pax system for the baby's closet pictured above.
Choose an End Table for Next to Your Glider
Source: Red White & Denim
Don't overlook adding an end table for next to your glider! Trust me you're going to use it a lot during that first year.
Get the one pictured above for under $200.
Hang Blackout Curtains for Better Baby Sleep
Source: atuftedlife
Blackout curtains are not only a necessity but also an opportunity to dress up your child's nursery with style and color.
Keep bright light out for better baby sleep.
Having a girl? We're obsessed with these blush velvet blackout curtains, and don't worry, they have a deep blue color for a little boy too!
Set Up a Nursery Nook in Your Master Bedroom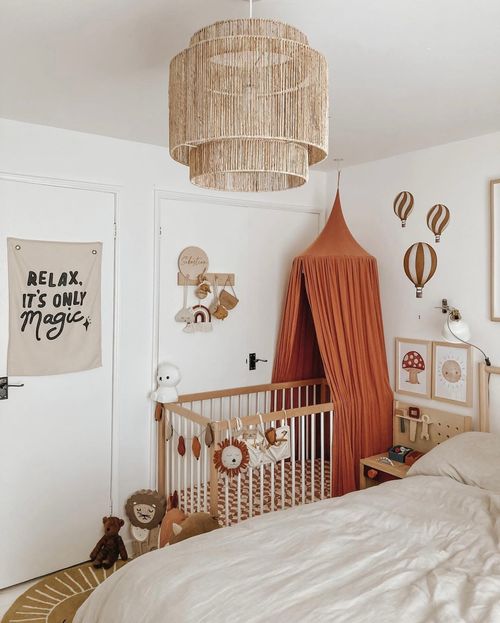 Source: _SusanaGreen_
No dedicated room for your child's bedroom? For now, set up a nursery nook in your master bedroom!
We love the adorable Scandinavian style of the one pictured.
Place a Nursery Rug on Your Bare Floors
Source: Letempsdunevie_
No carpet? No problem! Place a nursery rug over your tile or hardwood floors for a much cozier feel.
Add a Daybed in Your Baby's Nursery for Those Long Nights
Source: thedigigirls
Remember when we talked about those sleepless nights in the early days?
Many parents to be are investing in a nursery daybed like this one to avoid traveling through the house a million times a night.
This way, their partner gets a good nights sleep uninterrupted.
We wrote a full post on our favorite nursery daybeds to save you some time choosing.
Use a Changing Table Basket for Style and Function
Source: Dejate.inspirar
Instead of using a traditional changing pad, use a woven changing table basket as a fun way to bring style to baby's room.
Unique Baby's Room Ideas
Just when you think you've seen it all, we're going to show you a few unique baby's room ideas that hopefully you haven't seen before!
Use Light Up Wall Decor in Baby's Room
Source: Angelique Decor
How fun is this light up wall decor in the shape of a moon?!
Brighten up babys bedroom with something unique like this.
Have Floral Wall Art Made for Above Babys Bed
We originally featured this flower wall art in our post with 50 nursery ideas for a baby girl, but it's so good we wanted to make sure you didn't miss it!
You can find similar options on Etsy HERE for your little girl.
Set Up a Play Teepee for Nursery Decor
Source: Kimbersansonedesign
Fill empty floor space in your baby's nursery with a teepee that they will love to play with for years to come.
Install a Faux Brick Accent Wall in Babys Bedroom
Source: Rylehome
Installing a faux brick accent wall is an ultra welcoming way to decorate babys bedroom.
You can use a thin brick product for a realistic brick look or even brick peel and stick wallpaper for a simpler install.
Paint a Wall to Look Like Wainscoting
Source: a.casa.da.ana
Wainscoting can feel like such a permanent (and difficult) thing to install.
Paint half of your wall a different color for a two-tone look that is similar (but less permanent) than adding wainscoting.
Put Up a Neon Sign With Your Baby's Name
Source: Leah_behr
What a way to brighten your child's room!
We love that this neon name sign can be used in their room for years to come. It gives off a similar ambient lighting to the ever so popular trend of string lights.
Paint a Scalloped Wall in Baby's Room
Source: at_home_in_the_hayward
Here's another do-it-yourself idea for babys bedroom – paint a scalloped accent wall in a different color.
We're obsessed with how dreamy this one turned out!
Decorate the Wall Above Your Crib With Artwork
Source: Lexington Brewer
Artwork is one of the easiest ways to decorate your baby's nursery!
You can find affordable options at places like TJ Maxx or something really special and theme-specific at Pottery Barn Kids.
Fill the Corner Space in Baby's Nursery With a Large Faux Plant
Source: l_hendershot
Have awkward, empty floor space in baby's room? Put a faux plant there for some comfortable vibes!
Our favorites are the faux fiddle tree and the faux olive tree.
Utilize Uncommon Spaces in a Room for Great Function
Source: le_monde_de_jaia
Does you have a room in your house with an awkward nook or bump out?
Utilize every square inch anyway like this mama-to-be did!
It's still a fully functional clothing storage and changing area.
Cute Ideas for Baby's Room
Use these cute ideas for baby's room to create the perfect nursery.
They all represent different styles, but any of these ideas will make a great choice!
DIY a Fabric Garland for Nursery Decor Above the Crib
Source: Project Nursery
Create a DIY fabric garland to adorn the wall over your baby's crib like this one!
We've actually got a great tutorial on how to cheaply make one yourself.
Paint Half the Wall a Fun Accent Color
This is a similar idea to painting your wall to create a wainscoting look, but in this case if you already have wainscoting installed, you can paint the top half of the wall to create contrast.
Incorporate color in a subtle way like with this pretty forest green accent wall!
Hang a Pretty Canopy Over the Corner of the Crib
Source: Our.Home.Trio
Hang a pretty canopy over a corner of the crib for truly magical vibe!
We love this simple white one that's under $50.
Install a Statement Light Fixture in Baby's Bedroom
Source: Caden_lane_baby
Nothing makes a bigger statement than seeing a bold nursery light fixture when you walk into the room.
Check out 18 of our all-time favorite light fixtures to add to your nursery design.
Dangle A Ceiling Mobile Over Baby's Crib
Source: Maisonellieinteriors
Dangle a ceiling mobile over baby's crib to not only entertain them, but also to add a captivating element to babys bedroom.
If you love gold, we're obsessed with this metal star one that's super easy to hang. We used it in both of my children's nurseries.
Build a Cubby Storage System for a Play Area Within Baby's Room
Source: Mumma.of.emrys.and.morwenna
No room for a dedicated playroom? No problem!
We love this little toy storage nook this mama-to-be put on a spare wall in her baby's nursery.
Bring Warmth to Baby's Nursery With a Wood Ceiling Fan
Source: At Home With Jhackie
What do you notice about this nursery filled with neutral colors? The pop of warmth she added with that wood nursery ceiling fan!
Glam Up Baby's Bedroom with Gold Nursery Decor
Looking for more of a glam or sophisticated nursery look for your little girl?
I used pops of gold through our brass curtain rod and art in our daughter's pink and gold girls nursery.
Paint a Wall Mural That Looks Like the Sun
Source: Misscurtisclassroom
This perfect nursery reading nook has one key Bohemian element – the sun.
Use Soft, Dim Nursery Lighting for Cozy Ambience AND Function
Source: Ashleymercado_design
When you're planning your nursery design, consider the multiple types of lighting you are going to need.
One of which is dim, ambient lighting for those evening nursing sessions.
DIY Closed Storage to Hide All Baby's Toys
Keep your baby's room neat and tidy with closed storage for all of their toys.
Check out this amazing IKEA Kallax hack for hidden toy storage.
Final Words on Decorating Babys Bedroom
We hope this list of 45 ideas inspired you for your own babys bedroom design!
Decorating your nursery is one of the most fun and special times during a pregnancy.
What better to welcome your new baby than with a space you absolutely adore.
Related Nursery Posts
17 Nursery Shelf Ideas You'll Fall in Love With
20 Ways to Decorate Your Nursery Walls Without Painting
30 Inspiring Ways to Decorate Your Little Boy's Nursery
10 Nursery Themes Rising in Popularity for Boys