Nursery shelves will be one of the most fun areas you get to decorate in your nursery!
Create the perfect "shelfie" by displaying your favorite items on wall shelves in your nursery, for all to see and enjoy.
What should you put on your nursery floating shelves?
Anything from pretty baby toys, heirloom outfits, baby books, framed maternity photos, baby shoes and more!
They're really a great way to dress up and personalize baby's nursery room.
Today we're going to show you 17 unique nursery shelf ideas you're totally going to want to steal!
We're broken them out into four different categories…
Boho Ideas for Nursery Shelves
Sophisticated Shelves for a Nursery
Neutral Nursery Shelf Ideas
Unique Nursery Floating Shelves
No matter what nursery theme you choose, we know you'll fall in love with one of these types of shelves and they'll fit right in.
Let's get started!
Disclosure: Affiliate links are used in this post, at no cost to you.
Boho Ideas for Nursery Shelves
What is it about Boho nursery themes that we just adore so much?!
Below are some gorgeous nursery shelves to give you ideas, and they're decorated absolutely perfectly.
1. Add Cane to Your Wood Nursery Shelves
This mama was incredibly creative and took this IKEA hack to a whole new level.
These natural wood nursery bookshelves are actually spice racks from IKEA!
I'm sure you've seen these used before.
However, she went a step further and added cane herself for those perfect Boho vibes.
Source: The Greenspring Home
2. Distress the Metal on These Wall Shelves for Character
Looking for a set of nursery bookshelves with character?
These nursery shelves are anything but ordinary thanks to the distressed gold finish!
Source: The Greenspring Home
3. Use Classic White and Wood Bracket Shelves for a Nursery
While white and wood may be a classic look, these shelves for a nursery can blend into virtually any baby nursery theme.
Source: Project Nursery
Related: 45 Unique Decorating Ideas for Baby's Room
4. Build Your Own DIY Nursery Shelving
We thought this wooden house shelf was just the cutest!
If you're looking to set up a Montessori style nursery, look no further!
These are the perfect size for your little one to crawl up to.
These are available for purchase or you can always DIY and build your own.
Source: Ellie and Becks
5. Install These Two Tier Hanging Rope Nursery Shelves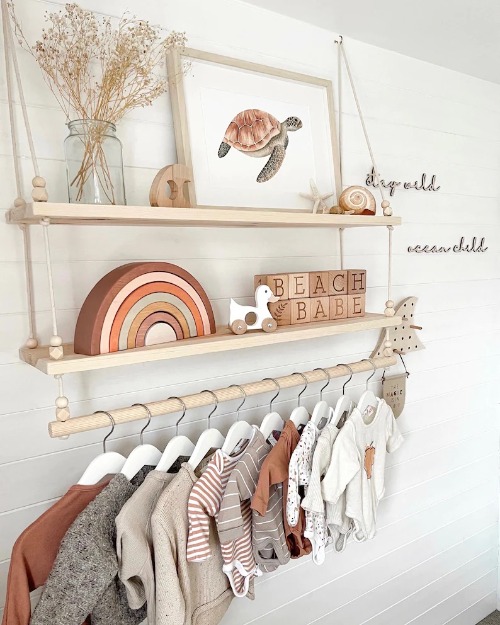 Install an adorable tiered hanging rope shelf like this one for both pretty AND practical storage.
This photo is the perfect source of nursery inspiration for us!
Source: Pine and Pear Co
Related: 20 Ways to Decorate Your Nursery Without Painting
Sophisticated Shelves for a Nursery
Looking for some sophisticated nursery ideas?
We love how elegant these shelves are for a baby's room.
6. Glam Up Your Baby's Room with This Tall Brass Nursery Bookshelf
Source: Morgan Bullard
How fancy is this brass wall bookshelf?!
I'll bet this nursery is now the prettiest room of the house!
You'll be able to use this in their toddler and big kid room for years to come.
7. Install White Nursery Shelving with Corbels and a Brass Hanging Rod
Source: Style Me Pretty & Laurel and Wolf
Elevate your baby's room with unique nursery shelves like these!
The decorative corbels and classy brass hanging rod make this one extra special.
Decorate them with plush toys, small objects, framed art, and children's books.
8. Dress Up Your Child's Room with Marble and Gold Wall Shelves
What better way to dress up your nursery than with small shelves made of marble?!
This mama filled them with super simple nursery wall decor.
Source: Style Me Pretty & Amelia Canham Eaton
Neutral Nursery Shelf Ideas
Some of us mamas just love the timeless-ness of neutral colors!
Every one of these nursery shelves is the perfect spot to showcase books, sentimental smaller items, and picture frames. If you've got limited space, nursery bookshelves can even provide you with plenty of storage space.
You're going to absolutely love these neutral nursery shelf ideas…
9. Create Additional Storage with a Leaning Ladder Nursery Bookshelf
Source: Styled Snapshots
Need ideas for maximizing space in a small nursery? Use a leaning ladder nursery bookshelf for some additional storage.
This mama lives in an apartment and stores her pacifiers, baby toys, and child's favorite books on it, without taking up too much floor space.
10. Display Heirloom Outfits on a Picture Ledge
Source: Style Me Pretty & Post Scripted Studios
Display vintage treasures such as heirloom outfits on picture ledge shelves.
This type of nursery floating shelves is super affordable and quite common to shop for!
The look you'll get is incredibly stunning.
11. Hang Wood Nursery Floating Shelves
Source: Emily Wondree
Looking for a more traditional look? Hang wood nursery floating shelves to warm up an otherwise neutral color palette.
12. Fill a Three Tier Wall Shelf with the Perfect Nursery Shelf Decor
Source: Sunseeking in Style
You'll have to hunt long and hard to find the perfect nursery shelf decor!
Display it on a beautiful three tier wall shelf and you'll have the perfect "shelfie" to share.
Guaranteed it'll make you smile every time you see it!
Unique Nursery Floating Shelves
Most of the nursery shelf ideas you've seen above are a more common type.
Let's now look at some unique nursery floating shelves and see if you spot something new that inspires you!
13. Dangle Rope Shelves from White Hooks
Dangle some pretty rope shelves from white hooks for a simple, coastal look.
We used these in my son's nursery and priced at under $20 – they are so affordable!
Source: The Greenspring Home
14. Find an Oval Nursery Shelf
Source: Project Nursery & Tayler Golden
You don't see an oval nursery shelf very often. We love how much vertical wall space it fills up!
15. Make a Statement with Rainbow Colored Floating Bookshelves in Your Nursery
Source: Joyfully Green
A white paint color is the perfect backdrop to these rainbow floating bookshelves that totally make a statement in this baby's nursery.
16. Pick Out Industrial Nursery Shelves for a More Masculine Vibe
Source: Ashlee Nichols
Looking for a more masculine vibe in your baby nursery?
These industrial nursery shelves are a nice change to some of the lighter options we've seen today.
If you're having a boy, we've got 30 other awesome boy nursery ideas for you to check out!
17. Choose A Fun, Theme-Specific Shape for Your Shelves
Source: Abigailmarie126
Seriously, this moon shaped shelf is so cute! It's one of the more unique nursery floating shelves we've seen today.
Our Favorite Nursery Shelves You Can Buy Today

Need More Inspiration for Your Nursery?
Check out our related posts below!
10 Tips for Organizing Your Nursery Dresser
18 Nursery Light Fixtures We're Obsessed With
The Cutest Changing Tables for Your Nursery
25 Perfect Playroom Ideas You'll Want to Steal